Wine Carrier
The WineHug from BlueSkyLab LLC provides a safe, reliable way to transport wine or other breakable bottles while traveling or visiting friends.
The lightweight, self-inflating travel pouch uses cushions of air to "hug" 750-milliliter bottles of various shapes. It features a rip-stop nylon skin, a high-density foam core, durable welded seams, and a two-way-turn air valve for easy self-inflation. Velcro straps hold the pouch closed and double as a carrying handle.
The WineHug has a suggested retail price of $19.95 plus shipping. The WineHug Twin holds two 750-milliliter bottles or one 2-liter bottle and costs $29.95 plus shipping.
BlueSkyLab LLC
550 Adams St.
Suite 293
Quincy, MA 02169
(617) 595-7552
www.winehug.com
---
Paring Knives
Progressive International Corporation touts its Snap Fit Paring Knives as the perfect accessory for everyday meal prep and must-have items in any kitchen.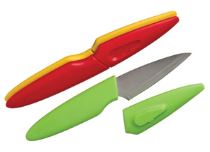 The set includes three low-maintenance, multipurpose paring knives — two straight-blade knives designed for efficient slicing, and a red serrated knife to smoothly slice softer foods such as tomatoes and kiwifruit. The knives feature sharp 3-inch-long stainless-steel blades and come with blade covers that snap together for safe and convenient storage.
A set of Snap Fit Paring Knives has a suggested retail price of $12.99.
Progressive International Corporation
P.O. Box 97046
Kent, WA 98064
(800) 426-7101
(253) 850-6111
www.progressiveintl.com
---
Combination Pen/Stylus
The Inka Mobile Pen + Stylus from Nite Ize Inc. is a quick-access pen that doubles as a stylus for use on any touch-screen device.
The Inka Mobile is made of durable nylon and carbon fiber that's tough, lightweight, and corrosion-resistant. One end features a carabiner clip that securely anchors to a key ring, a zipper pull, or nearly any loop. The pen includes a pressurized cartridge that contains waterproof blue ink for use in extreme temperatures, upside down, at any altitude, and even underwater. On the other end of the pen is a touch-screen stylus.
The Inka Mobile Pen + Stylus has a suggested retail price of $11.99. Replacement ink cartridges are priced at $4.19.
Nite Ize Inc.
5660 Central Ave.
Boulder, CO 80301
(800) 678-6483
(303) 449-2576
www.niteize.com
---
Outdoor Rug
According to product literature, Outdoor Breathable Rugs from the Outdoor Rug Company will enhance the outside living area while keeping dirt, sand, and grass out of the motorhome.
Outdoor Breathable Rugs are made of PVC-coated polyester yarn. They do not hold water when it rains and are dry again in approximately 15 minutes. They also will not kill grass underneath, so they are allowed at nearly all campgrounds. When a rug becomes dirty, simply sweep or rinse it off with a hose. Various sizes are available in numerous colors and designs.
Outdoor Breathable Rugs have suggested retail prices that range from $75 to $250, depending on size and design.
Outdoor Rug Company
615 W. Dees Road
Lakeland, FL 33809
(863) 660-9225
(863) 255-6733
www.outdoorrugco.com
---
Portable Table
The porTABLE from Green Barrel Designs is a lightweight, portable outdoor table that is said to the provide a pleasant alfresco dining experience.
The tabletop is made of solid tongue-and-groove bamboo with an aluminum oxide finish, and the legs and cross braces are finished with a citrus-based carnauba paste wax. When assembled, the table measures 31 inches long, 21.5 inches wide, and approximately 16 inches high. The table weighs 8.5 pounds, and when folded and placed in the 400-denier nylon bag, it takes up approximately the same amount of space as a folding chair.
The porTABLE has a suggested retail price of $89 plus $20 shipping and handling.
Green Barrel Designs
2136 Holly Lane
Solvang, CA 93463
(805) 455-3228
www.greenbarreldesigns.com
---
GPS Navigation System
The Garmin RV 760MLT is the company's first GPS navigator designed specifically for the RV lifestyle.
The 7-inch device is preloaded with detailed maps of the United States and Canada that include RV-related restrictions, such as bridge heights, and information for most major roads and highways. Users enter their vehicle profile (height, weight, length, and width) to find routes suitable for their RV. It also includes America's RV Parks & Service Directory, a comprehensive guide to RV parks and campgrounds. To help navigate, the RV 760MLT features Real Directions, which uses landmarks when providing guidance; Real Voice, which sounds like a natural, friendly voice; BaseCamp trip-planning software for the user's computer; and Bluetooth capability to link the device with a smartphone. The Advanced Weather function provides animated radar images on a map (requires app purchase).
The RV 760MLT has a suggested retail price of $399.99.
Garmin International Inc.
1200 E. 151st St.
Olathe, KS 66062
(800) 800-1020 (United States)
(866) 429-9296 (Canada)
(913) 397-8200
www.garmin.com
---
Multi-Battery Charging Accessory
The QuadLink four-channel battery charger multiplexer from PulseTech Products Corporation makes it possible to charge up to four batteries using a single charger.
The QuadLink works with any 6-volt or 12-volt battery maintenance charger up to 8 amps that uses a standard two-prong output connector. The QuadLink does not change the capabilities of a battery charger; it simply increases the number of batteries that can be charged. Once connected via the extension leads, the station or battery being charged is indicated by a blinking red light. Every 10 minutes the QuadLink switches to the next battery in line, continuing the sequence until each battery is charged.
The water-resistant device includes four eyelet lug adapter cables and four 5-foot extension leads. The QuadLink has a suggested retail price of $99.95.
PulseTech Products Corporation
1100 S. Kimball Ave.
Southlake, TX 76092-9009
(800) 580-7554
www.pulsetech.net
---
Awning Accessory
The Awning Hanger/Stop from Fasteners Unlimited simplifies the process of hanging lights or other accessories from the awning channel.
The Hanger/Stop can be inserted anywhere in the awning channel. Just twist the device to the right and it locks into the channel. The design eliminates the process of sliding a hanger down the length of the channel, and since the hanger locks in place, wind will not affect its position. When it's time to break camp, unlock the hanger with a twist to the left. Each hanger can support up to 5 pounds. Hanger/Stops are available for Carefree of Colorado, Girard, and A&E Dometic awnings.
A package of five Hanger/Stops has a suggested retail price of $9.12.
Fasteners Unlimited
04971 Blue Star Highway
South Haven, MI 49090
(800) 531-5039
www.morefasteners.com
---
Campfire Fuel
Build a warm, long-lasting campfire this fall with Irish Peat from Killofin Home Irish Products.
Irish Peat is an all-natural fuel produced from Irish bog lands, where layers of leaves, herbs, and roots have slowly decayed for thousands of years. When the peat is harvested, it is compressed to remove most of the water and air and create a peat brick, which is similar to a wood log. According to product literature, peat burns hotter, cleaner, and longer than wood, plus it can be transported anywhere, unlike real wood, which cannot be brought into some campgrounds and parks.
A 15-pound box of loose peat has a suggested retail price of $32.99, while a 15-pound box of bundled peat is priced at $34.99.
Killofin Home Irish Products
137 N. Larchmont Blvd.
Suite 520
Los Angeles, CA 90004
(323) 908-7654
www.killofinhome.com
{loadpositionEndBlurbProducts}