Bradd and Hall, C5391, an Elkhart, Indiana-based company specializing in RV and marine furnishing and renovations, is celebrating 30-plus years of service.
By Mark Quasius, F333630
August 2013
FMCA members who have been around a few years likely are familiar with the Bradd and Hall name, which has been a consistent presence in Family Motor Coaching magazine and at FMCA Family Reunions for some time. The company celebrated its 30th anniversary in 2012 and has been an FMCA commercial member since 1995. Originally founded in 1982 as a supplier of custom van and truck seating, this family-owned company has evolved into a respected name in motorhome interior upgrades and renovations. Today it is run by Bradd Neidhamer and his staff.
In the late 1970s, when van conversions were at their most popular, two partners, Mr. Braddford and Mr. Hallstead, operated a mail-order business selling van and truck seating through ads in Popular Mechanics and Truckin' magazine. The business was called Bradd and Hall (no relationship to Bradd Neidhamer). John Neidhamer, Bradd's father, who worked for an RV manufacturer at the time, bought the company and brought his son into the business. Recognizing the irony of the name, and wanting to maintain continuity, the Neidhamers did not change it.
Father and son continued offering captain's chairs and other furniture to service the van and pickup truck owner, operating out of a small warehouse in Elkhart, Indiana. Requests for better-quality furniture eventually led to a relationship with Flexsteel, which continues to this day.
When the van conversion market waned, the Neidhamers recognized the need for quality furniture upgrades in the RV industry and shifted their focus to the RV market.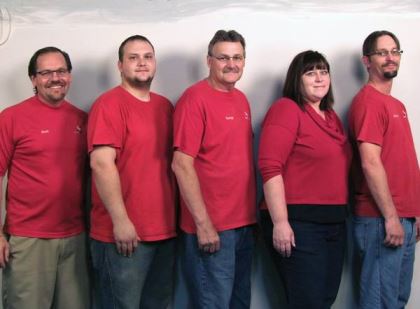 Bradd and Hall's growing sales of Flexsteel furniture led to requests for installation, so they began providing those services in 1991. As the years went by, customers started asking for more modifications, and in 2004 the company expanded to include custom renovations. By this time, Bradd and Hall had taken on other furniture lines as well.
Today the company is recognized as one of the premier distributors of Flexsteel RV furniture. In addition to Flexsteel, the company sells Villa, Lambright, Lafer, Palliser, and Fjord furniture brands. This wide range of products ensures that customers will be able to find their preferred style, price point, etc.
Bradd and Hall now of fers other interior furnishings as well. These include a complete line of mattresses, as well as MCD shades. Flooring upgrades, such as luxury vinyl or wood laminate, are popular, as is custom cabinetry. Virtually any cabinet design can be accomplished; all woodwork is done in-house and is custom-designed for each RV to ensure an exact fit.
It's not uncommon for an RV owner to totally remodel his or her coach interior with new flooring, new cabinetry, MCD shades, and new furniture. Corian countertops and tile backsplashes also are offered. Fabrics are available for purchase by the yard, including solid colors, prints, Ultraleather, and Haloleather.
The information age has played a major role in the way motorhome owners travel. Satellite television and large flat-screen, high-definition TVs are the norm in many modern coaches, and Bradd and Hall performs custom installations of these components.
Seemingly every RV owner uses a computer to connect to the Internet, to have access to e-mail, or to manage finances and print documents when traveling. Bradd and Hall has established a related company, RVhardwood.com, whose employees specialize in designing and creating custom computer desks and sidebars from oak, cherry, and maple hardwoods to fit a motorhome and its owners' particular needs.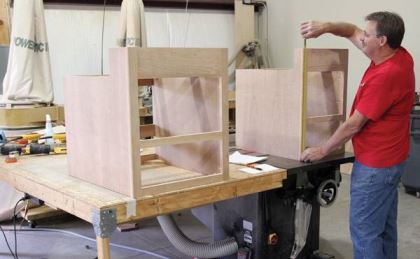 Perhaps the biggest reason for the company's success is that Bradd and Hall customers have confidence in the quality and workmanship they receive. Employees practice the Golden Rule. This philosophy is evident in the excellent relationships the company has built with suppliers and customers over the years. A quick look at the Bradd and Hall Web site reveals a large number of testimonials from satisified customers.
The company offers a 30-day money-back guarantee and pays shipping both ways. If a customer orders an item and isn't happy with it, it can be returned at no cost. Bradd and Hall also offers a two-year warranty, which exceeds the normal manufacturer's warranty.
Bradd and Hall's expanding RV interior renovations offer a great opportunity for those who enjoy their current motorhome and don't want to trade up to a newer model but wouldn't mind updating the interior décor a bit. Their wide range of capabilities varies from a simple recliner ordered by phone to a major renovation performed at the company's facility in Elkhart, Indiana. The company also services what it sells and can supply hard-to-find parts.
Bradd is particularly fond of the people he has met in the RV world. In fact, his first RV experience was in 1976 shortly after his family moved from Pennsylvania to Indiana. Bradd's father was vice president of sales at Wickes Homes RV Division at the time and took the opportunity to rent a Georgie Boy Swinger motorhome for a family trip to Yellowstone National Park. This was their first RV trip and, as is true for most first-timers, it became a learning experience. During 105-degree heat in the Badlands, the motorhome's air conditioner stopped working. They experienced relief when a fellow camper took time to troubleshoot and then repair the air conditioner for them by replacing a fuse.
Customers have lots of choices. In today's competitive market, Bradd and Hall works hard to be the choice of those looking to revitalize their RV interior.
Bradd and Hall Inc., 28320 Charlotte Ave., Elkhart, IN 46517; (800) 445-1830, (574) 522-7435; www.braddandhall.com.