You'll find no sinister conspiracies here, just several different types of motorhome protection.
By Jim Brightly, F358406
July 2013
Many of us had a mother, an aunt, or a grandmother who covered the chairs and couch in the living room with clear plastic. While the covers certainly offered protection, they were so uncomfortable to sit on that the furniture was rarely, if ever, used. RV cover-ups use the same principles but afford more comfort.
No matter the season or time of year, it's always a good idea to think about covering your motorhome for long-term protection. In this article, I'll be "covering" full-body covers, window covers, tire covers, dash covers, and other types of covers for motorhomes. The information provided will give you insight on how to protect your coach's external and internal surfaces for the off-season — or even while you're using it. Remember, it's never too late for a cover-up.
Full-Body Covers
To protect the entire motorhome from rain, snow, ice, and other elements when stored for extended periods outside, the best safeguard against damage is a full-body cover. Several companies provide full-body covers for various sizes and types of motorhomes.
Adco Products Inc. (800-541-2326, www.adcoprod.com), said to be the oldest protective cover manufacturer in North America, makes covers for every type of RV. The company offers universal and custom-fit covers for all types of motorhomes and provides a color-coded, three-region map to help owners determine which type of cover is right for the environment in which their motorhome will be stored.
The company's top-of-the-line covers are made of Sunbrella RV fabric. These custom-fit covers are recommended for use in any climate and are available for Type A and Type C coaches. The Sunbrella covers are said to be especially effective in dusty environments, and to provide excellent protection against strong sunshine, intense UV rays, and high moisture. Sunbrella fabric is solution-dyed, meaning the color is placed into the fibers as they are extruded. Therefore, sun, wind, and rain will not diminish the color intensity. In addition, Sunbrella is made out of acrylic, so it resists mildew and won't harden or crack. These covers are available in tan or gray and have a five-year warranty.
Adco offers Tyvek (by DuPont) RV covers also, in both custom and contour fit, which are recommended for use anywhere. They have polypropylene side panels and zipper entry doors and are available for Type A and Type C coaches. These covers also are said to be especially effective in dusty environments, and they are suggested for areas with strong sunshine and high moisture. The top panel provides protection against the sun's damaging UV rays. Strap and buckle attachments prevent billowing in windy locations and allow for a custom look. Reinforced, elasticized corners resist tears and snags. Tyvek covers are available in white and have a two-year (universal fit) or four-year (custom fit) warranty.
SFS AquaShed covers are offered in contour fit only and are recommended for areas that do not experience long-term intense sunshine. With SFS AquaShed top panels, polypropylene side panels, and zipper entry doors, they are suitable for high-moisture climates and are available for all types of motorhomes. High-performance polypropylene sides ensure maximum breathability and are said to virtually eliminate mold and mildew. The triple-layer SFS AquaShed top panel beads water on contact, affording maximum resistance to high humidity and rainfall while adding a layer of protection against UV rays. Strap-and-buckle attachments prevent billowing in windy locations and allow for a custom look. Reinforced, elasticized corners resist tears and snags. An SFS cover is available in gray on gray and includes a storage bag. It has a two-year warranty.
Adco also offers polypropylene RV covers that are said to be excellent for entry-level RVers; great for short-term or inside storage; and very lightweight, which makes them convenient to deploy. Polypropylene ensures breathability and fights mold and mildew. Strap and buckle attachments prevent billowing in windy conditions, and reinforced elasticized corners resist tears and snags. The cover includes a storage bag, is available in gray on gray, and has a two-year warranty.
New from Adco in 2013 is the universal-fit Type A Windshield Cover. It's made from the same DuPont Tyvek fabric used in the company's RV covers, requires no drilling, and installs in minutes. The product is a must-have for anyone camping in open sunlight as it drastically reduces the interior temperature of the motorhome, lessening the need to run the air conditioner. It also helps prolong the life of dashboards, curtains, and other items visible through the windshield.
See Adco's Web site for more information about its tire covers, windshield covers, rooftop AC covers, mirror and wiper covers, hood bras, rooftop vent covers, and miscellaneous covers for bikes, motorcycles, etc.
Another outfit that offers full-body covers is Calmark Cover Company (800-838-7236, www.calmarkcovers.com), which was founded more than 31 years ago by Arthur Miller and is a family-owned-and-operated business. Mr. Miller, an avid RVer, experienced firsthand the trouble with substandard RV covers and found ways to improve upon the design. Despite already offering a quality product, he found ways to improve the products to not just meet the Calmark warranty (an industry-best six years), but to exceed it. Fabric stress reinforcement (FRS) was just one of the ways Calmark was successful in accomplishing this. Today, Art's daughter, Natalie, runs the company with the same ethos: to offer the best product without compromise and to continue to strive to make each cover better.
Each Calmark cover is handmade at the company's California facility using Sunbrella fabric. Sunbrella breathable and nonabrasive fabric allows the exchange of air within the motorhome and the outside without degradation of the vehicle's exterior finish. Without this, moisture could accumulate inside the coach, causing mildew, offensive odor buildup, and dry rot inside the walls. Also, with the motorhome's vents left open, heat buildup will escape, keeping the temperature inside closer to the outside temperature.
All Calmark covers have the highest UV rating that can be incorporated in cover fabrics (without this feature, a cover may disintegrate in a very short period). Every Calmark RV cover includes a zipper door for easy access to the RV with the cover installed. See the company's Web site for more information about its products and warranty.
Exterior Protection
While complete protection is advised for motorhomes during long-term storage situations, a full-body cover isn't a necessity for owners living in their motorhomes at a resort or campground for extended periods. However, exterior covers are often needed to help reduce heat inside the motorhome; for privacy; and to protect the tires, windshield wipers, and exterior finish. Several companies specialize in these types of covers.
Coastline RV and Off Road (909-484-6592, www.coastlinervandoffroad.com) manufactures Coach Mask motorhome bras and the Tow Car Shield to protect the fronts of the motorhome and towed vehicle while on the road.
With more than 450 patterns, Coastline has a large library of motorhome bras. The bras are made of 22-ounce vinyl and augmented by covering running lights, where possible, with marine-grade vinyl glass. Air intakes are protected with the same style of bug screen that's used to cover radiators on over-the-road trucks. By closing off and reinforcing these openings, the body of the mask is kept snug and tight and is said to greatly reduce vibration and to prevent debris from getting behind it. The bra attaches to the motorhome with twist fasteners across the top and along the sides; the bottom edge is secured with self-tensioning hooks.
The Tow Car Shield also is made of 22-ounce vinyl. The company has approximately 250 patterns in its library, covering most makes and models of towed cars.
Coastline also offers a line of window covers that do not require a ladder to attach.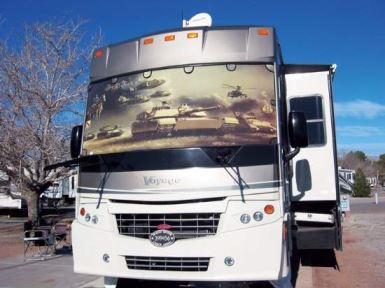 Hunckler Fabrication LLC (336-753-0905, www.magneshade.com) manufactures the patented Magne Shade line of windshield and side window covers. These custom shades utilize Rare Earth interior glass-mounted magnets to hold the fabric in place, eliminating the need for snaps, straps, suction cups, and other means to secure them. Once the magnets are installed, this method also reduces setup and removal time, since they install from the ground and do not require the use of a ladder.
Magne Shade covers are custom-tailored products made of Textilene fabric, a woven polyester fabric with a PVC coating that is said to block 90 percent of sun and UV rays, and Sunbrella binding. Since the covers are used on the exterior of the windshield or windows, the sunlight and harmful UV rays are significantly reduced, which in turn helps to cool the interior while at the same time offering a great view out with privacy looking in. The company produces covers for all types of motorhomes. Covers are available in solid colors or a digitally printed design. The company has a library of images to choose from, or the customer can supply his or her own image for reproduction on the cover.
For additional protection and a cleaner look, the company also makes windshield wiper covers to keep the rubber blades from deteriorating due to the elements. Recently, the company has added tire shades to its product lineup. These shades are made of the same fabric as the windshield and the window covers and are available in black and brown colors with Sunbrella binding. Two attachment methods are available, depending on the motorhome type.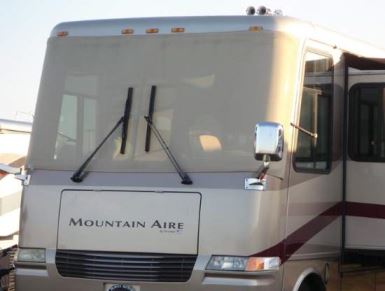 Prompt RV Sunscreens (863-965-1533; www.rvsunscreen.com) offers covers for windshields, windows, tires, wipers, and mirrors. Each of its windshield covers is equipped with aluminum bars — enclosed in a pocket at each end of the screen — that make the sides rigid, allowing the cover to be rolled across the windshield from ground level. It is held in place with two tension straps and Kwik Klips attached to the side window frames (center-door coaches), or to either a suction cup mount, the rain gutter, or a support plate (front-door coaches) on the passenger-side entry door. The screen permits those inside the coach to look out during daylight hours while preventing anyone from looking in. It is said to block up to 90 percent of the sun's rays, which reduces heat buildup inside the motorhome, and helps protect the motorhome's interior from damaging UV rays. The company uses a similar anchor system for its side window and tire covers, which feature the same sun-blocking fabric. Windshield, window, and tire covers are available for all types of motorhomes, in beige, gray, black, and brown color choices.
Prompt's mirror covers slip easily over the mirrors and cut down on the reflecting glare from the sun. They also provide UV protection to fight discoloration. As a final touch, they are made to match the existing screens. The company's wiper blade covers utilize the same fabric and include a hook-and-loop-fastening material end to close the cover.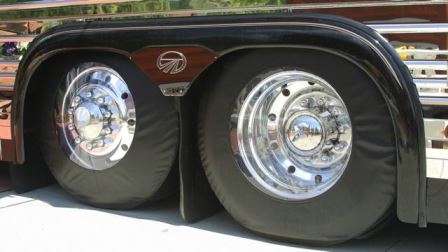 The folks at RV Sunshades (877-422-5679, www.rvsunshades.net) come to a customer's motorhome to custom-make and install motorhome shades. This type of service is said to guarantee a great-fitting cover every time. All of the company's products are designed, sewn, and installed on-site. The installers use industrial sewing machines along with durable threads, bindings, and vinyl when making the covers. According to the company, the shade material blocks out heat and 93 to 98 percent of harmful UV rays, plus it reduces glare inside the motorhome and provides daytime privacy. The company also can outfit the motorhome windows with the same fabric, and all of the work is done on-site.
RV Sunshades also produces wiper blade covers to keep the rubber from being exposed to the sun and to protect the windshield cover from residue coming from the blades. In addition, the company offers two different tire protectors. The snap-on tire covers are made of the same fabric as the windshield and window covers and attach to the motorhome's fenders to shield the tires from the sun. No See-EM Tire Covers are made of a high-quality, durable black vinyl combined with a thick, clear vinyl center that lets the beauty of the wheels shine through.
ShadePro Inc. (800-328-5100, www.shadepro.net) offers the Shademaster line of RV windshield and window covers manufactured by Innova. Shademaster covers are made of woven polyester solar mesh to block out the sun's heat and protect the motorhome's interior from damaging UV rays. The fabric is said to provide complete privacy during the daylight hours but to allow those inside to see out. The covers feature double-stitched seams for strength and are available with two fastening choices. Seven color choices are offered.
The company also sells Innova tire shades, which attach to the motorhome using twist fasteners and can be adjusted to the necessary height. The tire shades are available in five colors. Innova mirror socks protect the mirrors and their housings from water spots, fading, and rusting. They are available in two sizes: 24-inch for tall mirrors and 18-inch for standard mirrors.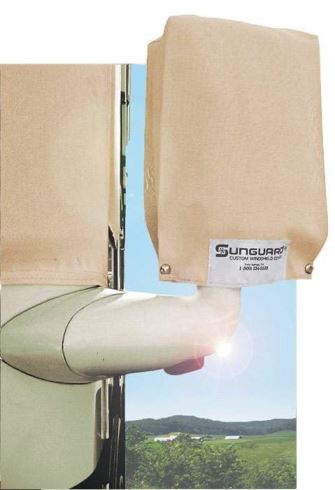 Sunguard Shade Products (800-334-5533, www.rvtoystore.com) is another company that produces a full line of exterior covers to provide privacy, temperature reduction, and protection for the motorhome. All Sunguard covers are made of vinyl-coated polyester weave that blocks sun and heat before it reaches the windshield or windows. They are held in place using one of three attachment methods: snaps, twist locks, or Velcro. The windshield cover is available in 94 percent high-density sunscreen fabric, 85 percent standard sunscreen fabric, or 100 percent sunblock solid vinyl. All windshield and window covers are custom made to the motorhome's individual specifications for a wrinkle-free, snug fit.
The company, in its 30th year of business, has come out with new Solar-Reflective interior windshield covers. They mount inside the windshield in seconds using high-quality UV-treated suction cups. The screen is made of a new type of aluminized solar screen that reportedly reflects the sun's ray back through the windshield so quickly that the windshield has little time to heat up. It blocks out 94 percent of the sun's heat, light, and harmful UV rays. It is said to lower the interior temperature of the motorhome by 35 degrees and will keep the dash from cracking, and seats and fabrics from fading. Plus, you can see out but not in.
Sunguard's other products are made with high-density fabric. Wiper-Savers protect wiper blades from exposure to the sun while eliminating unsightly black marks from showing up on the windshield cover. They also help stop water streaks on the windshield due to sun-rotted wiper blades. Mirror-Savers prevent water spots, fading, and rusting of the mirrors and their housing, and are said to be ideal for chrome mirrors. They are available in 18-inch and 24-inch sizes. Tire-Savers snap on to protect tires from UV rays while still allowing airflow around the rubber. They lay flat for easy rollup and storage.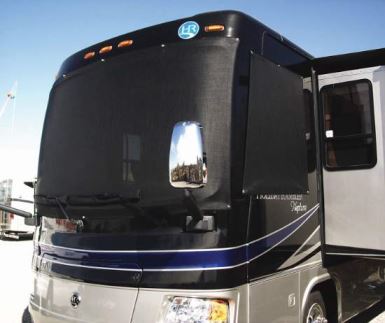 Sunpro Manufacturing (800-789-5588, www.sunpromfg.com) offers motorhome windshield and window covers that can protect Type A, B, and C motorhomes in any type of weather. The covers are available in Protex fabric, which provides 85 percent UV blockage, or Suntex fabric, which offers 90 percent UV protection for items inside the motorhome. Both fabrics provide interior privacy but still allow those inside to see out and are available in a variety of colors. The Suntex fabric also resists mildew and fade. Vinyl windshield covers with 100 percent UV blockage also are available. The company offers snap, twist-lock, and hook-and-loop-style fastening solutions.
Sunpro also markets two types of tire covers. Tire Savers wrap around the tires, protecting them from the elements. The polar-white covers are available in seven different sizes to fit all sizes of motorhome tires. Suntex and Protex Tire/Fender covers attach to the body of the motorhome using twist-lock fasteners. The tire shades are available in the same colors as the windshield and window covers.
Wade RV (888-492-3378; www.waderv.com) provides a wide array of motorhome protection products, including windshield, window, tire, and mirror covers. The company also sells masks to protect the front of the motorhome from debris while on the road and dashboard covers to safeguard that area of the motorhome from sun damage. Products are made in-house, and many are made to order so as to ensure the best possible fit. Wade RV even makes custom window graphics to match the paint design on the exterior of motorhomes.
Interior Protection
A number of companies market covers and screens that install inside the motorhome to help reduce heat buildup and eliminate UV ray exposure that can damage the dashboard, draperies, and furniture.
Auto Motion Shade Inc. (905-470-6198, www.automotionshade.com) is said to be the first company to supply motorized sun visors (utilizing internal motors) to the Type A motorhome industry, with full-width manual and motorized privacy shades. The company also developed a safety retractor used in all of its full-front windshield shades. This keeps constant upward pressure on the shade; in the event of a failure, the shade will roll up rather than down in front of the driver. It is also the only company to develop and manufacture a battery-operated roll-type sun visor for the RV industry, negating the need to hardwire a motorized shade.
Dash Board Covers by Josie (517-672-9905, www.coversbyjosie.com) protect the motorhome's dashboard from the damaging effects of the sun. They prevent cracking, fading, or drying of leather or vinyl dashboards and help increase safety by reducing glare from sunlight coming through the windshield and side windows. They also protect the dashboard from scratches caused by pet passengers and make for a comfortable sleeping area for the pet when the motorhome is parked. They are made of solution-dyed materials that reportedly won't fade or shrink and install in minutes with Velcro tabs. More than 3,000 patterns are available to fit a variety of dashboards and décor in Type A, B, and C motorhomes.
Heritage Art Limited (800-323-2865, www.heritageartltd.com) offers internal windshield covers that feature striking graphic designs. Visit the company's Web site to see some of the images currently in its library, or supply your own image for a custom screen. The digitally printed screens are made of vinyl-coated polyester and are said to block 80 percent to 85 percent of sunlight and UV rays. The screens provide daytime privacy inside the motorhome but allow those inside to see out. The screens are held in place through the use of 3M high-temperature adhesive Velcro.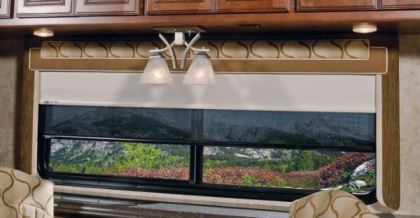 MCD Innovations (800-804-1757, www.mcdinnovations.com) offers premium American Duo and value-priced Gold Series manual and powered day/night roller shades for retrofit in any motorhome. The Clearview solar screen protects from UV rays and heat yet allows excellent outward visibility. The light-blocking night shade offers full privacy. Power windshield shades can be used as a full side-to-side visor while driving. MCD is said to be the world's largest roller shade manufacturer and the company of choice for many motorhome manufacturers.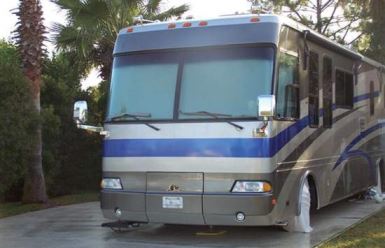 RV Quick Shades (760-295-9509, www.rvquickshades.com), a division of Swells LLC, offer a quick and easy solution for protecting the interior of the motorhome from sunlight damage with its line of inside-mounted shades. Available in one-piece and two-piece versions, the shades are made from Textilene, a PVC-coated woven polyester mesh fabric that reportedly screens out up to 80 percent of sunlight. The shades protect drapes, dashboard, and furnishings inside the motorhome and greatly reduce heat. They also provide daytime privacy, but do not block the view outside. According to company literature, RV Quick Shades can be installed in less than a minute using suction cups, and they can be removed just as quickly. RV Quick Shades are available for all types of motorhomes, in several sizes and colors. The company also produces shades for pilot and copilot windows using the same material and fastening method, as well as tire covers, slip-on mirror covers, and wiper covers.
Swells LLC also produces custom-fit windshield shades for towed vehicles, cars, and trucks to help keep the interiors of these vehicles safe from sunlight and UV rays. Visit www.windshieldshades.com for more information.
Whether you're storing your motorhome for the winter or need to protect it from Ol' Sol, plenty of cover options are available. By utilizing these products, you can keep your motorhome safe from the elements and looking brand-new for years to come.