Plate Collection
We often use paper plates when traveling, but we do enjoy eating off our plastic dishes on occasion. Our collection includes plates for different holidays, sports, and seasons. Everyone enjoys seeing them when we attend potluck suppers.
Arlene Chiarolanzio, F181694
Florham Park, New Jersey
---
Stain Remover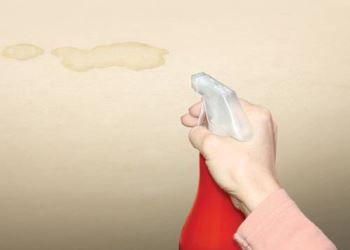 If your motorhome's ceiling is covered in fabric or carpet-type material and it develops a water stain, here's an easy and inexpensive way to remove the stain. Make up a 50/50 solution of hydrogen peroxide and water, and pour it into a spray bottle. Spray the solution on the stain and let it sit — no rubbing or blotting is necessary. If the spot does not go away after the first application has dried, just repeat the process until it's gone.
Jerry & Jan Nickeson, F358306
Webb City, Missouri
---
Waste Compartment Protection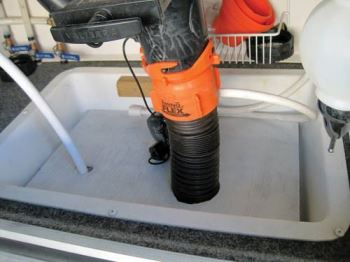 My motorhome has a large hatch through which the waste hose extends, leaving a sizable gap in the underside of the compartment. This gap can allow critters and cold air into the compartment. My solution was to get a piece of plywood and cut a hole in the middle of it approximately the same diameter as the waste hose. I used stick-on weather stripping on the bottom of the board to create a good seal that will deter rodents and cold air from entering the compartment.
Danny Lindstrom, F310275
Salinas, California
{loadpositionEndBlurbTips}