The city hosting FMCA's 50th anniversary Family Reunion this June is also a great place from which to experience the Old West.
By Peggy Jordan, Associate Editor
March 2013
In 1891 the Burlington Route of the Chicago, Burlington, and Quincy Railroad was headed westward, and a little spot in northeastern Wyoming called Donkey Town was set up as a temporary base camp for the men surveying for the railway. The first route they came up with was to follow Donkey Creek, but it involved many bridges and plenty of track. A surveyor named Edward Gillette found a shorter way that saved quite a bit of effort and money. Donkey Town was renamed Gillette in his honor.
By that time, explorers already had found coal in Wyoming, but no one knew how much was actually there. The town's founders would no doubt be shocked to learn that from just one mine near Gillette in 2009, 100 million tons of coal were removed.
Needless to say, mining is the town's biggest industry and has given rise to a chamber of commerce claim that Gillette and surrounding Campbell County are the "Energy Capital of the United States." (Residents with a more quirky sense of humor call their town "Razor City.")
Speaking of big, Gillette's 1,100-acre CAM-PLEX Multi-Events Facility will host Family Motor Coach Association's 88th Family Reunion & Motorhome Showcase, June 19-22. CAM-PLEX has five RV parks and more than 1,700 sites with electrical hookups. Ample buildings for Family Reunion activities are on-site as well.
Join fellow FMCA members as the association celebrates 50 years of motorhoming with special commemorations and activities. You can see old friends and make new ones, plus enjoy great entertainment, seminars, and displays of motorhomes and RV-related items. Because the 50th anniversary celebration is taking place at this Family Reunion, if you have not yet attended an FMCA international convention, it's wise to make this one your first.
And once the Family Reunion is over, or perhaps before it begins, you'll want to enjoy some sights in the area. This is the American West, full of "purple mountain majesty" and history galore. Gillette has some one-of-a-kind spots of its own; plus, it's not far from some of the United States' most renowned and treasured places.
"Energy Capital" Attractions And Restaurants
For a small town of approximately 30,000 residents, Gillette has quite a variety of eateries. Steaks and chops; Chinese, Mexican, and Italian dining; bakeries; pizza; fast-food chains — all these and more are available. In addition, Wyoming grocery stores do not charge sales tax on unprepared food, so you may want to stock the motorhome shelves while you are there.
As far as the local weather goes, June is generally as friendly as the local residents. Daytime highs average around 78 degrees and evening lows are in the upper 40s to low 50s. Humidity is low, and the wind generally comes from the south. But its direction and speed can change very quickly. Keep your favorite jacket, hat, and sunglasses handy.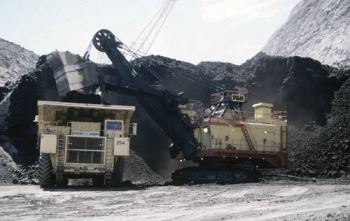 Gillette's most popular sights include:
The Eagle Butte Coal Mine, just north of Gillette, has a public viewing area that overlooks a huge surface coal mine. Stare down at mining machines that look like tiny toys in a big hole.

Campbell County Rockpile Museum is full of history. Rifles, saddles, quilts, local Indian artifacts, and fossils all have their place here. Wagons and carriages used during the taming of the West also are displayed. This museum has been a Gillette landmark for years, as has the actual rock pile it's named after. In fact, the rocks have remained unmoved since the 1891 surveyors arrived. If you have the least amount of curiosity about how people lived and worked 100 years ago around here, by all means, visit this museum and be impressed.

Admission is free (donations are appreciated).
Historic downtown Gillette is described in a self-guided walking tour that lets visitors start or stop at any location. A free copy of the walking tour brochure is available at the chamber of commerce (307-682-3673) and the aforementioned visitors center. Learn the history of Gillette while enjoying some easy exercise. Shops, restaurants, and other places will beckon you to stop and take a look.
Devils Tower, Deadwood
Approximately one hour east of Gillette is without question the most popular destination for side trips: Devils Tower National Monument. This flat-topped mount is not an old volcano, but rather the remains of what the earth's core produces: magma. The magma cooled and hardened into a mass of stone columns after rocks around it eroded away.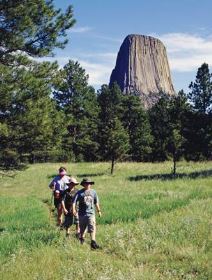 The tower is 867 feet from its base, and at its summit is a rocky and sagebrush-covered piece of land about the size of a football field — 1.5 acres.
Long ago, the tower was called different names by American Indians, such as Bear Lodge, Bear's Tipi, Home of the Bear, Tree Rock, and Great Gray Horn. It received its current moniker through what's believed to have been a misinterpretation of an Indian word. The tower has great significance among all the Plains Indian tribes today.
Rock climbers love to scramble up the side of Devils Tower, but during the month of June climbing the tower is voluntarily stopped because of local tribal activities. The tower is open for all other purposes, however. Just be sure to stay on the trails. You can take a ranger-led hike or walk around the tower base on the paved, 1.3-mile Tower Trail.
Around the tower are other things to see, such as a 1930s-built visitors center full of interesting finds, as well as a bookstore. Near the park entrance, a colony of black-tailed prairie dogs can be seen popping up out of their hidey-holes.
A $10-per-vehicle entry fee is charged to enter the monument. Please be aware that pets are not permitted to be left unattended, even in a vehicle, and they are not permitted on trails. Unless you plan to have someone in your party pet-sit while you explore, it's best to leave the furry pals back in Gillette.
A no-hookup campground inside Devils Tower National Monument property can accommodate RVs up to 35 feet long. Commercial campgrounds are also available (see the list at the end of this article).
From Devils Tower, drive another hour and 15 minutes or so eastward, and you'll be in Deadwood, South Dakota, one of the most famous settlements in all the Old West. This town was the scene of a renowned murder; the victim was a Civil War scout and spy who later served as a sheriff or marshall in towns in Kansas and elsewhere. His name was James Butler "Wild Bill" Hickock.
Other characters living in Deadwood around the time of Hickock's August 1876 death included Calamity Jane, famed for dressing in men's clothes as she did the same jobs as military guys, and for being an excellent shot. And then one must make mention of Deadwood's many gambling halls and brothels, for which it was legendary.
Eventually the gaming ended in Deadwood in the mid-1940s, and the final spot of ill repute closed in 1980. The entire town was on a slow boat to nowhere. But gaming was brought back to Deadwood in 1989, and the revenue now helps keep the historic buildings preserved. Today the entire city is a National Historic Landmark.
Visitors love to stroll the streets, check out the restaurants and shiny slot machines, and see museums such as the Days of '76 Museum, the Adams Museum and House, and an excellent car collection (Nelson's Garage, located inside the Celebrity Hotel). In summer, a dramatic street scene entices watchers to see a popular play about Wild Bill's murder titled "The Trial of Jack McCall." You also can pan for gold and visit the graves of Wild Bill and Calamity Jane, who is buried next to him.
The largest and deepest gold mine ever in North America is in the city of Lead (pronounced leed), located near Deadwood. The local Homestake Mine produced millions of ounces of gold before it closed in 2002. Stop by the Homestake Mine visitors center to learn more, and, if you have time, take the one-hour, guided surface tour of the mine.
The side trip to Devils Tower and Deadwood is only one of many you can easily take from Gillette, Wyoming, to experience Wild West history, and that's in addition to the attractions in Gillette itself. Future issues of FMC will be covering more. Attend FMCA's 88th Family Reunion & Motorhome Showcase, June 19-22, at the CAM-PLEX in Gillette so you can go from there! For Family Reunion registration information, visit www.fmca.com or turn to pages 69 and 70 in this issue of the magazine.
Further Info
Campbell County Convention & Visitors Bureau
1810 S. Douglas Highway
Suite A
Gillette, WY 82718
(307) 686-0040
www.visitgillette-wrightwyo.org
E-mail: cccvb@orbitcom.biz
The Gillette Visitor Center is conveniently located off I-90, exit 126, in front of the Flying J, on Highway 59, southbound side. It is open year-round, Monday through Friday.
Wyoming Office of Tourism
5611 High Plains Road
Cheyenne, WY 82007
(800) 225-5996
(307) 777-7777
www.wyomingtourism.org
Area Campgrounds
The campgrounds listed are within 35 miles of Gillette, or are located between Gillette and Devils Tower. This may not be a complete list, and additional campgrounds are farther away from town. Please check your favorite campground directory or the RV Marketplace, published at FMCA.com and in the June and January issues of FMC.
All Seasons RV Park
1000 McIntosh Lane
Rozet, WY 82727
(307) 686-2552
www.allseasonsrvpark.com
Green Tree's Crazy Woman Campground
1001 W. Second St.
Gillette, WY 82716
(307) 682-3665
www.crazywomancampground.com
Devils Tower View Campground
476 State Route 24
Devils Tower, WY 82714
(307) 467-5737
www.devilstowerview.com
Devils Tower KOA
60 State Route 110
P.O. Box 100
Devils Tower, WY 82714
(800) 562-5785 — Reservations
(307) 467-5395
www.koa.com/campgrounds/devils-tower
Empire Guesthouse & RV Park
115 Pine Haven Road
Pine Haven, WY 82721
(307) 756-3454
www.empireguesthouse.com
High Plains Campground
1600 S. Garner Lake Road
Gillette, WY 82718
(307) 687-7339
Rangeland Court Motel and RV Park
108 N. Yellowstone Ave.
Moorcroft, WY 82721
(307) 756-3595
www.rtconnect.net/~rangeland/
E-mail: rangeland@rtconnect.net
Sagebluff RV Park
76 S. Boulder Circle
Wright, WY 82732
(307) 464-1305