Gear, Gadgets, And Gifts
Practical accessories and assorted goods designed to make life easier and more enjoyable for RVers.
By John Johnston, Associate Editor
 Ukulele Learning System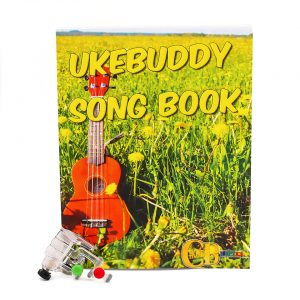 Tuba? Too big. Electric guitar? Too loud. But a ukulele could offer an RVer just the right combination of size and sound at a campsite, if only you knew how to play. That's where Ukulele Buddy, from ChordBuddy, comes in.
After strapping the gadget onto the fretboard of a ukulele, you press on the color-coded tabs, which assist in strumming the two chords that are needed to play a variety of songs. You then can focus on your strumming hand. With practice, you'll learn to play the chords by yourself, and the Ukulele Buddy tabs can be removed. Let the sing-alongs begin! The price of Ukulele Buddy is $44.95. The company also sells ukuleles.
ChordBuddy
(334) 699-6188
www.chordbuddy.com
---
Portable Fridge/Freezer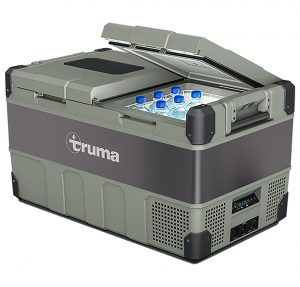 The electric-powered Truma Cooler Portable Fridge/Freezer offers flexibility. Single-zone models can operate as either a refrigerator or a freezer. Dual-zone models can function as a fridge, a freezer, or as a side-by-side fridge and freezer.
Single-zone Weekender Series models are available in 36-liter and 44-liter sizes. Single-zone Traveler Series models come in 60-liter, 73-liter, and 105-liter sizes. Dual-zone Adventurer Series models come in 69-liter and 96-liter sizes. All have a bottle opener on each end, space-saving handles that lay flat, and an interior LED light. And all these Truma Coolers are "smart" — they can be controlled by the intuitive digital display or with a Bluetooth app. The compressor cools the unit to minus 8 degrees Fahrenheit. Prices range from $1,099 to $1,699.
Truma
(855) 558-7862
www.truma.net
---
Water Bottle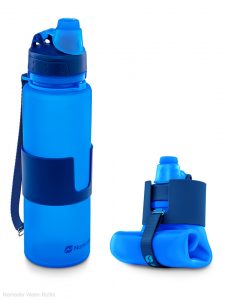 Americans buy about 50 billion water bottles a year, and only about 23 percent are recycled, according to earthday.org. So whenever possible, take swigs from a reusable container such as the Nomader Collapsible Water Bottle.
The bottle, which comes in a variety of colors, is made of flexible, shatterproof silicone that is BPA-free. The patented screw cap and lid design prevent leaks, and the hinged cap prevents germs from getting onto the mouthpiece. When empty, the bottle rolls up into a ball or collapses flat like a toothpaste tube.The Nomader fits most vehicle cup holders and backpack side pockets. It's freezable and dishwasher safe. The manufacturer's suggested retail price is $29.95.
Nomader
(800) 213-7052
www.nomader.com
---
Breakaway Adapter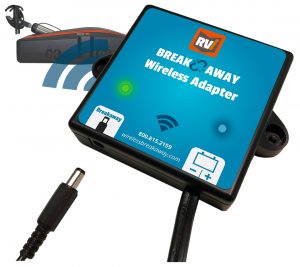 RVibrake3, the third generation of RVi's auxiliary flat-towing braking system, was introduced four years ago. Now a new component is available that makes it unnecessary for a breakaway system to be plugged into RVibrake3 for every trip.
The company's patented Breakaway Wireless Adapter eliminates the need to install a breakaway system through a towed vehicle's crowded engine compartment. Instead, the adapter is installed at the towed vehicle's battery, anywhere from 3 to 6 feet from RVibrake3. Plug in the breakaway system once, and you're done. In the event of a hitch failure that results in a breakaway, you're alerted by the RVi Command Center tablet, which comes with RVibrake3. The suggested retail price of the Breakaway Wireless Adapter is $125.
RVi
(800) 815-2159
www.wirelessbreakaway.com
---
Battery Organizer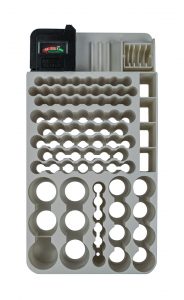 You shouldn't have to beat the bushes searching for batteries. Keep them handy in the 82+ Compartment Battery Organizer from Range Kleen. Its slots can store six D batteries; eight C batteries; 39 AA batteries; 25 AAA batteries; four 9-volt batteries; and up to five button batteries, depending on style.
The white organizer can be mounted on a wall or placed in a drawer. It's 11.5 inches long, 6 inches wide, and 1.5 inches high. A removable battery tester is included. The price is $15.99. Another option is Range Kleen's 104+ Slim-Line Battery Organizer, which holds more batteries and sells for $14.99. Use the code RVLIFE when ordering to save 20 percent. We don't need to remind you that batteries are not included, right?
Range Kleen Mfg. Inc.
(888) 391-2020
www.rangekleen.com
---
Footwear Collection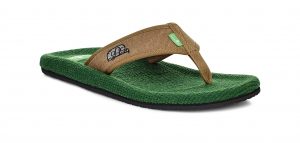 When it's time for new shoes, don't drag your feet. And as you ponder your options, it may be helpful to know that Airstream and shoe brand Sanuk have teamed up to offer a line of men's and women's footwear.
The Airstream-themed lineup includes flip-flops and casual shoes embroidered with travel trailer patches. Yoga slings that feature pink lawn flamingo prints also are available. The Men's Furreal Classic Flip Flop (pictured), which sells for $40, has a cushioned and contoured footbed; the flip-flop's upper and lining are made of 100 percent cotton. Retail prices for the Sanuk & Airstream footwear line range from $35 to $55.
Airstream Supply Company
(937) 596-7985
www.airstreamsupplycompany.com
Sanuk
www.sanuk.com
---
SUV Tent

If your RV can't accommodate all the overnighters at your campsite, you might consider the Sportz SUV Tent with Screen Room from Napier Outdoors. The tent's universal vehicle sleeve fits snugly around the cargo area of an SUV or minivan. Unzipping the sleeve allows the product to be used as a traditional tent.
The Sportz SUV tent can sleep five to six adults. Dimensions are 17 feet by 10 feet, which includes the screen room. The tent is made of polyester taffeta and polyethylene. Features include a rainfly and storm flaps; two large entrances; three mesh windows; and two skylights that provide ventilation. The tent packs into an expandable carry bag. The price is $379.99 (U.S.); $479.99 (Canada).
Napier Outdoors
(905) 935-0427
www.napieroutdoors.com
---
Power Failure Light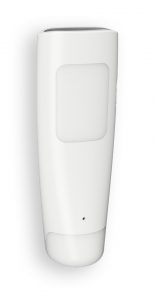 If your RV loses AC power in the wee hours of the night, the Westek brand Power Failure Night Light (NL-PWFL), from AmerTac, alerts you by automatically turning on a 40-lumen light. The device plugs into an AC outlet; during a power outage, its rechargeable battery provides the light's juice. You can remove the product from the outlet, fold in the plug, and use it as a portable 20-lumen flashlight.
There's more. From dawn to dusk, the device functions as an automatic 3-lumen night-light so you can avoid — yeow! — stubbing your toe on the way to the bathroom. Plugged in, it uses only 1.5 watts. The manufacturer's suggested retail price is $8.97.
AmerTac
(610) 336-1330
www.amertac.com
---
Converter Charger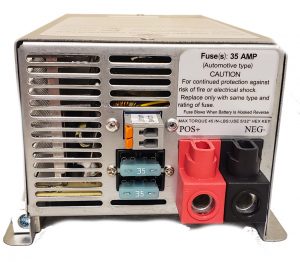 WFCO has introduced its WF-9800LiS Series of deck-mount converter chargers that provide 12-volt-DC power for electronics and appliances. The series includes five models ranging from 35 amps to 75 amps.
All models are designed with a remote-switch feature to allow changing the charging modes between lead-acid and lithium-ion batteries. The switch can be installed at any location. The WAGO connection on the back of the converter allows for wiring and hookup for any style of switch. The converter   can be installed in any position, even upside down. It reportedly will not cause interference with televisions, radios, or other signals. The manufacturer's suggested retail price of WF-9800LiS Series converters ranges from $250 to $400.
WFCO
(877) 294-8997
www.wfcoelectronics.com
---
RV Products Submissions
To have a product considered for this column, please send information and a high-resolution photograph to rvproducts@fmca.com.