Gear, Gadgets, And Gifts
Practical accessories and assorted goods designed to make life easier and more enjoyable for RVers.
By Linneah Deighton, Associate Editor
Battery Water System
The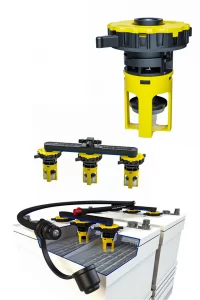 is designed to facilitate maintenance of deep-cycle batteries. The manifold and battery-fill-port valve assembly adds water to all cells simultaneously without the user needing to bend or stretch to reach them. Each vent cap is replaced with a patented Flow-Rite shut-off valve and interconnected via the manifold assembly; multiple batteries are linked with acid-resistant tubing. The array attaches to a water supply via a quick coupler. A flow indicator signals when filling has been completed. The system has a built-in water barrier and flame arrester to prevent sparks from igniting adjacent battery cell gases. In addition, the system is sealed to prevent acid splashing. Prices start at $64.99.
Flow-Rite
www.flow-rite.com
(616) 583-1700
---
National Parks Blanket Collection
Rumpl's packable, portable blankets are designed for all-season use, whether keeping you warm around the campfire or serving as a beach blanket. The company's National Parks Collection spotlights 18 different parks, so you just might be able to find your favorite. The blanket features a shell and insulation made of 100 percent post-consumer recycled polyester material. For the one-person Original Puffy Blanket in the National Parks Collection, 60 plastic bottles are recycled to create each one. The 90/10 durable water repellent used provides protection from the elements and makes the blankets weather and stain resistant. Price is $129 for the Original Puffy Blanket, which measures 52 inches by 75 inches. A portion of the proceeds supports the National Park Foundation.
Rumpl
www.rumpl.com
---
Travel Mug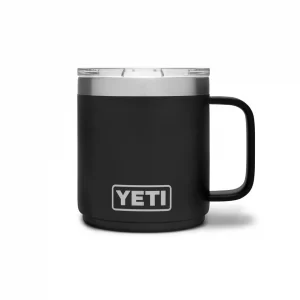 YETI's Rambler 10-ounce stackable mug uses double-wall vacuum insulation to protect both hot and cold drinks. The MagSlider lid incorporates magnets to keep the lid in place and to help maintain temperature. When the lid is removed, built-in grooves allow the mug to nest with others like it. The Rambler is BPA-free, dishwasher safe, and has a No Sweat Design to keep your hands dry. The DuraCoat finish reportedly won't crack, peel, or fade. The mug comes in five standard colors but can be customized while ordering online. Price is $25 for the 10-ounce mug. Non-stackable 14-ounce and 24-ounce versions cost $30 and $35, respectively.
YETI
www.yeti.com
---
Portable Pizza Oven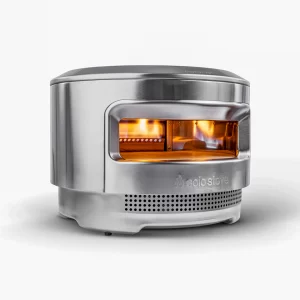 Featuring a minimalist stainless-steel design, Solo Stove's Pi Pizza Oven is a portable option for those looking to make their own pizzas in the great outdoors. Its dual-fuel capabilities allow it to cook with either wood or propane, and its signature airflow and demi-dome construction enable it to maintain heat while cooking. The Solo Stove Pi is able to fire three to four pizzas in the first hour, accounting for preheating time, and it can run as long as three hours when using wood as fuel. Included with purchase is a cordierite pizza stone and the wood-burning assembly. Price is $499.99. The gas burner option costs an additional $174.99.
Solo Stove
www.solostove.com
---
Telescoping Cargo Slides

SlideMaster cargo slides are custom built for your RV, and you can choose from single or transverse steel and aluminum models with various weight capacities, from 200 to 2,500 pounds. Once installed, simply pull out the slide for access to the entire compartment. You can choose from the standard turn-lock or the IMS push/pull lock. With the latter, pulling on the handle unlocks the slide to extend it, and pushing on the handle closes the slide, so you are always working with momentum. Prices start at $282 for a single-direction slide, $415 for dual direction, and $1,237 for electric slides.
Innovative Industries Inc.
(800) 374-1134
www.slide-master.com
---
Vehicle Trash Bag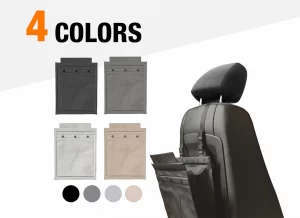 If you're tired of finding places to toss your trash while on the go, you'll want to check out the Snapbag, a convenient way to keep road-trip waste in one spot. It mounts to the back of the passenger or driver seat in cars and trucks. A strong magnetic closure provides easy access and seals the bag to contain odors. The Snapbag conceals a standard small disposable trash bag and expands progressively as it fills up; it then retracts when emptied. Don't hesitate to throw away soda cans or other liquids — it's leak-proof, so you don't have to worry about spills or stains. Snapbag is available in several colors to match a vehicle's interior. Price is $49.99.
Snapbag
www.snapbag.co
---
Garment Mesh Bag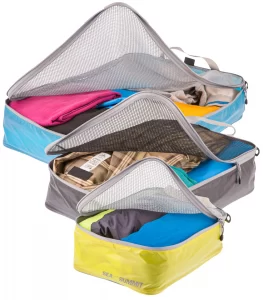 When traveling, finding a way to bring all the clothes you want can be a challenge, but Sea to Summit's Garment Mesh Bag is a lightweight, strong, and water-resistant way to keep your clothes organized and clean. The bags come in three sizes for varied travel needs: small, 10 by 7 by 4 inches; medium, 14 by 10 by 4 inches; and large, 16 by 12 by 4 inches. Three colors are available — black, lime, and Pacific blue. Durable zippers and Hypalon grab tags make for secure opening and closing. When you are not using the bags, they pack flat for easy storage. Prices are $22.95 for a small bag; $26.95, medium; and $29.95, large.
Sea to Summit
www.seatosummit.com
---
 Custom Gel Memory-Foam Cushions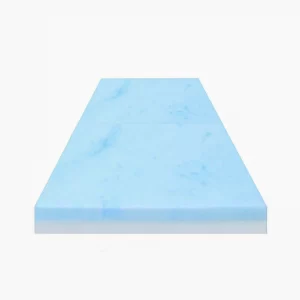 Whether you need new couch cushions or a new memory-foam mattress, FoamGlobal offers replacement foam that comes with a 1.5-inch cooling gel layer. If your bed, chair, or couch has a unique shape, you can send in a drawing with dimensions for a custom-made cushion to suit your needs. Memory foam is soft and conforms to your body shape, evenly distributing weight, so it's great for those who tend to toss and turn at night. Price starts at $69.99.
FoamGlobal
www.etsy.me/3QWW9lP