Gear, Gadgets, And Gifts
Practical accessories and assorted goods designed to make life easier and more enjoyable for RVers.
By John Johnston, Associate Editor
Telescoping Cargo Trays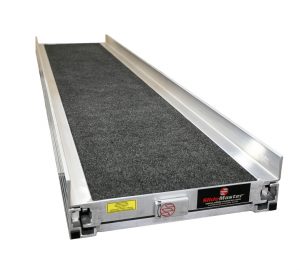 Retrieving items from the back of a jam-packed RV basement storage compartment can be a big botheration. Ah, but access is a cinch with a sliding cargo tray from SlideMaster. Its lineup includes custom-built single-direction slides, dual-direction slides, and electric slides. Prices range from $213 for small compartment slides to $1,700 for a premium electric slide designed to fit a large pass-through compartment.
One example: the aluminum M2-D dual-direction slide, made for vehicles with pass-through compartments. It has a 1,000-pound distributed weight capacity and can be extended out each side of the RV up to 70 percent. Multiple tray/deck options are available. The price for an M2-D with a wood deck is $1,031.
Innovative Industries Inc.
(800) 374-1134
www.slide-master.com
---
Powered Coolers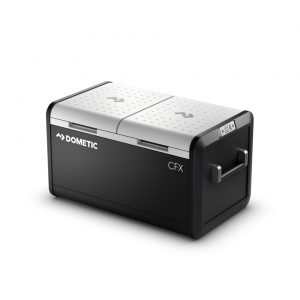 The new generation of Dometic's powered cooler is the CFX3 series, which incorporates the company's Variable Motor Speed Optimization (VMSO3) compressor. According to the product description, CFX3 models can be powered via 120-volt AC, 12-volt DC, or solar energy and maintain temperatures down to minus 7 degrees Fahrenheit.
Features of the CFX3 include easy-to-open latches; improved LED lights; anchors that secure the unit in vehicles; a high-resolution color display; soft-touch buttons; and a more powerful USB charger. A CFX3 app allows users to control the cooler and monitor its performance via Bluetooth. Capacities range from 36 liters to 99 liters, and manufacturer's suggested retail prices range from $899.99 to $1,449.99.
Dometic
(800) 544-4881
www.dometic.com
---
Convertible Light System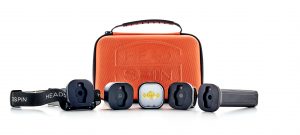 Versatile. In a word, that describes the Headspin Outdoors, which can function as a headlamp, a traditional flashlight, or a rail mount (for use on bicycle handlebars, a roof rack, a pole, etc.). The company's patented Spindock connection uses magnets to dock and lock the light in place, and also serves as a wall-charging station. The unit also can recharge via its micro-USB port.
The weather-resistant light feat-ures four intensity levels; a spotlight/floodlight mode; and a flash mode. Weights of the mounts range from 1 ounce (rail/bike) to 3.9 ounces (flashlight). A carry case is included. The manufacturer's suggested retail price is $169.99.
Headspin Outdoors
info@headspinoutdoors.com
www.headspinoutdoors.com
---
Walking Stick

Teddy Roosevelt was referring to foreign policy when he said, "Speak softly and carry a big stick." But being an outdoorsman, he may have known that a walking stick provides stability, eases stress on joints, and offers support when trekking uphill.
The large selection of Brazos Walking Sticks includes the 55-inch Traveler's Walking Stick. It's made of sturdy oak, has a weight limit of 250 pounds, and disassembles into three equal-size pieces. It's available in brown, red, or tan stain. The suggested retail price is $106.99.
Brazos Walking Sticks
(800) 581-4352
www.brazossticks.com
---
Clothes Wash Bag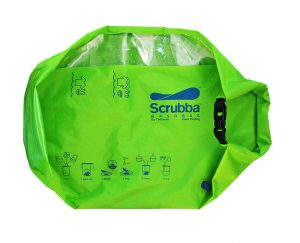 Back in the day, people cleaned their clothes by hand using a washboard. That's the principle behind the Scrubba wash bag and its washboard-in-a-bag design.
You add water, cleaning liquid, and clothes to the Scrubba bag, seal the flexible bag, and rub it so that hundreds of internal "nobules" clean your clothes. Then you remove the dirty water and rinse with fresh. The Scrubba bag weighs 5 ounces, and when laid flat, it's 21.3 inches by 12.6 inches. The suggested retail price is $55.
Scrubba
info@thescrubba.com
www.thescrubba.com
---
Dog Crate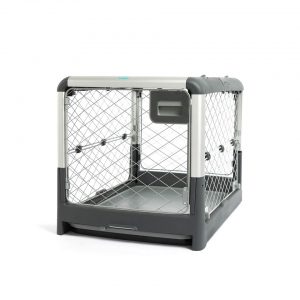 Your furry friend Fido shouldn't wander free in the RV when you're on the road. Revol, a collapsible dog crate from Diggs, is made from reinforced plastic, steel mesh wire, and aluminum. It's designed to be easy to set up, collapse, transport, and store. The crate has two doors and a removable tray.
Revol for small dogs (up to 30 pounds) has a retail price of $245; external dimensions (length, width, height) are 28.4 inches by 20.1 inches by 20.6 inches. Revol for medium-size dogs (up to 50 pounds) is priced at $325; external dimensions are 34.6 inches by 23.4 inches by 24.4 inches. A larger size is coming. Be sure the crate is secured in place and won't slide around during travel.
Diggs
help@diggs.pet
www.diggs.pet
---
Weather-Stripping Seals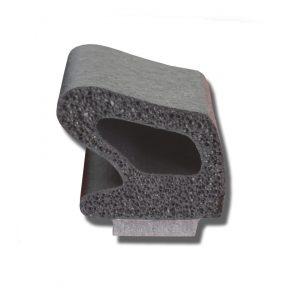 Weather-stripping products can help seal RV entry doors, hatches, and storage compartments from rain, snow, and wind — as well as pests. Steele Rubber Products' Peel-N-Stick line is available in a variety of styles and sizes. They're designed to seal tight-radius corners without bunching.
The seals are made using an EPDM closed-cell sponge rubber compound and are cured with a thick skin. The products are backed with a 3M adhesive to form a strong bond. Prices start at $2.19 per foot.
Steele Rubber Products
(800) 650-6188
https://rv.steelerubber.com/
---
Surface Protection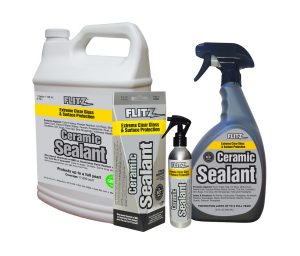 The environment never eases up. The sun's ultraviolet rays, dust, dirt, bug splatter, bird droppings, brake dust, water spots — all detract from the appearance of metals, fiberglass, clear coats, paints, and plastics. Flitz Ceramic Sealant is formulated to protect man-made hard surfaces. The sealant creates a ceramic shell-type coating to protect surfaces for up to eight months, according to the product description.
Flitz Ceramic Sealant is not a wax and contains no silicone. Available sizes include 8 ounces (1,100 square feet of coverage), $29.95; 32 ounces (4,400 square feet of coverage), $89.95; and 1 gallon (17,600 square feet of coverage), $249.95.
Flitz International Ltd.
(800) 558-8611
www.flitz.com
---
Heat/Sound Insulation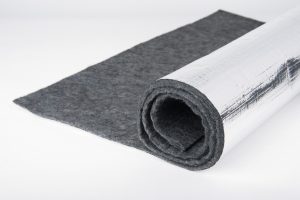 If you can't stand the heat, don't get out of the RV. Instead, insulate it. Thermo Guard FR is a ¼-inch-thick shield made with 100 percent synthetic fiber felt and a high-tech foil heat barrier. It's designed to protect against radiant heat up to 1,500 degrees Fahrenheit, as well as to reduce sound and absorb vibration.
Thermo Guard FR is available in two sizes: 24 inches by 48 inches, and 48 inches by 72 inches. It can be trimmed to fit anywhere. The larger size is available with foil on one side or both sides. Prices range from about $30 to $80. Thermo-Tec's Heavy Duty Spray Adhesive is sold separately.
Thermo-Tec Automotive
(800) 274-8437
www.thermotec.com
---
RV Products Submissions
To have a product considered for this column, please send information and a high-resolution photograph to rvproducts@fmca.com.