Insect Repellent Candle
The Coleman Citronella Candle from Wisconsin Pharmacal Company is designed to resemble the classic Coleman Northstar Lantern, with the added insect-repelling benefits of citronella.
The lantern includes a long-lasting, pleasantly fragrant candle that is said to burn for up to 40 hours to drive insects away from campsites and picnic areas. It features a U-shaped metal handle that makes it easy to carry and hang. The unit measures approximately 7.5 inches high and 6 inches in diameter, providing a wide base for stability.
The Coleman Citronella Candle has a manufacturer's suggested retail price of $8.99.
Wisconsin Pharmacal Company
1 Pharmacal Way
Jackson, WI 53037
(800) 558-6614
(262) 677-4121
www.colemanrepellents.com
---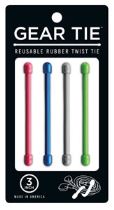 Organizing Ties
Gear Ties are reusable rubber twist ties that can be employed for many packing and organizing needs.
The strong, sturdy wire ties feature a durable rubber covering that will not scratch or mark the items being secured. With five sizes to choose from, the ties can be used for organizing electronics cords, wrapping hoses or electrical cords, securing gear in storage compartments, holding items in place, and more.
The ties are available in 3-inch, 6-inch, 18-inch, 24-inch, and 32-inch lengths and have manufacturer's suggested retail prices starting at $4.99 for a four-pack of 3-inch ties.
Gear Tie LLC
4225 Wild Meadows Drive
Medina, MN 55340
(763) 238-6224
www.geartie.com
---
Rechargeable Batteries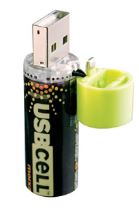 USBCELL batteries from Moixa Energy Ltd. are AA batteries that can be recharged by being plugged into a computer or other device's USB port.
The NiMH batteries are said to last for an extended time period and can be recharged hundreds of times before replacement. According to product literature, the batteries charge to 90 percent power in five hours, and just an hour of charging will provide 50 percent battery life. Each battery includes a side indicator light that shows the battery is charging, when it reaches 90 percent charged, and when it is fully charged.
A two-pack of USBCELL AA batteries has a manufacturer's suggested retail price of $17.99 and is available at electronics and computer stores.
Moixa Energy Ltd.
110 Gloucester Ave.
London NW1 8HX
United Kingdom
0207 734-1511
www.usbcell.com
---
Portable Solar Charger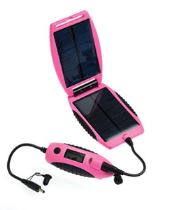 The Powermonkey-eXplorer, made by Powertraveller USA, is a portable charger for electronic devices that can be charged through an AC electrical outlet or the device's compact solar panels.
According to product literature, the charger can store enough power to provide 96 hours of standby time on mobile phones and 40 hours of play time for iPods, 48 hours for personal digital assistants, and six hours for MP3 players. The device includes an AC power cord that comes with interchangeable plug heads that allow it to be used in countries around the world, along with connecting tips for a variety of electronic devices. The lightweight charger has a rubberized exterior shell, and it includes short-circuit, overcharge, and antidischarge protection. It comes with a storage case and users manual.
The Powermonkey-eXplorer is available in four colors and has a manufacturer's suggested retail price of $119.95.
Mango International Inc.
P.O. Box 478
Pine Island, NY 10969
(877) 886-2646
(845) 258-9903
www.stuffjunction.com
---
Toilet Liners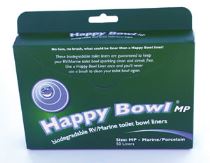 According to product literature, Happy Bowl Toilet Liners are the first and only biodegradable, flushable toilet bowl liners made specifically for RVs.
The liners are said to minimize water consumption, while eliminating damage to toilet valves and the unsanitary brush required for cleanup. Before using the toilet, simply place a liner in the bowl. When finished, flush the toilet and the liner flushes away, leaving the bowl and waste valve clean.
Happy Bowl Toilet Liners are available in two sizes "" original for standard RV toilets and MP for larger porcelain toilets "" and a box of 50 has a manufacturer's suggested retail price of $8.95. FMCA members can receive a 20 percent discount when ordering online by entering the coupon code "FMCA2010″ at checkout.
Happy Bowl
P.O. Box 31058
Santa Barbara, CA 93130
(805) 426-9636
www.happybowl.com
---
Weather-Stripping Seals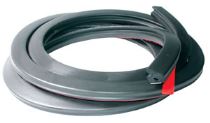 Steele Rubber Products Inc. offers a variety of Peel-N-Stick weather-stripping products that can be used just about anywhere on the motorhome that seals are needed.
Peel-N-Stick seals come in multiple lengths and a variety of extrusions to fit the specific seal application necessary. Simply cut the length of seal needed; wipe the application area with the included alcohol swab; remove the adhesive backing; and apply to the motorhome. According to product literature, Peel-N-Stick parts are made of the same quality sponge and dense rubber as the company's standard seals.
Peel-N-Stick weather-stripping material is available in numerous styles and sizes with manufacturer's suggested retail prices starting at $11.50 for lengths of 5 feet.
Steele Rubber Products Inc.
6180 Highway 150 E.
Denver, NC 28037
(800) 230-8101
(704) 483-9343
www.steelerubber.com
---
Electric Polisher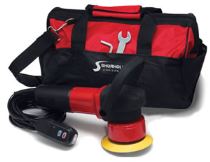 According to product literature, the Dual Action Polisher from Shurhold Industries makes it possible for owners to achieve a sparkling finish on their motorhome.
The polisher includes a 6-inch oscillating head that is said to eliminate burns and swirls and provide a professional-looking appearance. The 4.8-pound tool includes a D-handle for ideal hand positioning and a soft-touch head for comfort. The device is powered by a 2,500-6,500 orbits-per-minute motor with six speed settings, and comes with a 20-foot AC power cord. It also includes a quick-change backing plate, a heavy-duty carrying bag, a wrench, and an operators manual, and comes with a one-year limited warranty. Various pads are sold separately.
The Dual Action Polisher has a manufacturer's suggested retail price of $149.98.
Shurhold Industries
3119 S.W. 42nd Ave.
Palm City, FL 34990-5558
(800) 962-6241
(772) 287-1313
www.shurhold.com/rv
---
Storage Compartment Slide-Out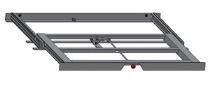 Innovative Industries Inc. has introduced the SlideMaster M3-MP all-aluminum storage compartment slide-out tray.
The M3-MP is a three-rail, midprofile slide-out tray that has a 600-pound weight capacity and offers full 100 percent extension. The slide-out can be used in all sizes of motorhome cargo bays, maximizing your storage capacity while making it easy to access the items you place in the compartments. The slide-out is available in lengths ranging from 19 inches to 60 inches for HSL (spring lock) trays and 17.25 inches to 60 inches for gravity lock (turn style) units.
The SlideMaster M3-MP has manufacturer's suggested retail prices starting at $696. An M2-MP (two-rail) version is available starting at $473.
Innovative Industries Inc.
1525 Deleglise St.
Antigo, WI 54409
(800) 374-1134
(715) 627-4467
www.slide-master.com
---
Tow Trouble Notification Service

Motorhome owners who tow another vehicle or trailer when traveling may not be aware of problems with the towed vehicle or trailer during transit. The Towpal alert service makes it possible for other motorists to notify the driver of such issues.
The service includes a sign (vinyl, magnetic, aluminum, or plastic with suction cups) that attaches to the towed vehicle. The sign includes a toll-free phone number that other motorists can call to reach the Towpal message center, along with a six-digit identification number. The caller can leave a message indicating the problem, which is forwarded to the motorhomer in seconds. If the primary number is not reached, a secondary number is called.
The Towpal service costs $35 per year, with an initial activation fee of $15. A free small sign is provided; larger signs are available at an additional cost.
Towpal Inc.
6820 Rose Mallow Drive
West Chester, OH 45069
(877) 486-9725
www.towpal.com
{loadpositionEndBlurbProducts}