Eyeglass Hanger
There isn't a nightstand next to the bed in our motorhome, so I don't have a handy place to put my eyeglasses at night. However, there is a window, and the curtains at the window are tied back with a strip of fabric. That little tie-back strip is the perfect place to hang my eyeglasses at bedtime.
Arlene Jeknavorian, F193524, Davenport, Florida
---
Shade Hangers
I purchased a 36-inch-by-100-inch windshield reflector shade to block the sun when the motorhome is not being driven. However, the shade would not remain in a standing position. So, I sewed four rubber washers to the shade and attached four suction cups to the windshield, each with a metal hook attached. Hanging the shade on the hooks keeps it in an upright position to block the sun. When it's time to drive the motorhome, I take the shade off the hooks and store it.
Bernard Waskowski, F168400, Ladera Ranch, California
---
Pretrip Safety Check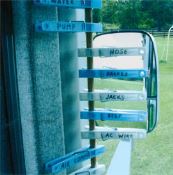 Using a pencil-and-paper safety check-off sheet before driving the motorhome can become a hassle. To make the process faster and easier, I used hook-and-loop fastening material to mount a 3/8-inch dowel to which I attach double-tagged plastic clothespins just beyond sight of the driver's-side outside mirror. For short stops such as fueling, swiveling the clothespins to the right puts them directly in my line of sight when I look in the mirror, reminding me of items that need immediate attention. I just push them back into place when the task is completed. For longer periods of immobilization, I sometimes clip the pins directly onto the steering wheel "" especially the one to remind me about the leveling jacks! You can add clothespin reminders for any task or chore. With this system, there's no more "Honey, can you find me a pencil and my clipboard?"
K.C. & Emma Chalfin, F414463, DeLand, Florida
{loadpositionEndBlurbTips}