Now a National Historic Landmark, the ranch once owned by the famous American writer beckons visitors to Glen Ellen, California.
By Richard Bauman
November 2010
If anyone ever lived up to his own motto in life, it was Jack London. His credo is engraved on a wall plaque in the main room of the House of Happy Walls at Jack London State Historic Park:
I would rather be ashes than dust! I would rather that my spark should burn out in a brilliant blaze than it should be stifled by dry rot.
I would rather be a superb meteor, every atom of me in magnificent glow, than a sleepy and permanent planet.
The proper function of man is to live, not exist.
I shall not waste my days in trying to prolong them. I shall use my time.
That pretty much describes London: a brilliant blaze, a superb meteor; yet, one who endures even now, more than 90 years after his death.
London's property, and the state park bearing his name, is located in Glen Ellen, which is a bit north of Sonoma, California. It isn't the place where most of us would envision Jack London "" world traveler, adventurer, and adventure novelist "" settling down. Yet it is a plot of land that America's first millionaire author loved and dubbed "Beauty Ranch."
From the park's founding in 1959 until recently, the center of interest for park visitors has been the House of Happy Walls, which is now a museum. London, who wrote Call of the Wild, White Fang, and more than 50 other books, never lived in the house, but it's awash with mementos from his life. His wife, Charmian, built it as a tribute to him after his death.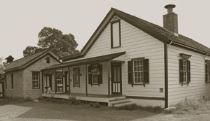 A smaller building, simply called the cottage, now rivals the House of Happy Walls for visitors' attention, because it is where London lived and penned books, articles, essays, and short stories for the popular magazines of his era. And it's where he died.
The cottage has been restored extensively. It already was here when London purchased the land "" just the dilapidated remains of a house built in 1862 by Hungarian Lajos Csomortani, who planted vineyards on the property. Park visitors could look through dirty windows for a glimpse of the dark, dusty interior, but there was little else to see. Even though London and Charmian lived there, and its restoration had been planned since 1988, work didn't start until 2002 and was completed in 2008.
The Cottage
Jack and Charmian moved into the cottage in 1910. It was supposed to be temporary living quarters while his dream home, "Wolf House," was being built. Wolf House was enormous. Its 15,000 square feet of living space encompassed four stories, 26 rooms, and nine fireplaces. It was built from native materials, including stones from his property and wood from his trees. Its final cost was about $75,000 in 1913 dollars.
August 23, 1913, was supposed to be move-in day. In the early morning of August 22, Wolf House was destroyed by fire. Arson was suspected; but, more likely, the fire was accidental. Workers had used turpentine and linseed oil the day before to finish the woodwork, and oily rags may have been left behind and smoldered into flames in the heat, simply through spontaneous combustion.
"It was a quick fire," London said the night after the devastation. "We can't tell if it was incendiary or not. The walls are still standing, and I shall rebuild." But he didn't, for lack of funds. Instead, he added an office to the cottage and worked there until his death in 1916 at the age of 40.
Much of the recent restoration of the cottage was based on photos taken inside and outside of the original building. An experienced photographer, Jack took many of the pictures himself. Each of the furnished rooms depicts life as the Londons knew it. Most of the furnishings, paintings, and mementos displayed belonged to London. Many of them had been in storage for decades and never seen by the public. One such item is the large, fireproof safe in his office where he stored his original manuscripts.
The Londons received a constant stream of visitors at the cottage. First-time overnight guests often were awakened in the middle of the night by an "earthquake." Inconspicuous holes were bored in the floor, and a rope was tied to a leg of the bed and passed through one of the holes. After the guest was asleep, a couple of Jack's hired hands would yank on the rope and send the bed shooting across the room, while Jack shouted, "Earthquake, earthquake!" He thought it was a great prank.
You can walk through part of his office and see where he sat and wrote nearly every day. The office is a practical space set apart from the rest of the house, but not isolated. Plenty of windows provide natural lighting. It is furnished with a couple of desks, bookshelves, and a work table, which London described as "the big slab of myrtle on which I write my ungodly stories."
Although a couple of antique typewriters sit in the office, London wrote his books and stories longhand, and usually in pencil. He penned 1,000 words a day, usually in the morning, six days a week. Charmian typed the completed pages. He liked to say of his writing schedule, "I am a believer in regular work, and never wait for an inspiration."
The House Of Happy Walls
Charmian built the House of Happy Walls between 1919 and 1922 using materials found on Beauty Ranch, much as Wolf House was built. It is a large, two-story structure set in a redwood grove, though not as awesome as the burned home would have been. Charmian lived alone in the house until her death in 1955. In her will, she directed that the house become a museum and tribute to London.
Whereas the cottage reflects London, the writer, the House of Happy Walls is more about Jack and Charmian, the adventurers. The huge living room, for example, contains mementos from their travels. There are statues, tools, musical instruments, and other items collected during their South Pacific adventures aboard the Snark, a custom-built sloop. Most of the display cases reveal London's personal belongings: seafaring equipment such as the compass from the Snark; a sextant; and other items.
In one exhibit case are handwritten drafts of Jack's short stories and galley proofs of book manuscripts. It also includes a pencil he used, along with the visor-like eyeshade he wore while writing. There's also the submission record of one story, which he sent to more than 20 magazines before it was published.
Among the displayed items are massive chairs and other furnishings, which were intended for Wolf House, and a scale model of the Snark, in which he and Charmian intended to sail around the world. One room is devoted to their 1906-08 voyage, with photographs, souvenirs, and an account of the trip.
The couple planned to spend seven years aboard the ship, visiting and exploring numerous islands and countries. Jack envisioned paying for the trip by writing articles and books as they traveled. His stories and books were so popular, he probably could have done it, but things didn't work out.
In the South Pacific Jack became ill with an undiagnosed malady, and after 27 months they were forced to abandon the voyage. The couple returned home, and London eventually sold the Snark for about one-tenth of what he paid for it.
When London's health began to fail, his doctors ordered him to quit drinking and smoking, slow his torrid work pace, and get more exercise. He ignored them. He kept writing and overseeing the daily operations of the ranch. On the fireplace mantle in the main gallery of the House of Happy Walls is a framed front page from the Santa Rosa Press Democrat newspaper, dated November 23, 1916. Together with a photo of London, the paper's headline says it all: "Jack London Dies in "˜Valley of the Moon.'" The writer succumbed to uremic poisoning and kidney failure the day before.
In addition to the House of Happy Walls and the cottage at Beauty Ranch, you can view the ruins of Wolf House via a half-mile trail from Happy Walls. And don't overlook the Pig Palace, a "state-of-the-art" swine production facility London invented, or the gravesite he chose, near a plot where two young pioneer children had already been buried.
Jack London was attracted to the Sonoma Valley by its high hills, lush fields, streams, and its forests of oak, Douglas fir, and redwood trees. "When I first came here," he wrote, "tired of cities and people . . . all I wanted was a quiet place in the country to write and loaf in and get out of Nature that something which we all need, only the most of us don't know it."
It seems he did just that.
Further Info
Jack London State Historic Park
2400 London Ranch Road
Glen Ellen, CA 95442
(707) 938-5216
www.parks.sonoma.net/JLPark.html
The park is approximately 20 minutes north of Sonoma. Everything except the cottage is open daily from 10:00 a.m. to 5:00 p.m.; the cottage is open Saturday and Sunday from 10:00 a.m. to 4:00 p.m.
Ample parking is available (but no camping), as are picnic areas and rest rooms. Leashed pets are permitted outside. The entry fee is $8 per car; $7 for seniors.
Camping for motorhomes up to 27 feet in length is available nearby at:
Sugarloaf Ridge State Park
2605 Adobe Canyon Road
Kenwood, CA 95452-9004
(707) 833-5712