Life has a less rapid pace near a national wildlife refuge in Virginia.
By Peter Githens
September 2010
"Slow down to Island Time," instructed a billboard as we neared Chincoteague from the mainland. That seemed exactly like what we were doing as we departed Virginia's heavily traveled U.S. 13 and turned off on State Route 175. The busy highway gave way to a woodsy, rural area. As we cleared the last vestige of trees, a wide, grassy marsh surrounded us and the pungent, semi-raw scent of tidal backwaters came through the open window. Almost instantly, I heard the call of laughing gulls that seemed to welcome us to town.
As we made a right turn from the State Route 175 bridge onto South Main Street in downtown Chincoteague and our speed slowed to the 25-mph limit, I could already feel my work-frazzled body slowing as well.
Chincoteague reminds me of what the shore was like in my native New Jersey when I was a boy. The houses are mostly smaller and modest with a coastal feeling about them, and they don't bear the gaudy decorations from the local discount store. In Chincoteague, the rusty clam rake leaning by the back door is probably put to good use every low tide; it's not a decorative item purchased at an auction and displayed just-so. There are no rope-draped pilings or other nautical symbols around driveways; just simple, somewhat rustic, well-kept cottages and small homes.
The townsfolk are friendly, and most seem to be year-round residents. We were traveling in our small motorhome and elected to camp at Tom's Cove Park, which lies right on the Assateague channel. The hosts at Tom's Cove Park were warm and welcoming; they gave us a great waterfront site and directions to a restaurant and a scooter rental facility.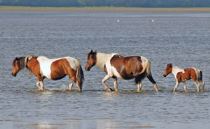 We proceeded to a campsite that was truly right on the Assateague channel, which runs between Assateague Bay and Tom's Cove. This is the channel that the famous Assateague ponies "" which live wild on the island "" swim across during the pony-penning event each July. Tom's Cove Park (8128 Beebe Road, 757-336-6498; www.tomscovepark.com; e-mail: [email protected]) is the largest of several campgrounds on the island and has excellent amenities, including a well-equipped store, dump stations, and many sites with full hookups accommodating the largest RVs.
After setting up, we spent some time checking out the little shops and boutiques scattered around town. Most shopping is either on Main Street or Maddox Boulevard. Everything from fishing tackle to fine art is at your fingertips. One Chincoteague specialty is wooden, hand-carved decoys and birds, and they can be found in downtown stores and front-yard stands across the island.
A visit downtown would not be complete without a stop at the Island Creamery for homemade ice cream and fresh-baked waffle cones. You smell the latter upon entering the store. If you weren't planning on getting a waffle cone, you probably will change your mind when the aroma reaches your nose. The Island Creamery also features Wi-Fi for people who just have to get their daily cyber fix.
If you are a seafood fan, be sure to visit one of the local shrimp mongers. They sell their catch from pickup trucks and coolers, usually near Maddox Boulevard and Main Street. Their prices are great and the shrimp is off-the-boat fresh. Go early, because when the day's supply is gone, so are the vendors.
The highlight of a visit to this area is the Chincoteague National Wildlife Refuge and Assateague National Seashore. Both are less than 10 minutes from downtown Chincoteague. The visitors center has informative, interactive displays for kids of all ages. While there you can get maps, brochures, and passes; visit the gift shop; and view nature displays. Outside in the refuge are hiking trails and the Wildlife Loop drive, which you can take from 3:00 p.m. to dusk. (The road is open to walkers and bicyclists all day.)
The quarter-mile walking trail to the 1867 Assateague Lighthouse is open all the time, but if you visit on a hot summer day, the lighthouse is probably best viewed from afar. Either that, or bring plenty of mosquito repellent, as these pests love the trail, too. The light is open Friday through Sunday from 9:00 a.m. to 3:00 p.m. A small admission fee is charged, with the money used for ongoing restoration efforts.
Speaking of mosquitoes, Chincoteague is famous for them and probably would be uninhabitable in the summer were it not for aerial spraying. When those neat planes come zipping overhead at low altitude while you are fishing, you might want to cover your coffee cup and not look up.
The Chincoteague National Wildlife Refuge is a key cog in the Atlantic coastal ecosystem. Many species of wildlife, both furred and feathered, inhabit the refuge. Every day I watched bald eagles fishing right in front of our campsite. Peregrine falcons, ospreys, kestrels, red-tailed hawks, and other birds of prey, as well as shorebirds, including the endangered piping plover, can be found as well. The refuge is also home to one of the last populations of Delmarva fox squirrels. These furry little critters may appear to the untrained eye to be your garden-variety types, but a closer look reveals a bushier tail, a puffier body, and a more rounded head. The visitors center at the refuge has an entire room filled with excellent and interesting information about the fox squirrel.
This refuge is also home to Sika elk, small Asian deer that look like a pint-sized version of their larger Western cousins. They even bugle during the rut. We saw many of them out in the wide, open mud flats feeding on new vegetation. Apparently, scorching hot sun and humidity don't bother them. The refuge also hosts a healthy white-tailed deer population.
Let's see … squirrels, elk, eagles, deer, plovers … I think that is all the wildlife. Oh, yes, let's not forget the ponies. You cannot go near Chincoteague or Assateague and not be inundated with everything pony. There are stores and restaurants named after ponies. There are pony postcards, pony books, pony statues, pony bottles, pony beach towels, pony bumper stickers, and pony taffy. We even saw the ponies right from our campsite. I am an early riser and got up one morning around sunrise and there they were, on a small island just across the channel. I ran inside and woke my bleary-eyed spouse to tell her to come see the ponies. I didn't have the heart to tell her that after she went back to bed, they stood in that same place for two more hours.
It's said the wild ponies here survived from sinking pirate ships, or that they are simply descended from the herds of early settlers. Either way, they live unencumbered, wild and free, for the most part, on the island year-round.
Our visit corresponded with the peak of the dog days of summer. It was well into the 90s and humid most days we were there. Thank goodness for the wonderful beach at Assateague National Seashore. This large beach can accommodate many visitors and still not feel crowded. There are toilet facilities and a lifeguarded section, but no other amenities, such as concession stands. Be sure to bring your own refreshments.
The beach itself is fantastic, featuring good swimming, fishing, and shell-collecting. The current or undertow was not particularly dramatic when we visited. Properly equipped "over-sand vehicles" with permits are allowed to be driven on the beach (OSV permits are costly, yet are good for an entire year). Fishing and kite flying are allowed, though kite flyers are asked to do so away from the shorebird nesting areas, because kites look like birds of prey and can drive adult shorebirds from the nest.
Perhaps my favorite part of the trip was the fishing. It doesn't get easier or cheaper than this. Croakers were everywhere. No matter where we put the line in, we caught these grunting fish. Sure, you could charter a boat to hit the backwaters, or schlep your surf fishing rig down the beach to get flashier varieties, but I did very well fishing on a pier into a channel 30 yards from our campsite.
We definitely will return to island time in Chincoteague for many summers in the future.
Further Info
Chincoteague Chamber of Commerce
P.O. Box 258
Chincoteague, VA 23336
(757) 336-6161
www.chincoteaguechamber.com
Chincoteague easily can be toured in a small motorhome, as most shops and restaurants provide ample parking. If you have a larger coach, it would be advisable to use a towed vehicle or a scooter. Parking at the beach on a busy weekend is possible with a motorhome of 25 feet or less. On a weekday, even the largest coach could park at the beach.
Chincoteague National Wildlife Refuge
P.O. Box 62
Chincoteague Island, VA 23336
(757) 336-6122
E-mail: [email protected]
www.fws.gov/northeast/chinco
The entry fee for Chincoteague National Wildlife Refuge, including the beach, is $15 for a weekly pass or $5 for a daily pass. Seniors 62 and older can buy a $10 lifetime pass. Federal duck stamp holders are always honored; simply show your current USFWS Migratory Waterfowl Duck Stamp, which can be purchased annually at any post office for $15 and is good at all national wildlife refuges.