Family & Friends
By Bobbie Shiplett & Bob Boxell
February 2010
On August 1, 1984, a group of 35 motorhomers who were single met and formed the Singles International (SI) chapter of FMCA. Charles Cheneweth, national president of FMCA at the time, called the meeting to order during FMCA's convention in Madison, Wisconsin.
To commemorate the 25th anniversary, the SI chapter gathered July 14 through 16, 2009, at the Henry County Fairgrounds in Napoleon, Ohio, for a prerally before heading to Bowling Green State University for FMCA's 82nd International Convention. During the anniversary rally we enjoyed a chicken dinner and fine entertainment by guitarist Dave Irons, who regaled us with his good-humor songs. The chapter's anniversary also was recognized during the convention, and we were presented with a certificate and a large 100-cup coffeepot.
The individuals attending the initial organizational meeting adopted the chapter's constitution and bylaws as suggested by FMCA. The chapter's mission was "" and still is "" "to meet the needs of those traveling alone or under handicap."
Through the years the chapter has continued to serve the needs of motorhoming singles throughout the United States, Canada, and Mexico. As part of the International Area, we strive to hold rallies and events in all of FMCA's geographical areas. There is almost always a prerally or post-rally in conjunction with FMCA conventions and area rallies. In addition, individuals often gather during the year at various locations just to get together and renew friendships. Many members have room for gatherings at their residences and often invite group members to come for a visit.
Many lasting friendships have developed as a result of SI involvement, and some have even culminated in marriages. The network shared by the singles is never-ending as we travel around North America. Our ties with other single people are endless, and the support we give to newly "singled" individuals can make an enormous impact on their future. Our logo "" a black "SI" encircled by bright yellow "" provides a beacon to identify fellow members wherever we go.
We continue to be a volunteer group with more than 400 members. We communicate through our bimonthly newsletter, "Scuttlebutt," and our Web site, http://www.fmca-si.com/. All single FMCA members are welcome to join our family.
For more information about the Singles International chapter, contact Bob Boxell, (407) 415-3114 or rboxell@gmail.com.
---
Endless Honeymoon Continues
This is a follow-up to the "Endless Honeymoon" article published in the April 2000 issue of Family Motor Coaching magazine.
Family & Friends
February 2010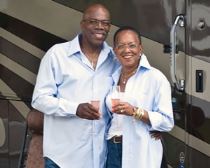 June 26, 2009, marked 10 years since Willie and Gloria Epps were united in holy matrimony under the awning of their Beaver Contessa motorhome at Cherry Hill Park, a campground in College Park, Maryland. As the moon set that night, the couple began their "Endless Honeymoon," and more than a decade later they are still on that journey.
When they married, both were still working full-time, dreaming of the day they could retire and become full-time motorhomers, giving them the opportunity to travel from state to state to see picturesque, charming, and historic places.
Finally, in September 2000, Gloria retired from her job as a safety occupational health specialist supervisor with the District of Columbia government. Willie, who had already retired from his job as a police officer for the District of Columbia Metropolitan Police Department, had taken a job with the Prince George County Government Department of Public Works and Transportation. Initially, Willie's plan was to retire when Gloria retired, but he still works for the county government.
In March 2005, the couple traded in their Beaver Contessa for a spiffy 2005 Monaco Dynasty with triple slideouts. The Eppses have used their freedom to travel to many popular places and be seduced by the sights and sounds of nature. Some of their favorite haunts have been Hilton Head, South Carolina; the Pocono Mountains in Pennsylvania; and Jekyll and St. Simons islands in Georgia.
The couple also has enjoyed the educational, entertaining, and charming Colonial settings of Williamsburg and Yorktown, Virginia. Since Virginia is right in their backyard, they can take advantage of the many cultural activities within close proximity. When they travel through Amish country in Lancaster, Pennsylvania, they keep their eyes peeled for specialty shops, roadside stands, crafts, tours, and delicious food to enhance their trip. When they tour the Blue Ridge Mountains, they enjoy the autumn's colorful transformation, roadside farm stands, festivals, nature trails, bike riding, and vibrant tree branches draping over Skyline Drive. They also have made stops at destinations with signature dining such as Hilton Head, South Carolina; Tunica, Mississippi; Pigeon Forge, Tennessee; and Clearwater, Florida. From time to time they also love chasing rallies, checking out festivals, and whooping it up at tailgate parties, especially for Washington Redskins games.
In August 2001, grandson Isaiah was born, and granddaughter Ariana followed in September 2003. The youngsters have been great traveling companions, sometimes tagging along with MaMa and Granddaddy for the road trips, especially annual excursions to the Old Mill Stream Campground in Lancaster, Pennsylvania, to visit Dutch Wonderland and Hershey Park. Isaiah and Ariana love to rendezvous on this trip with their best friends, Jamal and Mia Anderson.
Willie has a new toy that is included on all trips: a Harley-Davidson Peace Officer Ultra Classic Electra Glide motorcycle. He transports the motorcycle in the bed of the Chevrolet Silverado pickup truck that they tow behind the motorhome. Despite Willie's frequent urging, he's been unsuccessful in his efforts to get Gloria on the back of the bike. Nevertheless, Willie enjoys his toy.
Willie and Gloria admit that it's a great lifestyle, and they love it. They say that every day is a gift from God, and the fun just keeps on coming. As they travel the country in their cozy, luxurious motorhome, they continue to enjoy their Endless Honeymoon.
---
Don Hoffman: Early Coach Converter And FMCA Member
Family & Friends
February 2010
Don Hoffman, L2494 "" a longtime member of FMCA who along with his late wife, Margaret, started Hoffman Coach, C1859 "" passed away on November 23, 2009, in Melbourne, Florida. He was 73.
Don was born July 17, 1936, in Erie, Pennsylvania. He married Margaret on December 4, 1954, and they settled in Clarendon, Pennsylvania, where they raised their four children: Tim, Bonnie, Debbie, and Jeff.
According to a story about the Hoffmans that appeared in the October 1995 issue of Family Motor Coaching magazine, Don bought his first bus in 1964. At the time he owned and operated an automatic transmission business and also sold used cars. He originally intended to turn the used bus into a workshop, but Margaret thought it might be more useful as a "house car." So Don visited a travel trailer manufacturer in nearby Warren, Pennsylvania, where he found a number of ideas for making the bus livable. Soon the Hoffmans were building their own home on wheels.
The couple joined FMCA in 1966 after Don had finished his first family bus conversion. In 1969, after he had converted several more buses, the couple started Hoffman Coach, which is touted as "the oldest continuously operating bus conversion company in the United States." During the early days of the company, Don and Margaret did all the conversion work themselves.
In addition to converting coaches, the Hoffmans were avid motorhomers who were very active in FMCA. Margaret, who died May 16, 2005, served the association as both a national secretary and a national vice president, while Don was a member of FMC's Technical Advisory Committee from 1994 through 2005. They were founding members of the Converted Coach, Allegheny Mountain, MCI International, Prevost Prouds, and Penn Coachmen chapters and attended numerous FMCA rallies and international conventions, both as family members and as exhibitors.
Don was a member of the First Church of the Nazarene in Warren, Pennsylvania. Besides motorhoming, he was a fan and supporter of local dirt track racing in northwest Pennsylvania, cheering on his sons and nephews as they raced.
He is survived by his four children, three brothers, 10 grandchildren, and three great-grandchildren.
Memorial donations in his name can be made to the First Church of the Nazarene Building Fund, 907 Penn Ave., Warren, PA 16365.
---
NW Trek Fun Club Rallies In North Cascades
Family & Friends
By Jeanette Block, F300341
February 2010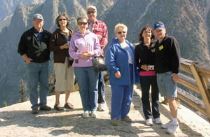 Wagonmasters Ed and Jeanette Block chose Grandy Creek Resort, an award-winning, KOA/Thousand Trails campground in Concrete, Washington, for the NW Trek Fun Club chapter's North Cascades Summers' End rally, September 12 through 15, 2009. Chapter members enjoyed the rugged beauty and challenges of the North Cascades mountain range and celebrated the chapter's fifth anniversary. Twenty-one couples attended the rally, coming from Washington, Oregon, California, Alaska, and British Columbia, Canada. The weather couldn't have been better, with warm, sunny days and starry skies for every evening campfire.
By the middle of our first day, all coaches had arrived, with many coming directly from a memorable NW Trek Fun Club rally hosted by Canadian wagonmasters Stan and Barbara Shackell in Vancouver, British Columbia. As dinnertime approached, all gathered for a lawn chair happy hour. Everyone brought terrific potluck dishes and desserts for an outstanding buffet. Although we had a fine kitchen and clubhouse seating at our disposal, the warm weather encouraged some to sit in the covered picnic area as well. Todd Olson, assistant fire chief of the Sedro-Wooley Fire Department, and his wife joined us, and after dinner he demonstrated CPR and defibrillator use.
Day two offered plenty of time for folks to relax or take to the trails of nearby Baker Lake Road. Twelve couples headed for the Shadow of the Sentinels trail, which led them through old-growth forest and to a magnificent view of 10,000-foot Mount Baker at Boulder Creek Bridge. The group also hiked to a "bouncy" suspension bridge over crystal-clear waters, which brought out the little boy in some of the men. A productive business meeting was held that afternoon, and all enjoyed fine Italian food at a local favorite, Annie's Pizza Station.
We decorated the Grandy Creek campground meeting room with balloons and streamers for the chapter's fifth anniversary party that followed. Nine of the original members listed on the chapter's FMCA charter were present and acknowledged by then-chapter president Stan Shackell. The chapter currently has 80 active family members. Judy Keppler, FMCA's Northwest Area vice president, congratulated the chapter and presented Stan with a certificate to commemorate the anniversary. We were honored that Judy and her husband, Ron, joined in all the rally activities and in our celebration.
Day three started out bright and early with a generous continental breakfast. Eighteen couples were soon on the road through "America's Alps" for a day of adventure. North Cascades National Park's Diablo Lake Lookout and Washington Pass Lookout provided memorable vistas to photograph, stretch legs, and enjoy picnics. From there, the group parted. Half of us continued on to Winthrop for lunch and tourist-pleasing shops along its Western boardwalks. At the Shafer Museum, we learned of the region's rich history and viewed rooms of well-preserved items depicting life in the early 1900s, as well as sheds with buckboards, early automobiles, farm machinery, and mining equipment. The museum was given a good rally donation, as they had opened off-season for us that day.
Others in the chapter carpooled in 4×4 vehicles to Mazama and on to Hart's Pass and 7,900-foot Slate Peak for a 360-degree view of the North Cascades. But as (poor) luck would have it, 400 feet from the summit, a chilly marine flow shrouded the mountaintops and our adventurous off-roaders' view in thick cloud cover. It was a fun run, nevertheless!
The groups converged later for a tour at the North Cascades Smokejumper Base. Jason Ramos, a smokejumper with 20 years of experience with the National Forest Service and five as a jumper, was an excellent guide. He proudly shared the program's amazing 70-year history and daunting expectations of individual jumpers. Requirements are so stringent that only 490 smokejumpers currently are qualified for this work at eight such bases nationwide. They are expected to complete their fire-fighting or rescue task and hike out of the forest with up to 130 pounds of gear in their packs. A video covered their workouts and training with full dome chutes for pinpoint descents from 1,500 feet in steep, rocky, and wooded terrain. A rally donation was made to their effort, and several members bought Smokejumper T-shirts.
Some couples stayed for dinner in Winthrop and others stopped for a good meal in Marblemount. The night skies silhouetted spectacular mountain peaks on the long drive back to camp. We were grateful to those who had made an inviting campfire to enjoy upon our return.
Our final day began with the remaining breakfast goodies from the days before, and several women created pretty, ribbon-tied photo albums with Lois Piispanen's guidance. By noon our carpools arrived in Newhalem where we boarded Skagit Tour buses for a dinner excursion. The narrow canyon road brought us to Diablo Dam for a spectacular cruise on lovely, glacier-fed Diablo Lake. Seattle City Light's hydroelectric project (Gorge, Diablo, and Ross dams) has long served the city of Seattle. We had a memorable time aboard the Alice Ross III and our skipper gave Ron and Ginny Rawson a special treat, diverting the boat from its route for an up-close look at the Cascadian, a boat built by Ron's company in 1984 to serve Seattle City Light tours. A tasty home-style chicken dinner followed in the company town of Diablo.
The final campfire brought out good stories and jokes from even our newest member, Tom Walton. Ed and Jeanette thanked those who had helped make their rally such a success. A final fifth hole was punched in each couple's QuickDraw Poker envelope. Rodger and Colleen Wright found three aces in their poker hand insert and claimed the $50 cash prize.
To see what fun we have, visit the NW Trek Fun Club chapter's Web site, http://www.nwtfc.com/, and view the pictures from some of our rallies.