How to select the right electrical measuring device for your RV needs.
By Bill Trimmer
November 2010
Whether you do your own RV repairs, are preparing for a profession in the RV service world, or are already working as an RV technician, there are certain tools you will need to do the job right. One such device is a multimeter for taking electrical measurements. And even if you don't intend to do your own repairs, the readings from a multimeter can be used to diagnose the types of problems you may be having and can help you to more accurately relay the information to the technician who will be servicing your unit.
Electricity is mysterious. We cannot see it, hear it, smell it, or taste it. Therefore, we have to rely on the information found through the use of electrical measuring devices. Of these, the multimeter is by far the most important electrical testing instrument you can have. With hundreds of makes and models to choose from and prices that range from $2 to $2,000, choosing the right multimeter for your needs can be daunting. Obviously, you want to buy the best one, right? Determining which is best can be difficult to nail down, so let's simplify the task a bit. Instead, let's look for a multimeter that is well-suited for RV work.
A common thought might be to ask a friend or neighbor for a recommendation, but everyone will have his or her own preferences. They most likely will recommend what they already have, even though better choices may be available for you today. Through the years I've collected about a dozen analog (pointer-type) meters and at least as many digitals, so I've worked with many types. Based on this experience, I'll cover the various features available on multimeters and suggest the usefulness of each feature for RV work. As an electrical engineer, I am very familiar with electrical measurements. I am also a master certified RV service technician (retired) with years of experience in the field. So, let's break things down into sizable "chunks" and take a look in a step-by-step fashion.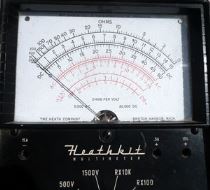 First, I recommend purchasing a digital multimeter (DMM) rather than an analog type. Here are the advantages:
A DMM is more forgiving of mistakes. Most DMMs are protected against over-range to 150 volts or more, even if set to the wrong range or function. (The range refers to "how much" you are measuring, such as 12 volts or 120 volts. Function refers to "what" you are measuring, such as volts, amps, ohms [resistance], temperature, etc.) Taking a measurement with the wrong range setting on an analog meter likely will result in damage to the device. DMMs, on the other hand, typically escape without harm.

DMMs are easier to read correctly. Analog multimeters typically have many scales, so you have to choose the right one and correctly read the scale divisions and subdivisions. On top of that, you also have to put the decimal point in the correct position, as one scale may be used for 1.5-volt, 15-volt, and 150-volt ranges. A digital meter displays in numbers what the reading is and puts the decimal point in the correct position.

DMMs are typically more accurate for the dollar and are more readily available today.

DMMs have greater resolution; that is, they can be read to a finer degree of precision. However, do not confuse resolution with accuracy. Just because you have a four-digit display does not mean the reading is accurate to the last decimal point. (See the manufacturer's specifications for accuracy.) This said, sometimes greater resolution itself is a benefit. For instance, the difference between a voltage reading taken at the battery and another reading taken at the load (a furnace, for example) shows the voltage drop along the wires (including the ground). This could be important diagnostic information. By using the same meter, the margin of error would be reflected in both readings, so the error drops out of the equation.

Many additional functions are available on DMMs (depending on the model), such as the ability to measure temperature, frequency, capacitance, AC amps, etc., that are seldom available on analog meters. (I'll share more information about these functions later.)

DMMs offer many features such as data hold, inrush (max), a continuity beeper, a diode check, auto-ranging, Min/Max/Avg readings, backlighting of the display, true root mean square (RMS) measurements, auto power off (saves batteries), etc. Such things are rarely available on analog meters. Again, the feature set depends on the model; the more useful features will be discussed below.

DMMs offer extended ranges such as low millivolt ranges and resistance to 50 megaohms (millions of ohms) or more, which typically are not available on analog meters.

DMMs can be inexpensive. In 2009 I bought a DMM at Harbor Freight Tools on sale for $1.99 (with coupon). It came with a 9-volt battery, test leads, and instructions. The specification made it an appropriate device for RV work. It does have limited ranges and functions, but it's a decent starter meter or backup meter. I keep one in my toolbox and one in each vehicle so I'm never without a meter. At the other end of the price range you can spend $2,000 and more. For this price you'd get something only an industrial electrician would need.

Practically speaking, for RV work, $300 would be tops and $60 to $100 will get you a very suitable meter. Even $30 to $50 meters are becoming more available, too, and you can find some for less. For many, the Harbor Freight model will be adequate.

DMMs have auto-polarity. An analog meter will try to read downscale if you have the probes reversed for DC measurements. A digital meter simply puts a minus sign in front of the display to alert you and still gives you the correct reading. No need to switch probes.
What Do You Need For RV Work?
When trying to compare DMM models, it's easy to become overwhelmed by all the features available. When you get right down to it, you need only a few things for basic RV work:
DC voltage range covering 12 volts for your house battery, lights, water pump, converter output, etc.

AC voltage range covering 120 volts and 240 volts for your shore power, generator and inverter output, receptacles, appliances, etc.

Resistance measurements from 1 ohm to 1 megohms. Resistance measurements are used for checking the resistance of coils and thermistor temperature sensors; checking for leakage paths such as wet wires/connections that cause a ground fault circuit interrupter to trip; and determining whether switches are open or closed (continuity).

These three basics will cover 95 percent of your work and "" good news "" every available DMM I have ever seen measures all three, and a lot more.
Now let's put things in perspective. The following items are rated, in my estimation, from most important (5) to least important (1) for RV work.
Accuracy (5): Accuracy for RV work is usually not critical for resistance measurements, as many components in an RV have a 10 percent tolerance, so a meter with resistance accuracy of 1 to 2 percent is adequate. AC voltages are not overly critical, and a 1 to 2 percent meter should fit the bill. Accuracy for DC voltage is more critical, and a meter with 0.5 percent accuracy is suggested as a minimum. House battery charge condition (as measured after the battery has idled for several hours, with no charge and no load) can be determined by a terminal voltage measurement. This varies from 12.7 volts (fully charged) to 11.8 volts (fully discharged), so you need a fairly accurate reading here. DC voltage readings should be accurate to 0.5 percent or even 0.25 percent.
The accuracies suggested above are readily available in DMMs today, and at reasonable prices. When looking at meter spec sheets, you'll notice that DC voltage usually will have the best accuracy spec while other functions might not be as accurate. As just stated, this fits our needs pretty well.
A quick note: If a meter has 0.5 percent accuracy, that doesn't mean it is 99.5 percent inaccurate. What the spec is saying is that a particular meter is accurate to within the specified percentage.
Ruggedness (5): Meters aren't meant to bounce, but sometimes they do. I once picked up a furnace after bench-checking it and was returning it to the RV when I heard a thump. A test probe was tangled in the furnace and dragged the meter off the bench and onto the concrete. I picked the meter off the floor and found it was not damaged and still worked fine. The moral of the story: choose a meter with a protective rubber-like outer cover. Avoid any with a hard plastic case that can crack if dropped. If you carry/keep your meter in a tool bag or storage bin, consider putting it in a soft carrying case as good insurance, even if it costs extra. It allows you to keep the probes with the meter, too.
Low Battery Indicator (5): A low battery indicator is mandatory to warn of the need to replace the batteries. Without this feature, the meter will rapidly suffer increasing errors. This will lead to incorrect diagnoses and much wasted time. Most meters have this feature, but not all users keep an eye on it.
Temperature (4): Meters that are capable of measuring temperature typically use a type "K" thermocouple (TC for short), which is a wire (two conductors of different metals) that is approximately 2 feet to 4 feet long. Connect the plug to the meter in place of the test leads. Polarity of the TC is important (+ to +). The sensing end is opposite the plug end, where the two wires are connected together. This is what senses the temperature. Temperature readings are useful for checking the water heater, supply and return air for furnaces and air conditioners, refrigerators, freezers, ovens, and other equipment that may be overheating. When measuring, be patient. Taking air temperature measurements will be naturally slow, so wait several seconds until the meter settles in on a steady reading. Most meters allow display in either Fahrenheit or Celsius.
Continuity (4): This is handy for checking the continuity of your circuit without having to look at the meter. Just listen for the beep. It is useful for checking to determine whether wires are shorted, a wire is continuous (end-to-end with no breaks), a switch is open or closed, a bulb (incandescent type) is burned out, a fuse is blown, etc. Check the manufacturer's specs for resistance limits. For instance, some units will beep only when the circuit resistance is below 15 ohms, while others may beep up to several hundred ohms or even several thousand ohms. This can be very misleading. For example, a switch that tested closed (had continuity causing a beep) but had 15 ohms resistance (or more, depending on the meter) would not be any good. Be aware of this limitation. Meters that display an actual ohms resistance reading, in addition to the beep, can eliminate doubt. Also keep in mind that some meters beep too softly to be heard in a noisy area.
Auto Power Off (4): This feature automatically turns off the meter after several minutes if you haven't taken any readings or changed the settings. Many times I have pulled my meter out of the toolbox only to see, by the knob position, that it was still on when I put it away, or I left it lying on the bench while it was still on. The auto power off feature has saved me many sets of batteries and the time and bother needed to replace them. It's a good feature to have.
AC/DC Amps (3): Analog multimeters could measure DC amps but not AC amps. DMMs came to the rescue. Some DMMs can measure AC, although some lower-priced units can measure only DC amps. Most DMMs go to a maximum of only 10 amps. To test higher currents, such as with air conditioners, hydraulic pumps, etc., a separate, clamp-on type ammeter is recommended.
True RMS (3): You'll see DMMs touting true RMS for AC measurements, sometimes implying improved accuracy. For most RV work, a non-RMS meter will give satisfactory results. You will need a true RMS meter to check the output of most inverters, because the output is not a pure sine wave as is shore power and generator output. Most inverters, often called "modified sine wave" output (modified square wave would be a more accurate description), have an output that will cause a standard DMM to read low. The percentage low depends on several factors, so I can't give you a simple "fudge factor" to use. If a meter has a true RMS feature, the device and package usually note this.
Diode Check (3): This function is handy for checking a diode-type battery isolator or alternator diodes. You can check for open/shorted diodes with the regular ohmmeter function if your meter doesn't have this feature.
Auto-Ranging (3): This feature automatically selects the best meter range for your measurement. (You must still select the function you want.) This saves having to manually select the range if you started with the wrong one. In RV work you pretty well know to select a 20-volt range for DC or a 200-volt range for AC. For resistance you normally will select the lowest range to check continuity or the highest range to check insulation (for example, a lack of short or leakage path). Most meters with the auto-range feature also have a manual override.
Data Hold (2): Pushing the HOLD button on a DMM that has this feature freezes the present reading until you can look at it. This occasionally is handy to have. One example would be if you found yourself in a contorted position with your probes and couldn't see the meter to read it.
Make sure to release the HOLD before using your meter again or you could get shocked by a circuit that your meter "" still on HOLD with the previous reading "" said is not hot.
Temperature "" Non-Contact/Infrared (2): Another type of temperature sensor measures radiated heat (infrared). These typically project a red laser "aiming spot." The sensing area is much larger than the aiming spot, typically one-eighth of the distance from the object to the meter. These can be substituted for a TC-type temperature sensor but require the oven, refrigerator, or freezer doors to be open. Measure the duct surface temperatures to check furnace and air conditioner operation, as this sensor won't read air temperatures.
Frequency (2): Frequency can be important if you work on generators or inverters. Don't bother measuring shore power frequency, at least in the United States and Canada, because power grid frequency is 60 hertz and is controlled by the grid operator to a greater accuracy than your meter will ever have. However, you can use shore power to check your meter's frequency accuracy.
Capacitance (1): About the only time you'll run into capacitors (caps for short) is the start and run capacitors in air conditioners. So, unless you intend to tear into the innards of an air conditioner, you won't need a meter with the capacitance feature.
Backlight Display (1): This feature allows the user to turn on lights (usually LEDs) to better see the display when working in dark corners. This can be handy, but a flashlight or droplight will serve just as well. Use this feature sparingly, as it runs down the battery. Some meters will turn off the light automatically after several minutes to save the battery in case you forget to do so.
The above features are the ones more commonly found, along with my estimate of their usefulness. Additional features are available on a few meters, typically among the higher-priced units. If you have a need for such special features, by all means get a meter that has them. I have purchased meters that included special features that I wanted, even though they normally are not required for typical RV service work. The above list should cover almost anything you will need in the RV world. The following are a few additional, general replacement parts and other suggestions.
Batteries: Most DMMs use one 9-volt battery or two to four AA cells. These are inexpensive and readily available. I have a pocket DMM that uses a hard-to-find and expensive 12-volt battery that looks like a half-length AAA cell. Wouldn't you know it; this meter does not have auto power off.
Fuses: All DMMs have, or at least should have, two internal fuses "" one for milliamp ranges and one for amp ranges. This protects the meter in case you have it set up for current measurement and then connect the probes across a power source such as the house battery or wall outlet by mistake, without switching to a voltage function. Without a fuse, your test probe will become an arc welder. Unfortunately, Harbor Freight Tools' inexpensive meter is not fused on the 10-amp range, and the same goes for many other inexpensive meters I've seen. Since you rarely need the amp range, just stuff a cotton swab in the 10-amp jack (hole) and cut it off flush with scissors. Then you won't accidentally connect there. Whichever DMM you select, make sure to keep spare fuses on hand. See your instruction manual for correct replacements, as well as how to replace them. Typically, you have to open the meter, so keep your screwdriver handy, too. Trust me; eventually you'll need those replacements.
Test Leads/Clips: Test leads seldom fail, but if replacements are required, make sure they will fit your meter, as not all are interchangeable. Oftentimes measurements can be made more conveniently when clips are used instead of one or both probes. Check electronic supply stores for auxiliary test leads with clips, or get a pair of clips that will connect over your regular probe tips.
Display: Turn on the meter and check the display before buying. While the digits are usually sufficiently large, the measuring units "" K? (kilohms), V (volts), A (amps), etc. "" are sometimes tiny and hard to read. Small displays are often the trade-off made on compact meters. To check display readability, you may have to install batteries or ask the salesperson if he or she has a demo unit with batteries already in, or look at pictures in the users manual.
Pocket Meters: These are simply small meters that can be carried in a pocket. Of course, it depends on the size of your pockets (and how much other stuff you have in them). Look carefully at the specifications, as their small size may limit functions, ranges, accuracy, resolution, and features. These are occasionally handy to have and can be pressed into service if your main meter fails (did you check the battery?) or if you left it at home.
Are You Ready?
With this information you should be able to choose a suitable meter to meet your needs, and at a decent price, too. Carefully review the specs on the package and look at the instruction manual for more detailed information. Most meter manufacturers have Web sites that include information about their products, usually with photos and detailed specs. Some also offer operation manuals to download. I'd suggest getting manuals for meters on your short list once you have narrowed your choices. When looking for a meter in a store, remove it from the package if possible. Does it fit your hand comfortably? Turn it on. Are the controls easy to use? Look carefully at the display. Are the digits easy to read? Is the other information readable? Turn on the display's backlight (if it has one). Is it bright enough? Will the continuity beeper be loud enough to be heard in your shop or work location? Plug in the test leads and short the probes "" you may need to install batteries for this. Are the batteries, probes, instruction manual, temperature probe, case, and other accessories included and present in the package? The manual typically shows what is included.
If you would like to brush up on basic electricity, I recommend a book by Stan Gibilisco called Electricity Demystified: A Self Teaching Guide ($19.95, McGraw-Hill). I've found it to be a straightforward, easy-to-understand book to learn the basics about electricity. It has many diagrams that really help. Check your local bookstore or an online source.