Family & Friends
By Judy Hitchings, F93640
March 2010
The Heartland Execs. chapter ventured east to the Washington, D.C./Capitol KOA Kampground in Millersville, Maryland, September 13 through 18, 2009, to visit many of the landmarks and treasures located in and around America's capital city. The rally hosts were John and Sue Heckler, assisted by Jim and Bernie Kussy. Some of us arrived early in order to get a head start on the tours of Washington. By Sunday afternoon, all 16 coaches were in place and everyone was ready for fun! What a good rally it turned out to be.
The first event was a happy hour, held in the open-air pavilion on Sunday evening. Next was a supper of Chicago-style Maxwell Street Polish sausage, prepared by Jim and Bernie; no one left hungry. The pavilion was ours for the week, but we did have to share it with no less than 2,000 sweat bees!
After Monday morning coffee, everyone gathered for our caravan to the U.S. Naval Academy. What an awesome place "" 4,400 of the most dedicated, patriotic, intelligent, and polite young men and women in the country. Perhaps what impressed us most was the pageantry of the daily formation before lunch. It definitely makes us proud of our military. Afterward, many of us stopped at Carrol's Creek "" a restaurant recommended by John and Sue "" for lunch overlooking the bay. The selection of seafood, salads, etc., was great. And the view was pretty neat, too. The rest of the afternoon was spent touring the quaint little shops in the harbor area.
On Tuesday morning we enjoyed our traditional "Breakfast by the Men." Chefs Jerry Huettl and Pete Douma were assisted by the many other kind, handsome, caring husbands. After a free day, everyone gathered for heavy hors d'oeuvres before boarding the bus for a night tour of Washington, D.C., monuments. Our guide was great, the pace was fast, the stops were many, and the views breathtaking. The three-hour-plus tour was highlighted by stops at the two newest memorials commemorating World War II and Korean War veterans. Most on the bus could relate personally to one of these monuments.
Although the nighttime views of our nation's monuments was certainly spectacular, perhaps the most surprising event of the evening was learning that a loyal member of our club was a thief. Most of us had no knowledge of the fact that one of our own had stolen a green irrigation flag from the lawn of the White House!
Wednesday after coffee and doughnuts, many enjoyed a free day. However, Jerry Huettl, chief of police in Mankato, Minnesota, spent the afternoon on a mission "" to find an appropriate tribute to Heartland's most notorious thief. The running around caused him to arrive late for our annual business meeting at John and Sue's home. But, alas, it became the source of lots of laughs and good-time teasing.
Before the business meeting began, we were treated to a wonderful assortment of goodies provided by our hosts. Next it was off to Fisherman's Crab Deck for more of that great Maryland seafood. John ordered steamed crabs for all to try. They're a lot of work, but worth it. Everyone found their way back to the campground in a reasonable length of time "" thank goodness for GPS.
All were on deck Thursday morning for our final round of coffee and doughnuts. The free day allowed everyone to visit the places they had missed earlier. Happy hour was chapter sheriff Joann Gates' last opportunity to collect fines from those who walked out of their coaches without their name tags on. She did her job well.
Friday morning farewells started early with lots of hugs. While saying good-bye is always a little sad, we reflected on the great time we had and anticipated the next get-together.
Once again we realize how fortunate we are to live in America, where we are free to travel as we wish and enjoy the beauty of our land. God bless America!
---
The Gold Diggers' "Weekend In Europe"
Family & Friends
By Don Bunn, F263349
March 2010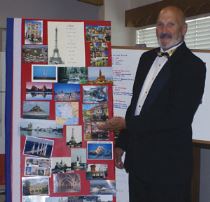 The FMCA Gold Diggers chapter concentrates its activities within a 150-mile radius of Sacramento, California. The chapter celebrated its 19th anniversary during a rally at the French Camp RV Park Resort in Manteca, California, September 25 through 28, 2009.
Traditionally the chapter holds six rallies each year and also participates in FMCA's Western Area Rally in Indio, California, each January. The chapter vice president/wagon master scouts out and selects unique campgrounds, state parks, or county fairgrounds for future chapter rally sites, and then a trail boss team of at least two couples is selected to plan the event, prepare meals, and collect fees to cover all costs. Trail bosses rotate so no one couple performs the duty more often than others. The system seems to work well, because the membership is pleased with the operation and attendance is high for each rally. Plus, chapter members enjoy working together to produce a fun time.
The trail boss team who managed the fall rally "" Mike and Josette Forbes and John and Kathy Vennemeyer "" decided to be very creative with their planning and go beyond normal campground-style meal preparation. The team conceived the idea of serving European-style meals with an emphasis on the selected country's traditional food. What they produced left members amazed and pleased with the experience.
The rally, dubbed "A Weekend in Europe," featured meals based on traditional fare from three countries: Italy, Germany, and France.
Our first meal on Friday represented Italy and included delicious spaghetti with salad and bread. Also, a poster with photos of famous Italian cities and sights was placed at the entrance to the dining hall, and decorations on each of the tables represented the colors of Italy. Background music consisted of familiar Italian themes.
On Saturday, attendees awoke to a German breakfast that included luncheon meats, cheese, bread, and fruit. That evening a German dinner was served that included Beef Rouladen (beef rolled around pumpernickel bread and a pickle spear), oven-roasted potatoes, and red cabbage. A poster at the entrance to the dining hall displayed pictures of Germany's cities and sights. The table decorations were changed to reflect Germany's national colors, with music to match.
On Sunday, attendees enjoyed a French breakfast of fresh-baked croissants with eggs, crumbled bacon, and cheese, as well as fruit cups and juice. Continuing the theme, a poster with photos of France's famous places was placed at the dining hall entrance, and the table decorations were done in the French colors of blue, white, and red. In addition, each couple who wished could have their picture taken in front of a large poster of the Eiffel Tower.
That evening attendees were met at the dining hall door by a maí®tre d' dressed in a tuxedo, and each woman was escorted to her table by a stylishly dressed waiter. Once everyone was seated, they were treated to a seven-course French meal that included iced mushroom soup, seafood canapé, champagne sorbet, coq au vin (a braised chicken dish), chateau-style new potatoes, green beans and carrots, butter lettuce salad, cheese plate, and dessert. Wine, champagne, and coffee were served with the meal. What a show it was.
On Monday attendees departed the campground and headed for home or to their next destination, taking the memory of a very special rally with them. Those of us who attended thank the Forbeses and Vennemeyers for taking us all on a great "weekend in Europe."
---
Paul Donigan Loved To Travel
Family & Friends
March 2010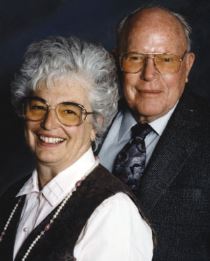 Paul Donigan, F5564, whose wife, Sheila, served FMCA as both a national secretary and a national senior vice president, died November 24, 2009, in San Diego, California. He was buried on December 2, 2009, with full military honors at Fort Rosecrans National Cemetery in San Diego. He was 95.
Paul was born on May 12, 1914, in Plainview, Nebraska, and his family moved to California when he was 10 years old. He served in the United States Navy for 22 years, achieving the rank of BMC (chief boatswain's mate), and was a veteran of World War II, serving in the Far East and South Pacific. After retiring from the Navy, he joined the U.S. Postal Service where he worked as a mail carrier for nearly 20 years until retiring in 1975 at the age of 61.
Paul and Sheila met at a singles square dance club in San Diego in 1963 and were married on June 28, 1969. The couple bought their first motorhome, a new Winnebago Chieftain, in 1971 and soon after joined FMCA. The Donigans became active in numerous chapters "" helping to start several "" and in the Western Area. Sheila served two stints as FMCA national secretary (1981-1983 and 1992-1996) and a term as national senior vice president (1996-1998). Paul served one year on FMCA's Membership/Member Services Committee (1996-1997) and was an alternate national director for several chapters.
Sheila said that Paul loved to travel and be around people, and folks who knew him thought he was one of the nicest, gentlest men they'd ever met. He also was renowned for giving haircuts during FMCA events, with a record of 27 trimmings in one day at FMCA's International Convention in Blacksburg, Virginia, in 1993. Sheila said people might be surprised to know that he also played the violin and had a pilot's license.
Besides Sheila, Paul is survived by his son from a previous marriage, Patrick. His daughter, Paula Millie, passed away in 1994.
Donations can be made in Paul's name to the Alzheimer's Association, P.O. Box 96011, Washington, D.C. 20090-6011; (800) 272-3900; or to the charity of one's choice.