Whether your thrill-seeking level is low or high, you'll find a pail full of fun at Oregon Dunes National Recreation Area.
By Rhonda Ostertag
June 2010
Let your mind wander back to those carefree days when you played in a sandbox filled to the brim. Remember the smiles? Now, fast-forward to the south-central Oregon coast, where you can supersize that fun at Oregon Dunes National Recreation Area.
The national recreation area, under the jurisdiction of Siuslaw National Forest, spans more than 40 miles between Florence and Coos Bay and covers 32,000 acres. Here, rolling sands stretch to the blue swells of the sea, uniting a restless landscape of bumps and bowls and long, uninterrupted open beaches. This natural playground is the largest coastal dune expanse in the nation.
Adrenaline junkies can shoot over the dunes on all-terrain vehicles or fly down the honey-colored sands on plastic sleds. At a private park in Florence, thrill-seekers can even strap waxed boards to their feet and go sandboarding.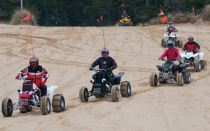 Those who prefer a slower pace can try horseback riding in the surf, or pretend to be a Bedouin hiking across sandy high seas. Peace-seekers can meditate atop untrammeled dunes.
The dunes complex, a changing canvas of form and texture 7,000 years in the making, owes its existence to the forces of erosion, flood, wave, and wind. The sand was washed from the interior mountains and rode the rivers to the sea, where a bulldozing wave action swept it ashore. Wind has finessed the creation.
Sand mounds lift 500 feet skyward in some places, anchored by vegetation. Elsewhere, dead trees litter the wakes of walking sand dunes — mounds that shift location as the wind moves. Each rise delivers views. Tree islands and at least 30 freshwater ponds and lakes punctuate the undulating, patterned expanse. The open sands, upland forest, sand-trapped pools, marsh lowlands, and ocean shore create a rich mosaic for deer, beavers, sea lions, bald eagles, ravens, great blue herons, snowy plovers, and other creatures. Fog and the sun's changing angles transform the setting.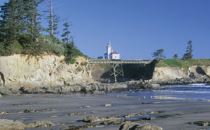 Because the Oregon Dunes covers such a sweeping expanse, vehicles offer the best way to maximize exploration. If freewheeling teases your inner child, local businesses tucked along the corridor rent dune buggies and quads. The rental price typically includes instruction and safety gear. If your excitement meter doesn't soar that high, services also offer guided buggy and safari tours. These allow you to experience all the sights, sounds, and thrills of laying tracks across the dunes, but with a trained driver.
The Oregon Dunes visitors center in Reedsport (south of Florence) has printed maps and materials that show dune access points (staging areas) and the areas that are open or closed to off-highway-vehicle (OHV) use.
A huge network of walking/hiking trails can be found throughout the dunes and lead to any number of different environments. Some travel stabilized dunes and woods paths; some have boardwalks.
If you like long hikes, try tracking the blue-banded cedar posts through the dunes and deflation (marsh) plains to the coastal shore. One of the shorter hikes is Carter Dune Trail, a 3/4-mile jaunt to the beach. The 1-mile Chief Tsiltcoos Trail rolls across woods to a former tree island and extends a view across the dunes to the Pacific Ocean. Another 1-miler, the wheelchair-accessible Lagoon Trail, hugs a cutoff arm of the Siltcoos River, a mirror to the edge expanse. Taylor Dunes Trail journeys 1 mile through varied habitats, and its first 1/2-mile is wheelchair-accessible. Viewing decks present the dunes, open water, marsh, and the creatures within.
Longer hikes of merit include the 6.5-mile Threemile Lake Loop, which travels in reclaimed woods and past freshwater ponds to reach Threemile Lake, as well as open dunes and, ultimately, the beach. The 3-mile John Dellenback Dunes Trail travels to the beach, passing through the rolling high dunes expanse of Umpqua Dunes, the tallest in the entire preserve.
If you're in the area August 4 through 8 this year, don't miss DuneFest, an annual event presented by the Reedsport/Winchester Bay Chamber of Commerce. Considered one of the country's premier ATV sand events, the festival offers a schedule packed with daily competitions and exhibitions of dune vehicles, along with many other family-friendly activities, vendors, food, and music. Visit www.dunefest.com for more information.
The Greater Dunes Area
The bookend communities to this wonderland of sand, Coos Bay and Florence, have backgrounds in timber production, shipping, and fishing. From the time of its founding in the 1850s, Coos Bay, the larger of the two, has been the commercial center for the region. Coos Bay wears the mantle of its history, while its conjoined sister community, North Bend, encompasses the newer extension of town. West of Coos Bay, in Charleston, visitors will find campgrounds and fishing charter companies.
Coos Bay/North Bend is home to The Mill Casino, Hotel and RV Resort, a good place for motorhomers to put down base while in town. But if coastal or sand locations offer more appeal, the casino runs shuttles to area campgrounds. Public and private campgrounds abound in the dune corridor.
Touring historic Coos Bay is easiest by towed vehicle because of limited downtown parking. Central Avenue is often the site of activity. Wednesdays in summer, it hosts a farmer's market. The last weekend in August (August 28 and 29, 2010), the Blackberry Arts Festival fills the streets of Coos Bay with all things blackberry: pie, jam, syrup, fudge — even barbecue sauce. Art, handcrafts, and various vendors complete the attraction.
Florence, at the dunes' northern gateway, has embraced its reinvention as a tourist town. Its Old Town (port district) includes shops, galleries, and eateries, as well as the Port of Siuslaw Campground. Florence, too, is home to a tribal casino, Three Rivers Casino & Hotel (877-374-8377). It does not have a campground, however.
Reedsport, sandwiched by the two gateway communities, is a small service town with its feet in the sand. As mentioned, it is home to the Oregon Dunes visitors center, as well as several dune vehicle rental services. East of town on State Route 38, Roosevelt elk reign supreme at the Dean Creek Elk Viewing Area. Southwest of Reedsport, Winchester Bay and Salmon Harbor welcome motorhome travelers with suitable campsites, fishing charters, and more dune vehicle rentals.
The corridor is threaded by three major rivers, the Siuslaw, Umpqua, and Coos. Historic bridges span the waters. Salmon and steelhead runs on the rivers can mean food on your dinner plate, if you're lucky. Crabbing and clamming are other area pursuits, or you can fish straight from a restaurant menu instead. The third weekend in August signals the Seafood Festival in Charleston (August 21 and 22, 2010), an event featuring live music, vendors, arts and crafts, and contests such as the fish fling and crab race.
Cranberries, myrtlewood bowls, and chainsaw art go hand-in-hand with the sand. At Cranberry Sweets & More in Coos Bay's Empire District, visitors can sample treats and watch candy being made. In south Coos Bay, factory tours at The Oregon Connection/House of Myrtlewood show how logs are made into fine myrtlewood products and bowls. At The Rusty Frog gallery in Winchester Bay, toothy, gas-powered blades find the art hidden within logs.
And, yes, lighthouses also can be spotted in the area. The Umpqua light is easily found, right near U.S. 1 in Coos Bay. Another, more secreted one stands sentinel at Cape Arago. There is a third, if you add the photogenic Heceta Head Light Station north of Florence, which I recommend you do.
August is the warmest month here, with an average high temperature of 71 degrees. It's advisable to keep a sweatshirt or a windbreaker handy. But regardless of when you visit, you'll see plenty of sand. So kick up your heels and let it fly. It's playtime on Oregon's south-central coast.
Further Info
Oregon Dunes NRA Visitor Center*
855 Highway Ave.
Reedsport, OR 97467
(541) 271-6000
www.fs.fed.us/r6/siuslaw/
*No-hookup campgrounds are available at the dunes; check regarding site size and access.
Oregon Bay Area Chamber of Commerce
145 Central Ave.
Coos Bay, OR 97420
(541) 266-0868
www.oregonsbayarea.org
Coos Bay/North Bend Visitor and Convention Bureau
50 Central Ave.
Coos Bay, OR 97420
(800) 824-8486
(541) 269-0215
www.oregonsadventurecoast.com
Area Camping
The following is not a complete list, so please check your favorite campground directory or look to FMCA's "RV Marketplace" online at FMCA.com or in the June and January issues of FMC magazine.
Bastendorff Beach County Park
63379 Bastendorff Beach Road
Charleston, OR 97420
(541) 888-5353
The Mill Casino Hotel and RV Park
3201 Tremont Ave.
North Bend, OR 97459
(800) 953-4800
(541) 756-8800
www.themillcasino.com
Oceanside RV Park, C11669
(an FMCA commercial member)
90281 Cape Arago Highway
Charleston, OR 97420-7632
(800) 570-2598
(541) 888-2598
www.oceansidervpark.net
Pacific Pines RV Park, C6061
(an FMCA commercial member)
4044 U.S. 101
Florence, OR 97439
(541) 997-1434
(800) 997-1434
www.pacificpinesrv.com
Port of Siuslaw RV Campground
1499 Bay St.
P.O. Box 1220
Florence, OR 97439
(541) 997-3040
www.portofsiuslaw.com
Winchester Bay RV Resort
100 Ork Rock Road
Winchester Bay, OR 97467
(541) 271-0287
www.winchesterbayrvresort.com
Area state park campgrounds:
Oregon Parks & Recreation Dept.
725 Summer St. N.E., Suite C
Salem, OR 97301
(800) 551-6949 Information
(800) 452-5687 Reservations
www.oregon.gov/oprd/parks/camping.shtml