Family & Friends
By Trevelyn & Dorothy Zander, F170245
June 2010
The Gateway Getaways chapter spent four days at the Covered Bridge Festival in Parke County, Indiana, October 13 through 16, 2009. Each year the festival begins the second Friday of October and runs for 10 days. As the name implies, the focus of the event is on the many covered bridges in the area.
This was a first-time event for most of the group of 43 individuals in 22 coaches from our chapter, and it turned out to be a big hit. Not only was the countryside picturesque and beautiful in its fall colors, but the winding country roads seemed to lead us back to a gentler time. Bridges could be found in busy places and obscure locations. The county's visitors bureau did a great job providing maps and information, and there were even color-coded arrows placed along the roadways to help make finding the bridges easier.
There are plenty of places for RVers to stay in the area, and we chose the Parke County Fairgrounds. Each site had electricity and water, and a dump station was nearby. It was convenient to Rockville — the center of festival activity — and we really liked the fact that the sites were not crowded. We had use of a carpeted room that held 50 people and had access to a full kitchen. The staff at the fairgrounds was great.
For treasure hunters there were countless opportunities. The local residents have yard sales throughout the festival, while craftspeople and what-not sellers cluster in several locations. "Shop 'til you drop" was the theme for some of those in our group. Each evening we played card games and had a good time comparing the treasures we found that day. The nearby state park offered hiking trails, a good buffet, and plenty of photo opportunities. And the local theater presented an amusing melodrama.
While our visit took place in October, it seemed that visiting in the spring or summer would be good times as well. The area is located just north of Terre Haute, Indiana, approximately 200 miles from St. Louis, Missouri. The Parke County Covered Bridge Festival was a great event to base a rally around, and we would suggest that other chapters consider it when planning their rally schedule.
---
Suwannee Valley Vagabonds Celebrate 20th Anniversary
Family & Friends
By Russ & Carol Buck, F210181
June 2010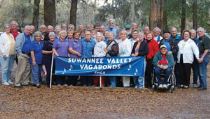 Twenty years of fun, memories, and friendships were celebrated earlier this year by members of the Suwannee Valley Vagabonds, a chapter based in north Florida. The rally was held March 11 through 14 on the farm of chapter members Russ and Carol Buck, approximately 30 miles west of Gainesville. The gathering included 22 coaches and one guest. We also were honored to have Southeast Area regional vice president Joe Gallagher and his wife, Connie, as well as our past regional vice president Betty Hisaw and her husband, Bob, join us for the four-day celebration.
As part of the rally we held the "Vagolympics," a series of competitive events for members. The events included ladder ball, beanbag toss, and toilet seat ball — all very serious games. After fierce competition, the winners were recognized and awarded gold medals at the Saturday night dinner. They included Norma Sutton and Dave Nordling (beanbag toss); Billy Barton and Dick Harlan (ladder ball); and Dave Nordling (toilet seat ball).
As always at our rallies, food played an important part. A chicken casserole dinner was served Thursday night; hamburgers were grilled for lunch Friday; and New York-style deli food was prepared for Friday night, topped off with hot fudge sundaes.
Saturday night was the highlight of the weekend with a very nice prime rib dinner. Afterward, Joe Gallagher presented chapter president Dave Nordling and vice president Carol Buck a certificate from FMCA recognizing the chapter's 20 years together. This was followed by games and plenty of friendly discussion among the attendees. Especially fun were the stories of the many adventures — and misadventures — of our members as they have traveled across America.
Our FMCA chapter is great, and we eagerly look forward to many more years of fun, memories, and friendships.