A bevy of natural and man-made attractions make this southwest Florida Gulf Coast city "" and its environs "" appealing to vacationers.
By Sally B. Weigand
November 2010
Seashell-gatherers, swimmers, and those seeking the sun's warming rays come to the Fort Myers area for its 50 miles of world-class white sand beaches. Anglers test their skill against the sea life below. Tourists who enjoy historical sites, museums, and sundry entertainment blended with nature's gifts find this to be an ideal vacation spot in southwest Florida.
What can you expect from a stay in the Fort Myers region?
Along The Water
Lee County, where Fort Myers is based, encompasses 590 miles of beautiful shoreline along the Gulf of Mexico. And visitors will be glad to note that the recent Deepwater Horizon oil spill that affected many coastal waters has not impacted this region.
Lee County includes more than 100 barrier and coastal islands that separate the mainland from the softly rolling waters of the Gulf. From Bonita Beach in the south to Gasparilla Island at its northern edge, boaters in assorted craft take advantage of the beauty and recreation the water and coastline offer. While many venture out to catch the fruit of the sea, others delight in frequent sightings of marine mammals. Does anyone tire of seeing dolphins jumping in exuberant gracefulness, or enormous manatees poking their tiny snouts above the water to take a breath?
Kayaking in area rivers or near the Gulf shore brings close encounters with sea creatures. When the water cools each winter, manatees seek the warmth of the power plant run-off at Manatee Park in Fort Myers. As you glide along the Orange River, the placid mammals may surface beside you. At Manatee Park, a pathway enables you to walk along and spot manatees relaxing in the canal. You can learn about these fascinating animals from volunteers and by watching videos in the visitors center.
Fort Myers is home to one of the largest winter manatee populations in the state. From November 1 to April 30, a local pontoon tour company called Manatee and River Tours (http://www.manateeandrivertours.com/) travels to sites where the gentle giants gather. Other river life can be spotted along the way.
Another reason to climb aboard a boat is to catch fish. Tarpon are considered the champion fighters of the sea, and the mouth of Charlotte Harbor has been called the tarpon fishing capital of the world. If you don't tow a boat, consider renting one or joining a fishing charter that gets you into the action, whether you're sport fishing or catching dinner.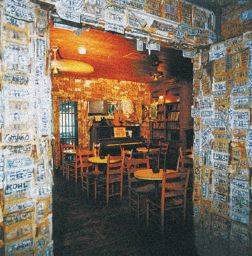 Yet another reason to use watercraft is to reach otherwise inaccessible islands, such as La Costa Island, where private boats anchor close to shore. This uninhabited isle is home to Cayo Costa State Park, which has nature trails but no paved roads to infringe on the flora and fauna. You can stop to have a meal on Cabbage Key, where its rustic inn is famous for the $70,000 in autographed dollar bills that wallpaper its dining room.
For a taste of Las Vegas, book a spot on the Big M Casino cruise, which runs Wednesdays through Sundays. The boat includes entertainment, food, and a variety of gaming opportunities.
The casino cruise departs from Fort Myers Beach, which is also where you will find companies that offer parasailing and windsurfing, and where you can charter a boat to explore the islands. Because of the number of motorists who make the jaunt to Fort Myers Beach, it's best to go early and return late in the day.
You might want to join the brigade of people slowly walking near the surf, searching the sand for unusual shells. Lee County beaches have a reputation for harboring the widest variety of shells of any region in North America. Caribbean shells gradually migrate up the Gulf, where the calm water does not damage them. This is not so on the east coast, thanks to the pounding Atlantic surf.
Historical Places
Calusa Indians first inhabited the region, establishing a community that lasted 1,500 years, beginning around 1150 B.C. The shell mounds they left divulge hints of their culture. At the Randell Research Center archaeological site in Pineland, you can learn more about this fascinating culture while walking the interpretive Calusa Heritage Trail.
Another way to learn about the past here is to inspect the lavish 1929 railcar, the Esperanza. This gem is an appropriate part of the Southwest Florida Museum of History, located at the Atlantic Coastline Railroad Depot. Its exhibits, memorabilia, and photos give a rich insight into the life of early residents, including the Spanish and native Indians.
The city of Fort Myers grew up around a bastion constructed in 1850 to keep settlers safe from Seminole Indians. After being abandoned, it saw action once again when Federal troops reoccupied it during the Civil War. Fort Myers was named for Army colonel Abraham Myers, who was stationed in Florida for several years.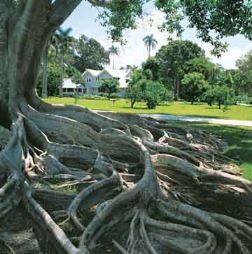 Fort Myers' most illustrious resident was inventor Thomas Edison, who built his home along the Caloosahatchee River. Edison's automotive friend, Henry Ford, eventually moved next door to the Edison household, and today both residences and their beautiful grounds are preserved together as the Edison & Ford Winter Estates. On a guided tour of Edison's estate, guests are amazed by some of his 1,100 patented inventions. Altogether, you can see nine buildings on the National Register and tour a museum. Edison and Ford frequently took camping trips through the surrounding region; look for their camping van in the museum.
One of the more unusual chapters in Fort Myers area history involves a religious sect that believed that man lived on the interior surface of the world, which was a hollow globe, with the solar system in the center. Koreshan State Historic Site in Estero commemorates this group and preserves beautiful land and several original buildings. A campground is available on the site as well.
The Nature Of Fun
The Butterfly Estates is a relatively new attraction (opened in 2009) and home to a 3,600-square-foot glass butterfly conservatory full of colorful winged creatures, along with waterfalls and tropical plants. Located in the River District in downtown Fort Myers, it is an oasis of peace amid the bustle.
Another spot for nature observation is the Calusa Nature Center and Planetarium. This 105-acre site features a museum, a planetarium, butterfly and bird aviaries, picnic areas, and more; it was voted as the best nature center in the state by readers of Florida Monthly magazine.
Birds and alligators go fishing while walkers and bikers traverse the paved path at Lakes Regional Park, a city oasis. The park's miniature train adds to the fun atmosphere. Additional spots for those who prefer to get their exercise among nature are the miles of trails at Caloosahatchee Regional Park and Hickey's Creek Mitigation Park, both near Alva, east of North Fort Myers; Estero Bay State Buffer Preserve in Fort Myers; and Matanzas Pass Preserve in Fort Myers Beach. Another Alva attraction is the Franklin Lock Recreation Area, where you can watch boats pass through the river locks.
Across the Caloosahatchee River from Fort Myers in Cape Coral is Mike Greenwell's Family Fun Park, where your kids and grandkids can ride go-carts, test their skill at miniature golf, engage in a paintball battle, and whack some baseballs in a batting cage.
Kids "" and everyone with a sense of wonder "" will love the Imaginarium Hands-On Museum and Aquarium in Fort Myers. Did you ever speculate about what it's like to be in a hurricane, or want to test your skill at broadcasting from a weather studio? This is the place to find out.
Researchers dedicated to fighting global hunger work at the Educational Concerns for Hunger Organization "" ECHO "" which has demonstration farms in North Fort Myers. This group works to find the best types of food to grow in a variety of world climates. You can tour their farms to see different settings, including urban rooftops and rain forest habitats; taste various foods; and learn about cooking technologies.
Speaking of agriculture, at Eden Vineyards in Alva you can compare the products of the country's southernmost bonded winery with those in more northern climates. It took many years to develop a variety of grapes that could thrive in this climate, but the Kiser family now produces six varieties of wine. Travel east from Fort Myers for tastings, which are offered daily.
Seminole Gulf Railway still runs trains in this area, but with a twist. You can munch and get caught up in a plot while aboard the Murder Mystery Dinner Train, which operates out of the Colonial Station depot in Fort Myers. Shows are presented year-round, Wednesday through Sunday.
Whether you and your family like a laid-back day at the beach or an action-packed afternoon through a hands-on museum, your stay in the Fort Myers region will be filled with varied experiences. It's likely everyone will want to return.
Further Info
You'll find the most comfortable climate in southwest Florida between November and April, when average high temperatures range between 74 and 84 degrees, and Florida lives up to its "Sunshine State" nickname. Major access roads are Interstate 75 and U.S. 41, both of which travel north-south. More details about the experiences and attractions mentioned here can be obtained from:
Lee County Visitor & Convention Bureau
12800 University Drive, Suite 550
Fort Myers, FL 33907
(800) 237-6444
(239) 338-3500
http://www.fortmyers-sanibel.com/
Area Campgrounds
More than 3,500 campsites in dozens and dozens of RV parks are available in the area. Be sure to reserve your site if you visit during the prime winter months. For listings, check your favorite campground directory or FMCA's RV Marketplace, found online at FMCA.com and published in the January and June issues of FMC magazine.