Portable Oven
The OM4500 Omnia Oven from InterCon Marketing Inc. makes it possible to prepare meals on a stovetop or electric hotplate that normally would require the heat of a conventional oven.
Any type of baking is possible thanks to the oven's three-part design, which includes a 2.1-quart aluminum dish with a cone-shaped center hole; a steel base plate with a center hole; and an aluminum lid. Heat rising through the center hole evenly cooks the top of the food, while an air lock between the base plate and aluminum dish keep food on the bottom from burning. The oven measures 10.5 inches in diameter and 5.5 inches high, and weighs 1.1 pounds.
The OM4500 Omnia Oven has a manufacturer's suggested retail price of $79.95.
InterCon Marketing Inc.
1540 Northgate Blvd.
Sarasota, FL 34234
(941) 355-4488
www.contoure.com
---
Sunglasses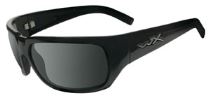 Hydro sunglasses from Wiley X Inc.'s Street Series line offer bold styling, eye protection, and visual acuity for all types of outdoor activities.Hydro sunglasses are said to provide a secure, comfortable fit for wearers with medium to large faces and feature wide templates that keep peripheral light out. They also feature ANSI-certified High Velocity Protection. The sunglasses are available in two frame and lens combinations — matte black with smoke-gray lenses or gloss black with polarized smoke-green lenses.
Hydro sunglasses have manufacturer's suggested retail prices of $104 (matte frame) and $146 (gloss frame).
Wiley X Inc.
7800 Patterson Pass Road
Livermore, CA 94550
(800) 776-7842
www.wileyx.com
---
Folding Blade Knife
The Paradigm 337 Pro from Buck Knives is a one-hand-opening knife that is said to have the handiest deployment system and safest locking action of any folding knife.
The knife includes Buck's patent-pending Shift Mechanism that slides sideways to unlock the blade when opening or closing, keeping your thumb out of the way of the closing blade. The Pro 337 weighs just 4.2 ounces, has a 3 1/4-inch S30V stainless-steel drop-point blade, and measures 4 3/8 inches when closed. The handle is made of rugged G10 composite material.
The Paradigm Pro 337 has a manufacturer's suggested retail price of $180.
Buck Knives
660 S. Lochsa St.
Post Falls, ID 83854
(800) 326-2825
www.buckknives.com
---
Binocular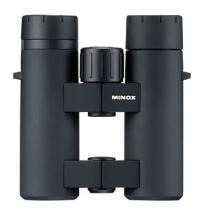 The BL 8×33 Comfort Bridge binocular from MINOX USA Inc. is a lightweight optic for extended viewing at sporting events or outdoor activities.
The 22.9-ounce binocular's design is said to deliver enhanced comfort and secure handling for all-day use. It has a rubber-armored body, can be used in temperatures from 14 degrees to 122 degrees Fahrenheit, and features a sophisticated sealing technology for use in rain or snow. The MINOX optical system reportedly ensures sharp images even in low-light situations and has an exceptionally large field of view. The BL 8×33 is filled with nitrogen to prevent corrosion and glass fogging, and it includes twist-up retractable rubber eyecups for those who wear glasses. It comes with a nylon strap and carrying case.
The MINOX BL 8×33 binocular has a manufacturer's suggested retail price of $469.
Minox USA Inc.
438 Willow Brook Road
Meriden, NH 03770
(866) 469-3080
(603) 469-3080
www.minox.com
---
Digital Camera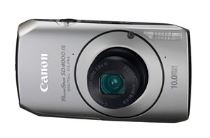 The PowerShot SD4000 IS digital point-and-shoot camera from Canon U.S.A. Inc. includes high-tech photography features for users with an eye for functionality and style.
The PowerShot SD4000 IS includes Canon's HS System, said to make it possible to take great pictures in low-light situations and when shooting at high ISO speeds. The camera's f/2.0 lens allows plenty of light to enter, permitting higher shutter speeds to reduce the effect of camera shake and increase image sharpness. It includes a 3-inch wide-angle LCD for previewing images and reviewing shots; a 3.8X optical zoom; and various scene modes. The camera also is capable of taking high-definition movies.
The PowerShot SD4000 IS is available in red, black, and silver and has a manufacturer's suggested retail price of $349.99.
Canon U.S.A. Inc.
One Canon Plaza
Lake Success, NY 11042
(516) 328-5000
www.usa.canon.com
---
Solar Battery Trickle Charger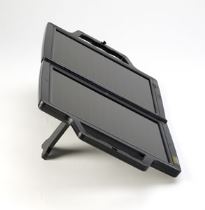 The Foldup Solar Panel from TechnoRV is said to maintain and extend the life of your vehicle batteries while in storage.
The dual solar panels provide 4 watts of charging power, and the device is suitable for both indoor and outdoor use. The power can be sent to the battery through the vehicle's 12-volt-DC power port or a 15-foot lead wire with crocodile clips that attach to the battery. The charger includes a built-in LED charge indicator, a diode to prevent reverse battery feed, and a support stand incorporated into the ABS-plastic body. When closed, the case measures 9 1/3 inches by 9 inches by 1 1/3 inches, and weighs less than 2 pounds.
The Foldup Solar Panel has a manufacturer's suggested retail price of $49.95 plus $5.99 shipping.
TechnoRV
14525 S.W. Millikan Way, #56226
Beaverton, OR 97005
(866) 324-7915
(503) 336-1478
www.technorv.com
---
Vehicle Locating Device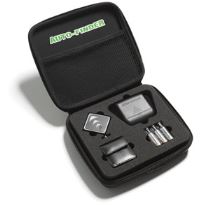 Have you ever had difficulty finding your vehicle in a large parking lot, or lost track of your motorhome in an RV park or campground? The Auto-Finder from Finder Technologies reportedly will guide you to your parked vehicle from up to 1/2-mile away and, unlike GPS systems, doesn't require open sky.
The Auto-Finder Deluxe Kit includes an in-car beacon and a handheld remote that communicate via radio frequency technology. Once the beacon is activated, the remote will pick up the signal and translate it into clear visual and audio prompts to guide the user to his or her vehicle. The kit also includes two sets of 27A batteries (remote); three AAA batteries (beacon); a belt case for the remote; a user's manual and instructional DVD; and a rugged travel case.
The Auto-Finder Deluxe Kit has a manufacturer's suggested retail price of $99.95.
Finder Technologies
14260 Garden Road
Suite A16
Poway, CA 92064
(888) 679-3463
(858) 679-7588
www.findertechnologies.com
---
Wireless Brake Control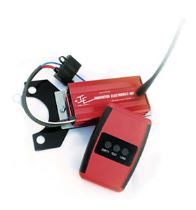 The Innovator from Innovative Electronics Inc. is a wireless, trailer-mounted brake controller that offers the convenience of surge-brake operation for vehicle or cargo trailers equipped with electric brakes.
The controller mounts to the trailer frame or jack, with two simple wire connections to the trailer's battery and brakes. The handheld remote is used to set the controller to "loaded," "empty," and "test" positions. According to product literature, once the device is installed, it will calibrate itself after several stops. The handheld remote can be used inside the motorhome to manually operate the brakes to control trailer sway or fishtailing.
The American-made Innovator has a manufacturer's suggested retail price of $299.99 plus tax and shipping.
Innovative Electronics Inc.
613 Broderick Drive N.E.
Cedar Rapids, IA 52402
(319) 270-7363
www.whatsstoppinyou.net
---
Vehicle Wax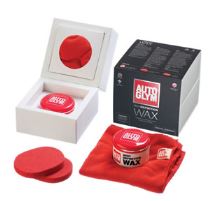 According to product literature, High Definition Wax from Autoglym USA provides the ultimate in finish and protection for those looking for the highest degree of shine.
High Definition Wax is made from a complex blend of durable polymers, carnauba and microcrystalline waxes, hydrocarbons, and oils. The formula is said to protect a vehicle's surface six times longer than other waxes, providing protection from contaminants such as salt, UV light, acid rain, and industrial fallout. The wax does not contain any harsh abrasives, water, or emulsifiers and is suitable for all types of paint.
The High Definition Wax kit comes with a 5.3-ounce can of wax, two applicators, and a specially developed microfiber cloth. It has a manufacturer's suggested retail price of $49.99.
Autoglym USA
6100 Blue Lagoon Drive
Suite 105
Miami, FL 33126
(305) 266-3887
www.autoglym.com
{loadpositionEndBlurbProducts}