The mop includes a 4-foot-to-9.5-foot telescoping pole, making it possible to clean the sides of most motorhomes without a ladder. The mop also has a dual-receptacle mop head and two replaceable microfiber mop pads. Each wraparound pad performs a specific task: one for the "wet" step, the other for the "dry" step. The pads are made of specially blended chenille microfiber and are washable.
The Wash Wax Mop has a manufacturer's suggested retail price of $99.95.
Aero Cosmetics
411 Sandau Road
San Antonio, TX 78216
(800) 927-4929
(210) 344-7921
www.washwax.com
---
Cooking System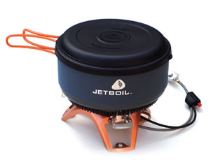 According to product literature, the Helios from Jetboil Inc. is an efficient, high-capacity outdoor cooking system.
The system features a 2-liter pot with the company's patented FluxRing technology, which is said to concentrate more heat for faster cooking times. It also includes a pot-supporting burner base with a push-button igniter; a fuel can stabilizer; a snap-on windscreen; lid and bottom covers; and a neoprene cozy to keep food warm after cooking. The inverted butane canister design is used to improve fuel delivery and increase efficiency. The entire system nests together for compact storage and weighs 28 ounces.
The Helios has a manufacturer's suggested retail price of $149.95.
Jetboil Inc.
540 N. Commercial St.
Manchester, NH 03101
(888) 611-9905
www.jetboil.com
Reader Service #145
---
Cup Chiller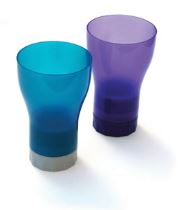 The Chilly Twist is a combination cup and chilling unit that is said to provide the most refreshing drinks possible.
Each 16-ounce cup comes with a coolant base that should be placed in the freezer for 12 hours or more prior to use. The gel-filled base screws into the bottom of the cup and is said to chill drinks for extended periods of time without coming in contact with the drink. A variety of cup and base colors are available, and the pieces can be interchanged.
A set of six Chilly Twist cups has a suggested manufacturer's retail price of $19.99.
Chilly Twist LLC
26 Ruta Circle
Manchester, NH 03102
(800) 877-6792
www.chillytwist.com
---
Sunscreen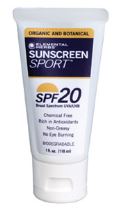 According to product literature, Elemental Herbs Sunscreen is an all-natural product that includes zinc oxide to provide a broad spectrum of ultraviolet light (UV) protection.
The sunscreen is said to protect against both UVA and UVB rays. It includes non-nanoparticle zinc oxide, which sits on top of skin instead of being absorbed. The product also includes green tea leaves, rose hips, and other herbs infused in olive oil for added skin rejuvenating benefits. It is said to be safe for sensitive skin.
The product is available in Sport SPF 20, Kids SPF 20, and Sport SPF 22 Tinted varieties and has manufacturer's suggested retail prices of $8.99 for a 1-ounce bottle and $19.39 for a 3-ounce bottle.
Elemental Herbs
P.O. Box 203
Morro Bay, CA 93443
(877) 239-4667
(805) 464-0464
www.elementalherbs.com
---
Medical Information Device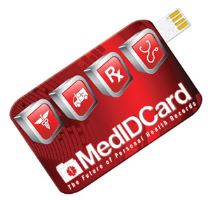 The MedIDCard from MedID Technologies Inc. is a credit-card-sized device designed to maintain and store an individual's personal medical history.
The card contains a USB device preloaded with a software program that activates when the plug is inserted into a computer (PC or Mac 10.5 +), making it possible for users to input password-protected medical and contact information and allow access to the information at a critical time. The program includes drop-down menus to enter medications, allergies, immunizations, conditions, and procedures; a health journal and health tracker to document blood pressure and other readings; a place to store electronic medical or personal records; and the ability to back up the information.
The MedIDCard has a manufacturer's suggested retail price of $42.95.
MedID Technologies Inc.
P.O. Box 80907
Billings, MT 59108
(877) 916-3343
www.medidware.com
---
Electronics Accessories Organizer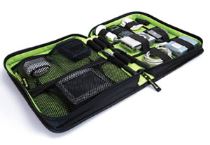 Tired of untangling wires stuffed into a drawer or searching for your cell phone charger when your cell phone battery is drained? If these situations sound familiar, the Cable Stable DLX from Skooba Design may just be your organizational solution.
The nylon case opens to reveal numerous storage spaces in different sizes and orientations with elastic hold-downs to accommodate chargers, adapters, power blocks, USB drives, and even compact cameras and MP3 players. On the opposite side is a series of mesh pockets to hold larger items safely, and a document holder is included on the outside.
When closed, the Cable Stable DLX measures 10.75 inches long, 8.25 inches wide, and 2.25 inches deep. It has a manufacturer's suggested retail price of $39.95.
Skooba Design
465 Paul Road
Rochester, NY 14624
(877) 435-5679
(585) 697-3444
www.skoobadesign.com
---
Vehicle Finish

According to product literature, PERMANON Hard & Fast Finishes CAR Supershine from the Decorum Finishes Division is an easy-to-apply, long-lasting finish for any hard surface on vehicles.
The product, which comes in a concentrate and is mixed at only 5 percent with water, contains an electrostatic charge that reportedly bonds into the nano pores of exterior paint or polished areas, glass, aluminum, stainless steel, marble, granite, or any other hard surface areas. To apply, the product is misted on a clean surface and the water carrier is wiped away, with no buffing or polishing necessary. PERMANON is said to be completely biodegradable and solvent-free and to provide more than 90 percent UV protection.
A 500-milliliter bottle of PERMANON CAR Supershine has a manufacturer's suggested retail price of $100.98.
Decorum Finishes Division
231 Commercial St.
Portland, ME 04101
(800) 288-3346
(207) 775-3346
www.permanonfinishes.com
---
Ventilation Fan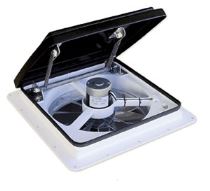 The MaxxFan Standard from MaxxAir Vent Corporation is said to provide exceptional ventilation and includes twin lifting arms to prevent the lid from fluttering in high winds or when the motorhome is in motion.
The fan fits all standard 14-inch-by-14-inch roof openings and includes a flush-mounted keypad that controls the 10-speed fan motor, thermostat, air intake, and exhaust functions. According to product literature, the vent is capable of moving 900 cubic feet of air per minute to keep the inside cool and comfortable, and also can operate in the ceiling fan mode with the lid closed.
Model 4000K comes with a white, manually operated cover and has a manufacturer's suggested retail price of $229.95. Model 4500K has a smoke-tinted, electric cover and a rain sensor and is priced at $299.95.
MaxxAir Vent Corporation
5513 W. Sligh Ave.
Tampa, FL 33634
(800) 780-9893
www.maxxair.com
---
Inverter/Charger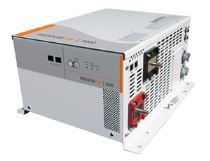 The Freedom SW Series from Xantrex Technology Inc. is a new line of pure sine-wave inverters/chargers.
The two models (2000 and 3000, indicated watts) in the series are said to provide clean and quiet AC power to allow operation of a variety of electronics. Both models can operate in a wide temperature range and feature high surge ratings and multistage charging. The 2000 model is available with a ground fault circuit interrupter option for direct plug-in of electronics. The 3000 model is equipped with dual AC input/output that can be configured for customized applications and is compatible with optional accessories.
The Freedom SW 2000 has a manufacturer's suggested retail price of $1,300, and the SW 3000 is priced at $1,700.
Xantrex Technology Inc.
8999 Nelson Way
Burnaby, BC
Canada V5A 4B5
(604) 422-8595
www.xantrex.com

{loadpositionEndBlurbProducts}