Tour these four California state parks, each of which preserves redwood trees in all their stately glory.
By Rhonda Ostertag
October 2010
Tall as tales, redwood trees are among Mother Nature's most inspiring creations. To celebrate and protect them, California's first state park was created in 1902. The towering trees have been well represented ever since.
California is keeper of the majority of the United States' redwood trees. The coastal redwoods are the tallest; similar to redwoods, the inland giant sequoias are the biggest. Groves scatter the coast and inland drainage areas of central and northern California. In the north, you'll encounter redwood forests; farther south, fewer redwoods fill smaller pieces of land. Southwestern Oregon hosts the country's only other coastal redwoods, and China is home to the world's only other kind of redwood tree "" the Dawn redwood.
For many years, coastal redwoods could not be harvested, because they were too big. But when techniques improved, the giants were felled in wholesale numbers. Rapid disappearance of the irreplaceable tree sparked an early conservation movement. The state of California and the private Save-the-Redwoods League (established in 1918) led in protecting the redwoods as parks. The federal government then broadened the safety net, buying the surrounding second-growth forest and inland drainages important to the tree's survival and setting the areas aside as parkland. Memorial groves dot state and national parks.
Nine California state parks preserve redwood groves. This article highlights four of them, from north to south. (The other five are Grizzly Creek, southeast of Eureka on State Route 36; Richardson Grove, south of Garberville on U.S. 101; Butano, south of Half Moon Bay off of State Route 1; Henry Cowell, north of Santa Cruz on State Route 9; and Pfeiffer Big Sur, south of Carmel off of State Route 1.) For state park information, call (800) 777-0369 or visit www.parks.ca.gov.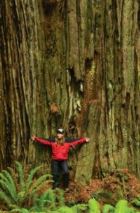 The four parks described below are open year-round and have basic campgrounds with no hookups and varying vehicle length restrictions. Campground reservations are recommended in summer: call Reserve America at (800) 444-7275 or visit www.parks.ca.gov to reserve sites and find additional information. Full-service commercial RV parks generally can be found in the area as well; check your favorite campground directory.
The cool, wet northern coast weather makes it possible for these trees to thrive. The driest season is summer and the wettest is winter, but fair-weather sunbursts grace the stage then, too. And motorhomers find that winter truly makes access easier to park attractions. The only caveat is that if you are hiking, you may encounter a few trails that are not accessible, because their footbridges are removed in winter.
Jedediah Smith Redwoods State Park
This park preserves 10,000 acres of first-growth redwood trees in all their glory. It's located along U.S. 199, inland from Crescent City. To gain your bearings, visit the central information center in Crescent City or the state park visitors center on U.S. 199.
Named for an early-day adventurer known for exploring this area in the 1820s, Jedediah Smith Redwoods brings together a premier virgin redwood forest and the last wild, unfettered river in California, the Smith River. The Smith River supports fall salmon runs and winter steelhead runs.
Along U.S. 199, the Simpson Reed Grove Trail presents easy access to the humbling splendor. You'll encounter big trees, huge roots, burls, fire-hollowed trunks, nurse logs, and cascading ferns. This trail is just shy of a mile long. The adjoining Peterson Memorial Trail allows for a figure-eight stroll, adding a double-anchored bigleaf maple to the wonder. Hatton Loop, across U.S. 199, parades out more big trees, but its path on the forest slope can be slippery.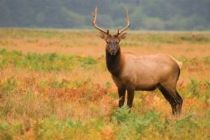 Although majestic trees sidle up to U.S. 199, if you have access to a passenger vehicle (do not attempt this in a motorhome), consider taking the 6.9-mile Howland Hill Road. This narrow, packed-surface route allows for slow-paced sightseeing and provides the only winter access to the outstanding Stout Memorial Grove. In summer, the grove is accessible via a seasonal footbridge. Take the drive's marked turn a couple of miles east of the campground off U.S. 199. You'll cross the main stem and South Fork Smith River bridges before entering the tour. The route ends at Elk Valley Road, south of Crescent City.
At Stout Memorial Grove, you'll want to park and take the steep paved descent to walk the 0.6-mile nature loop traversing the 2,000-year-old trees. A spur leads to the Smith River. Elsewhere, longer trails reveal more redwoods habitat.
For more information about Jedediah Smith Redwoods State Park, call (707) 458-3018 or visit www.parks.ca.gov. Vehicles more than 36 feet long are not accommodated at the park's campground.
Prairie Creek Redwoods State Park
This star of the California park system sits along Newton B. Drury Scenic Parkway, a bypass off U.S. 101 "" dubbed the Redwood Highway "" north of Eureka. The park's 14,000 acres preserve magnificent old-growth coastal redwoods, broad prairie meadows, a wild ocean shore, and free-roaming herds of Roosevelt elk. Nearly 300 memorial groves and record trees mark the forest. A redwood tree near the visitors center was a family home for a while during the 1930s.
The campground and visitors center are situated near the scenic parkway's southern end. Exhibits in the visitors center introduce the redwoods, the Civilian Conservation Corps, and the Roosevelt elk. Park maps sold at the center can help you to plan your visit. The Revelation interpretive trail behind the facility offers the sight-impaired and the wheelchair-confined a sensory-rich experience among the redwoods.
The 9-mile scenic parkway offers ample opportunity for stopping, sampling a trail, or watching elk at Elk Prairie, near the visitors center. The prairie's turnout parking easily accommodates motorhomes, even those with cars in tow.
Roosevelt elk travel in groups of up to 10, sometimes more. During the fall rut, mature bulls join the mostly female herds. Always keep a safe distance and be ready to retreat while viewing these wild animals.
The meadow flat along Davison Road off U.S. 101, south of the visitors center, also hosts elk. But Davison Road is limited to conventional vehicles less than 8 feet wide and under 24 feet long. For redwood viewing, an optional side tour by passenger vehicle is the 3-mile-long Cal Barrel Road, a narrow gravel road that allows an even slower look at the big trees.
Seventy-five miles of trails probe the park's regal gallery. Nature trails lead to Big Tree (it is 1,500 years old, stands 300 feet high, and has a 21-foot diameter) and Corkscrew Tree, a strangely twisted redwood grouping. Hiking trails, many with long, relatively flat distances, present still more flabbergasting trees, pass-through logs, sunbursts, and moody beauty. It's difficult to choose poorly here, and you don't need to finish a trail to satisfy your wanderlust or wonderlust. Banana slugs, newts, Steller's jays, and wrens add amusement.
To contact Prairie Creek Redwoods State Park, phone (707) 465-7347. The campground's length limit is 27 feet.
Humboldt Redwoods State Park
Largest of the state redwoods parks, Humboldt covers more than 50,000 acres south of Eureka. Between Fortuna and Garberville, seven exits off U.S. 101 access this preserve. At the park's core is the Avenue of the Giants, which travels for nearly 32 miles along the main stem and south fork of the Eel River, revealing view after view. More than a third of the park consists of old-growth redwoods. Their average age is between 500 and 1,200 years; the oldest-known tree was 2,200 years old. Many top 300 feet.
On the Avenue of the Giants, more than a half dozen short walks provide intimate views of the glorious trees, mossy logs, upturned roots, and lush ground vegetation. The most popular walk, Founders Grove Trail, visits both the Founders Tree and the Dyerville Giant, which tumbled in 1991. The 500-ton behemoth stood 362 feet tall, with a 17-foot diameter. The grove honors founders of Save-the-Redwoods League, the group responsible for the park's birth.
This park is home to the legendary Kellogg Travel Log, a 1920s motorhome with a body carved from a single redwood log. It is ensconced at the visitors center, which is full of other exhibits and displays.
Rockefeller Forest is one of the world's largest ancient redwood groves and was dubbed long ago as the world's most beautiful. Few would dispute that today. The narrow, but paved, 6-mile Mattole Road, another one for the passenger vehicle, twists through this celebrated forest for windshield appreciation and trail access to the Rockefeller Loop and Big Trees Area.
In the Big Trees Area, Tall Tree Loop visits a 359-foot-tall redwood. Cross the Bull Creek footbridge in summer and you can round up Flatiron Tree, an unusual redwood with an oblong trunk that fell in 1995, and Giant Tree, a national champion at 363 feet in height and 53 feet in circumference.
If you visit in winter, you'll see that salmon and steelhead runs attract anglers as well as hungry bald eagles.
The maximum RV length at this park's campsites is 33 feet. For general information, contact Humboldt Redwoods at (707) 946-2409.
Big Basin Redwoods State Park
This is California's first state park, established in 1902. The heart of Big Basin sits south of the San Francisco Bay Area, west from Boulder Creek on State Route 236. It also encompasses beach sections at Waddell Beach and Rancho del Oso, north of Santa Cruz on State Route 1. This park brings together ancient redwoods, stands of knobcone pine and oak, chaparral ridges, skipping creeks, delicate waterfalls, summit outcrops, a wetland, and the meeting of sand and surf.
Although the park can be enjoyed by windshield, venture out to find its best qualities. Eighty miles of trails lead the way. Paved roads and fire roads serve mountain bikers.
At the headquarters area, the rustic Sempervirens Room offers history about the park and visitor assistance. At the nature center, dioramas engage imagination. Day parking can be troublesome at the headquarters area, so come in your passenger vehicle (do not bring a motorhome), and arrive early. Expect to pay a parking fee, too.
The area's signature Redwood Nature Trail travels among the ancient redwoods above Opal Creek. Azaleas adorn the area in spring. The loop passes the broken Chimney Tree, the Mother of the Forest (the park's tallest tree at 329 feet), and the Father of the Forest, noted for its girth. Longer trails begin at campgrounds and sites throughout the park, leading to vistas, forest splendor, attractive waters, and solitude.
The campground's RV sites have a 27-foot length limit. Contact the park at (831) 338-8860 for general information.