Silent Air Dump
Last month, as we were setting up camp, a fellow camper noted that our motorhome made a lot of noise while I was dumping the air from the air bag suspension to lower the vehicle. So, I located a couple of air exhaust mufflers that screw right into the dump solenoids. The silencers I purchased were 1/4-inch National Pipe Thread (NPT). Now I cannot hear any air sound inside the motorhome, and it is barely noticeable outside the coach. The parts can be purchased from McMaster-Carr, Grainger, and other places where air mufflers and exhaust mufflers can be found.
Danny Lindstrom, F310275, Salinas, California
---
Gas Cap Lock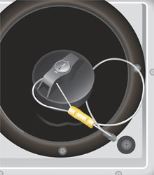 I once took an evening course in auto mechanics. I recall the instructor admonishing us to always have a locking gas cap, as much to prevent vandalism (sugar being put in the tank) as to prevent theft of the fuel. I had no reason to think about it afterward, because all of the cars and motorhomes I've purchased have had a lock — until my 2010 motorhome. Remembering the advice, I purchased a locking gas cap at a local store. However, the cap did not have a tether to attach it to the motorhome. To make one, I first called the gas cap manufacturer to find out whether I could safely drill a hole through the cap. I was told that there was nothing in the handle except the lock. So I drilled a small hole away from the lock, looped a piece of monofilament through it, and crimped an electrical butt connector to the wire to hold the loop. I crimped an eye connector at the other end and attached the tether to an existing hole near the gas tank with a push-rivet through the eye of the connector. It works great!
Frank S. Winter, F114882, Manalapan, New Jersey
---
Refrigerator Stop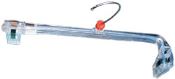 I've found an easy, economical way to hold open my refrigerator and freezer doors to keep mildew from growing in these compartments when the motorhome is not being used. I used two plastic clothing hangers with clips on the ends (one hanger each for the refrigerator and freezer). On one of the ends I heated the plastic end clip and bent it from 45 to 90 degrees to attach to the shelf inside the refrigerator door. The other end of the hanger attaches to the wire grating on a refrigerator shelf. I used a home-type heating gun to make the bends. The system is very secure in holding the doors open, and the hangers can be adjusted to any width opening. The best part is that there's little cost to buy or make this. Most households have this type of hanger in the closet somewhere.
Frank Iuliucci, F359248, Cherry Hill, New Jersey
{loadpositionEndBlurbTips}