Whether you want to search for fun, profit, or both, try your luck at the world's only public "finders-keepers" diamond mine.
By Larry Tritten
June 2010
Diamonds in Arkansas? Well, I suspect that Little Rock was named for a different kind of stone, but, yes, there are diamonds in Arkansas just as certainly as there are palm trees in Florida.
My knowledge of diamonds is non-professional, but I am clear about my earliest memory of them, which was in the Disney movie Snow White and the Seven Dwarfs. The dwarfs went to work each day in a diamond mine, and the diamonds were set in the cave walls, already cut, polished, glittering, and fit to be displayed in a window at Tiffany's. The dwarfs chipped them out of the walls with little picks and put them in their bags. All in a day's work.
The diamonds in Arkansas are in Crater of Diamonds State Park. They are there for the finding and taking at the only diamond-producing site in the world where the public can search for diamonds. For a nominal fee, freelance prospectors are admitted to a 37-acre field where a finder's-keepers policy is in effect.
The site is atop an eroded volcanic pipe where millions of years of geological activity (magnum pressures and temperatures doing a volcanic tango with carbon and gases) have produced a field of diamonds. Thanks to frequent plowing of the field and rains that wash away the soil, diamonds and other rocks and minerals are revealed. The result is a situation in which finding diamonds is perhaps analogous to looking for arrowheads on the site of a former American Indian village.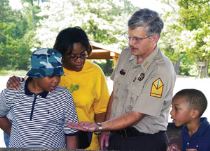 Whether or not you find a diamond here, it should be noted that one specimen, uncovered in 1990 by Shirley Strawn of nearby Murfreesboro and on display at the state park, is the most perfect diamond the American Gem Society has ever certified (triple zero grade). This diamond is so perfect, most jewelers will never see one like it during their whole career.
Another famous gem, the Uncle Sam diamond, was unearthed here in 1924. It is the largest diamond ever found in North America, and its second cutting resulted in a 12.42-carat emerald-cut gem. The Kahn Canary Diamond was discovered by George Stepp, an Arkansas logger, in 1977. It was later purchased by fellow Arkansas resident Stan Kahn, and worn by Hillary Clinton at her husband's presidential inaugural galas in 1993 and 1997 as a way of honoring their home state. This 4.25-carat stone has been left uncut because of its natural beauty. Then there is the Amarillo Starlight Diamond, a 16.37-carat stone found in 1975 by W.W. Johnson while visiting with his family from Texas.
A substantial number of 6-carat diamonds or larger have been unearthed at the park. As for the odds of your discovering one, consider that 1,024 diamonds were found in 2007, and 120 were found in April 2008 alone. Persistence and luck are no doubt the key factors in making a significant discovery. I talked to one veteran prospector who told me that he has found more than 100 diamonds.
Most of the diamonds and other gems dug up at Crater of Diamonds are not valuable enough to be cut and will only be valued as souvenirs of your time spent here. But if you have a gambling spirit, loved Easter egg hunts as a kid, or enjoy looking for Waldo in those crowded "Where's Waldo?" drawings, then you probably will have a good time at Crater of Diamonds State Park.
The park has a campground, but it has been closed for renovations since July 2009. At press time, it was expected to reopen in midsummer 2010. Other area camping options include a commercial RV park located one mile from Crater of Diamonds, and a campground at Daisy State Park, 25 miles away. For details, see the information at the end of this article.
Crater of Diamonds' visitors center is currently being refurbished, too, and is temporarily located in the Diamond Discovery Center. You can still visit the gift shop, see a video that provides tips on how to look for diamonds, and have your finds identified by park personnel.
People come to Crater of Diamonds armed with everything from gardening trowels to huge shovels to hunt for the elusive gems, but for those not so equipped, tools and sifting screens are available for rent at the Diamond Discovery Center. Digging isn't really necessary, and a common method of searching is to simply walk back and forth along the rows of dirt, scanning the surface. This may be just as effective as digging, especially after a hard rain has washed the soil away, exposing minerals, and possibly diamonds. The seasoned hunter, however, tends to prefer a fairly complicated process that involves digging deep holes, removing a specific kind of soil, washing the soil in a series of screens, and hand-sorting the concentrated gravel. Some people look for low areas where diamonds may have settled over the years, or for tailings from the commercial mining plants of the early 20th century.
This diamond field was not always part of a state park. The first diamond was found in 1906 by the owner of the property, John Huddleston. The farmer, whose story is celebrated at the park's annual June celebration of "John Huddleston Day" (June 19 this year), sold his land for $36,000. Unfortunately, as these stories often go, he died as a pauper. When news of the diamond discovery got out, a rush ensued. It is recorded that the Conway Hotel in Murfreesboro turned away more than 10,000 people in a year's time.
Over the years, several attempts were made at commercial mining, but they did not work. In 1969 General Earth Minerals of Dallas bought the land and opened it as a tourist attraction. The state purchased the land in 1972.
While I was at the park, I concentrated more on people-watching than looking for diamonds. I was fascinated by the different types out there who dig and sift and search. Among them were families who clearly viewed the outing as more of a lark than a serious undertaking; the no-nonsense veteran prospectors applying themselves with professional diligence; some who had the keenly studious look of geology students and lapidary specialists; and others who reminded me of the men and women who haunt casinos on payday with a chronic case of high hope and expectation.
No matter your reason for hunting diamonds, you'll appreciate the hunting field's washing pavilions and sun shelters, and you'll also enjoy looking at the old mining equipment and historic structures located in the field.
The appeal of diamonds is legendary — "Diamonds Are Forever," and "Diamonds Are A Girl's Best Friend," as the song titles go. But it should be noted that one can find amethysts, agates, jasper, quartz, calcite, and barite here as well. But if serendipity doesn't help you find a large diamond worthy to join the list alongside "Strawn-Wagner," "Kahn Canary," and "Uncle Sam," then there are other things to do in these 911 pine-covered acres along the banks of the Little Missouri River.
For wildlife viewers, a gravel walkway leads to a specially built blind that offers a perfect vantage point from which to observe deer, turkey, squirrels, and birds in their natural habitat. And from approximately the third week of May through mid-August, the park's Diamond Springs Water Park is open. This 14,700-square-foot aquatic playground features a huge wading pool with spray geysers, water jets, animated water spouts, water slides, and waterfalls, along with a deck and pool furniture. A restaurant on the site opens at approximately the same time as the water park. There is also bank fishing on the Little Missouri for large-mouth bass, catfish, and bream.
The price of admission to Crater of Diamonds State Park is $7 for adults, much less than one might spend in mere minutes at the helm of a casino slot machine. And 25,000 diamonds have been found in the park since 1972, which, incidentally, was the year the "Star of Sierra Leone," the largest diamond ever unearthed (968.9 carats), was discovered in West Africa.
Further Info
Crater of Diamonds State Park
209 State Park Road
Murfreesboro, AR 71958
(870) 285-3113
www.craterofdiamondsstatepark.com
The park is open daily year-round; the Diamond Discovery Center and the diamond search area are open daily from 8:00 a.m. to 5:00 p.m., and later in the evenings during the summer. Park interpreters help visitors learn how to hunt for diamonds through a variety of programs such as "Diamond Mining 101," "Ask A Park Interpreter," and various hikes and tours.
Area Camping
Daisy State Park
103 East Park
Kirby, AR 71950
(870) 398-4487
E-mail: [email protected]
www.arkansasstateparks.com/daisy
The park is on the shores of 7,000-acre Lake Greeson and has 82 motorhome sites; hiking trails; a pavilion; and a playground. It is approximately 25 miles from Crater of Diamonds State Park.
Murfreesboro RV Park
204 Birch St.
Murfreesboro, AR 71958
(870) 285-4058
www.murfreesbororvpark.com
The park has 10 full-hookup sites and is approximately one mile from Crater of Diamonds State Park.