The brand's newfound stability brightens the future for coach conversion enthusiasts.
By Lazelle Jones
April 2010
In December 2008 the RV world learned of a change in ownership involving a familiar coach conversion brand. Featherlite Coaches, known for its Sanford, Florida-based Featherlite Vantare' private coach conversions, was purchased by Amadas Coach of Suffolk, Virginia. Amadas Coach obtained the brands, intellectual property, and manufacturing rights of Featherlite Coaches in the transaction.
In an uncertain economy, this transfer of ownership signaled a move toward future stability for the Featherlite Vantare' brand and the more than 800 Featherlite Vantare' coach owners, among them a number of NASCAR enthusiasts (Featherlite Coach is designated "The Official Luxury Coach of NASCAR"). In turn, the acquisition complemented the Amadas Coach lineup, which produces Amadas Coach-brand coach conversions at its Virginia facilities.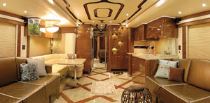 Amadas Coach is a sister company of Amadas Industries, an original-equipment manufacturer of specialized agricultural and industrial equipment and a joint venture partner with John Deere. The privately held corporation holds business interests around the globe in the manufacturing, real estate, golf course, nursery, and turf grass industries. Amadas is an acronym for "American Made, Advanced Design, Absolute Service," a moniker that evolved from Amadas Industries' genesis in 1963 as Hobbs–Adams Engineering. Amadas Coach specializes in crafting luxury motorhome, executive, entertainment, and specialty coaches for clients around the world.
According to Jimmy Adams, Amadas Coach president, the purchase of Featherlite Vantaré was designed to position Amadas to take its lifestyle luxury coaches to the next level as the economy recovers. Mr. Adams noted that the various Amadas companies are known for their strong commitment to engineering and development, an affiliation that has enabled Amadas Coach to draw from a deep pool of technical, engineering, manufacturing, and financial resources. These resources are also being applied to Featherlite Vantaré coach conversions. "The aficionado of the luxury lifestyle coach can expect to see new and innovative technologies applied that will bring excitement to the brand," he said.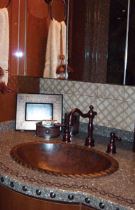 "We bring a new level of stability to this brand that is substantive and we feel brings a new level of confidence to our family of Featherlite Vantare' coach owners and to those who are considering a new Featherlite Vantaré," he added.
The relationship is symbiotic. During a visit with Mr. Adams at the Featherlite Coaches of Florida dealership in Sanford, I learned that the Featherlite acquisition enabled Amadas to enhance its custom luxury coach conversion division with the 13 years of products, engineering, and resources that propelled Featherlite Vantaré to a leading position in luxury lifestyle coach conversions.
Amadas Coach itself has retained a relatively low profile in the world of luxury lifestyle coaches, building mostly custom motorhome conversions for clients such as Rick Hendrick of Hendrick Motorsports and NASCAR star Kasey Kahne. Clients from the entertainment world have included Keith Urban, Garth Brooks, Alan Jackson, B.B. King, Alabama, and the Dave Matthews Band, among many others.
Amadas Coach maintains two production facilities in Virginia. Much of the company's executive coach and commercial conversion activity takes place inside a 26,000-square-foot plant in Moneta. The corporate headquarters and main production site is a beautiful 50,000-square-foot facility in Suffolk, humorously referred to as the "Garage Mahal." This site rests on 26 acres and features a scenic lake. Although production levels are currently down (true throughout the entire coach conversion industry), Amadas has completed as many as 22 coach conversions in a year. "We are hopeful that we will soon begin to see volumes return to the levels that they have been in previous years," noted Shannon Adams Woodward, marketing manager at Amadas Coach.
One beauty of the Suffolk facility is that it is located in a new industrial park with key suppliers as neighbors, and it is situated in the Tidewater region, with access to a significant pool of talent and resources from the regional yacht/shipbuilding industries. In addition, both of Amadas' Virginia production facilities are company-owned, not leased. At the time of this writing, Amadas had received site plan approval to expand the Suffolk facility to 100,000 square feet, which is part of the business plan as the economy recovers and the need for additional space becomes imminent.
Production of Featherlite Vantare' conversions has been moved from Sanford, Florida, to Amadas Coach's Suffolk manufacturing facility. Parallel production of both coach conversion lines permits the Amadas Coach team to share the techniques fostered by the Featherlite Vantaré culture, and vice versa. Coach conversions with the Featherlite and Amadas names do have initial similarities, as both brands are built on Prevost XLII and H3-45 bus shells. However, moving forward, each brand will remain a separate entity. "Both brands will benefit from core competencies, while each brand will maintain its distinct look and feel," Ms. Woodward said.
The Suffolk facility, which welcomes visitors for tours, employs state-of-the-art computer technology and materials in coach construction. The engineering department designs the coach mechanical, electrical, and cabinetry work in 3D AutoCAD, and production utilizes an advanced CNC machining center to manufacture many coach interior components. True to the "Featherlite" namesake, the company makes extensive use of lightweight composite materials, as well as modern insulating materials, and the latest technologies to ensure precise systems installations. A thorough quality control system incorporates checks at each stage of the manufacturing process. Interior designers seek to compile an array of high-quality materials to give each coach its unique identity. Featherlite Vantare' coaches continue to be built and marketed in the top-of-the-line niche, featuring yacht-quality interiors; ornate detailing; luxurious textiles and leathers; and reliable, user-friendly systems.
Featherlite Vantare' coaches will continue to be sold through the Featherlite Vantare' dealer network. The first three new-generation coaches being built in the Suffolk, Virginia, facility have been custom-ordered by specific clients, but subsequent coaches currently in production are earmarked for new dealer inventory.
The first custom-built Featherlite Vantare' built entirely (slide rooms and conversion) at the Suffolk facility debuted at the Tampa RV Super Show this past January. According to company officials, the unit was specially built for a repeat Featherlite Vantare' buyer who took delivery just after the show.
Currently, the Featherlite Coach dealer network includes four locations: Tom Johnson Camping Center in Marion, North Carolina, and Concord, North Carolina; Featherlite Coaches of Rochester, in Stewartville, Minnesota; and Featherlite Coaches of Florida, in Sanford, Florida. Each facility keeps an inventory of Featherlite Vantaré coach conversions, giving the customer a variety of new products from which to choose. These dealers also offer the client direct communication with the factory to fill custom coach orders or any special requests the client may desire. Dealer representatives knowledgeable in the luxury coach market provide guidance and serve as the liaison, offering a direct line of communication between the client and the Suffolk factory. Clients can continue to work directly with the coach designers and engineers should they elect to do so.
Featherlite Vantare' customers are supported by a network of 16 authorized service centers across North America, with locations in Virginia, Florida, North Carolina, Minnesota, Pennsylvania, New York, Ohio, Missouri, Illinois, California, Texas, Oklahoma, and Arizona.
As previously noted, Featherlite Vantaré continues to be "The Official Luxury Coach of NASCAR," strengthening Featherlite's interface with the many NASCAR Sprint Cup drivers and team owners who own and use Vantaré coaches at speedways across America. They are able to receive timely service and maintenance at every NASCAR event. Featherlite factory technicians are now joined by technicians from Tom Johnson Camping Center, an experienced outlet in both the world of custom coach conversions and the world of NASCAR. Tom Johnson's team of service technicians travel with the NASCAR event circuit and provide the real-time support that Cup drivers and team owners require.
Now that some of the proverbial dust has settled, Featherlite Vantare' is an integral part of the Amadas Coach family. Since Featherlite Vantare' production was relocated from the Sanford facility to Suffolk, Virginia, the Florida facility now operates as Featherlite Coach's exclusive Florida dealer, offering a wealth of knowledge and experienced sales and service of Featherlite Vantare' coaches.
"We are continuing the reputation of excellence the Featherlite Vantaré brand is known for," Mr. Adams said. "We are using our engineering and manufacturing strengths to enhance the Featherlite Vantaré product. We're committed to that. It's a challenging market, but combined with the strengths of our parent company, we have the depth, diversity, strengths, and resources to make this happen."
Featherlite Coaches, 1007 Obici Industrial Blvd., Suffolk, VA 23434; (866) 761-0999, (757) 923-3374; [email protected]; www.featherlitecoaches.com.