The sound of partying will fill the New Mexico nights during FMCA's 83rd International Convention.
By Doug Uhlenbrock, Associate Editor
January 2010
Thousands of FMCA members will assemble in Albuquerque, New Mexico, March 22 through 25 to celebrate the motorhome lifestyle during the "Albuquerque Fiesta," FMCA's 83rd International Convention. And what a party it will be! The days will be filled with fun activities to keep folks busy. And when the sun sets, the festivities will really kick into gear with a lineup of evening entertainment that is sure to have attendees out of their seats laughing, singing, and dancing.
The fun commences on Sunday, March 21, when several groups of FMCA members take the stage for the "FMCA's Got Talent" variety show, beginning at 7:00 p.m. at the Balloon Fiesta Park Entertainment Tent. This event will showcase the winning talent show ensembles from the Rocky Mountain, Southeast, South Central, and Western areas as they sing, dance, and stir up plenty of laughs. A special prize will be awarded to the overall winning group as selected by a distinguished panel of judges.
The good times continue on Monday, March 22, as attendees make their way to the Entertainment Tent at Balloon Fiesta Park at 7:00 p.m. for "Games and Movie Night." There, convention-goers can play board games, participate in candy bingo, take in a movie (complete with popcorn), and have an enjoyable evening socializing with fellow FMCA members.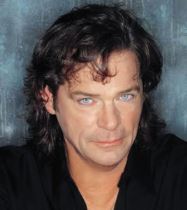 Evening entertainment on Tuesday, March 23, and Wednesday, March 24, will take place at the Sandia Resort and Casino Amphitheater beginning at 7:00 p.m. Evening entertainment on Thursday, March 25, will be held at the Balloon Fiesta Park Entertainment Tent, also at 7:00 p.m.
On Tuesday, prepare yourself for a night of singing and dancing as the Pink Flamingo Express invades the amphitheater stage. The high-energy group, which is a companion to the renowned Pink Flamingos touring show band, will have the audience out of their seats, on their feet, and possibly up on stage. Throughout the nonstop show, the performers combine audience participation with beautiful choreography; outrageous original costumes; and a mix of rock and roll, R&B, disco, country, and contemporary music to produce an evening of entertainment that will be remembered for years to come.
On Wednesday, convention attendees will welcome the distinctive vocals of B.J. Thomas as the singer performs many of his hits from the 1960s through the 1980s, along with some of his newer material.
Billy Joe (B.J.) Thomas grew up in Texas and joined his first band, the Triumphs, at the age of 15. In 1965 the group recorded an album of vintage rock and roll cover songs, which also included Hank Williams' country hit, "I'm So Lonesome I Could Cry." The ballad eventually went national, jumping to number four on the pop charts. When several members of the band weren't able to tour, Thomas set out on his own.
In 1968 he recorded his first solo hit, "Hooked On A Feeling," which made it to No. 4 on the Billboard chart. Then in 1969 he was recommended to sing the Burt Bacharach/Hal David song, "Raindrops Keep Falling On My Head," which would appear in the movie Butch Cassidy & The Sundance Kid and soared to No. 1 on the Billboard chart.
Thomas's star rose through the 1970s with the hits "I Just Can't Help Believing," "No Love At All," "Rock and Roll Lullaby," and "(Hey Won't You Play) Another Somebody Done Somebody Wrong Song." In the mid-1970s he redirected his career to country and gospel, finding success in both genres. As a gospel singer, he won four Grammys for Best Inspirational Song, along with a pair of Dove Awards. He also had several top 10 country hits, including "Whatever Happened To Old Fashioned Love," "New Looks From An Old Lover," and "Two Car Garage."
Although Thomas was out of the spotlight through much of the 1990s, he still kept busy. He recorded "As Long As We Got Each Other," which became the theme song for the ABC sitcom "Growing Pains," and also sang vocal tracks for numerous commercials. Last year he released his newest album, "Once I Loved."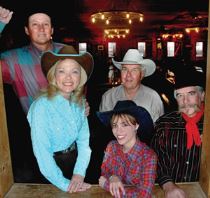 On Thursday, sharpen your spurs and grab your cowboy hat as the Flying J Wranglers serve up a heaping helping of Western-style entertainment. Since 1982, the Wranglers have entertained thousands of people with their authentic blend of cowboy music and humor.
Led by founder James Hobbs (rhythm guitar, vocals), the Wranglers perform a variety of old-time cowboy songs, traditional Western favorites, and a selection of their own foot-stomping originals. Other band members include James' wife, Cindy, a former Grand National Western Style Yodeling Champion; Randy Jones (guitar, mandolin, banjo, and dobro); Roy Black (acoustic bass guitar); and Corinna Ripple (fiddle).
The Wranglers usually can be found at the Flying J Ranch near Ruidoso, New Mexico, where visitors are treated to a Western stage show. The group also has played at the Grand Ole Opry in Nashville, Tennessee; at the Saddle Up Celebration in Pigeon Forge, Tennessee; and internationally in Japan, Italy, and Germany.
Also that night, convention attendees will be treated to a spectacular sight as a collection of tethered hot-air balloons fire up their burners for an early-evening balloon glow. You won't want to miss the sight of these colorful balloons shining beautifully against the backdrop of Albuquerque's spectacular turquoise-blue sky.
Fore!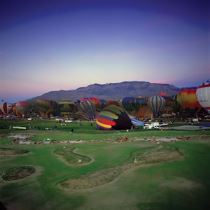 FMCA members attending the "Albuquerque Fiesta" with an affinity for golf are invited to play in the FMCA Albuquerque Golf Classic, which will take place on Monday, March 22, at the beautiful Sandia Golf Club, located just two miles from Balloon Fiesta Park.
The tournament will be organized as a four-person scramble. The teams will be formed based on handicaps, allowing golfers of all skill levels to participate. Play will begin on Monday morning with a shotgun start. (An afternoon shotgun start may be added if enough golfers register.) Team and individual prizes (closest to the pin, longest drive, etc.) will be awarded both on the course and at Monday night's evening entertainment at Balloon Fiesta Park.
The cost to play is $70 per person and includes greens fees for 18 holes, golf cart with GPS system, access to the driving range and practice balls, custom scorecards and scoreboard, lunch, and prizes. To register for the FMCA Albuquerque Golf Classic and pay your fee via credit card, call the FMCA national office at (800) 543-3622 (tournament deadline is March 1). Those who have not yet registered for the convention can sign up for the golf outing at the same time by calling the national office at the number above or via the online registration form at FMCA.com.
The Sandia Golf Club, which is an amenity of the Sandia Resort & Casino, features a 7,772-yard, par-72 championship course. The club opened in 2005 and has won numerous awards. Golf Digest included it on its "2008-2009 Best Places To Play" list, and also named it one of the "Top 40 Casino Courses In America" in 2007.
So whether you're a scratch golfer or someone who likes to get the most strokes for your money, the FMCA Albuquerque Golf Classic offers an opportunity to play golf at a spectacular course, meet new friends, and enjoy the incredible high desert scenery. For more information, contact Bill Marti (billmarti@attglobal.net; 303-898-7039).