Family & Friends
By Doni Gordon, F376075
May 2010
On September 19, 1978, a group of 12 couples, under the leadership of Bob and Lavonne Humphreys, met in Rockport, Texas, and enthusiastically laid the groundwork for a new FMCA chapter that would become known as the South Texas Renegades. The original officers were Bob Humphreys, president; Elaine Teal, secretary; Ron Teal, treasurer; Robbie Head, national director; and Slim Branum, site chairman. From this modest beginning, the South Texas Renegades chapter has grown to include 62 member coaches and has become one of the most active chapters in Texas.
April 1, 2009, marked 30 years of continued chapter growth, bringing together members who enjoy the camaraderie and companionship of fellow RV enthusiasts. Our special 30th anniversary celebration was held at the beautiful Ransom Road RV Park in Aransas Pass, Texas, October 8 through 10, 2009, with 42 coaches present.
The wagon masters for this rally were Richard and Carol Goss, who were assisted by Rick Lowrance and Pam Weed. They did a wonderful job making sure everything ran smoothly. Thanks to the anniversary celebration planning committee, which included chairman Syble Hall; her husband, Sonny; and Don and Kathryn Huckabay. They organized a fun-filled weekend complete with two nights of entertainment by a local band; games; karaoke; and a "Come Dressed as a Renegade" costume contest. Door prizes from PPL Motor Homes, Camping World, DeMontrond RV, Stitch It On, and Ransom Road RV Park were awarded. A beautiful 30th anniversary cake was made by chapter member Gail Gay.
Honored special guests were South Central Area vice president Fred Kennedy and his wife, Lou, and past South Central Area vice president Tony Innocenti and his wife, Geri. Fred presented us with a congratulatory letter and certificate from FMCA, as well as a check to commemorate our anniversary.
Of those in attendance, Bob and Mary Louise Smith were recognized as belonging to the chapter the longest, having been members for 20 years. Also present were four past chapter presidents: David Scott (1998-1999), John Baker (2000-2001, 2004-2006), Sonny Hall (2001-2002, 2003-2004), and Brad Mudgett (2006-2008).
The South Texas Renegades continues to be a fun-filled FMCA chapter with a membership that consists of motorhomers who are both young and young at heart. We are an active group that enjoys getting out and doing things. We extend an invitation for anyone to join us for a weekend. Our rallies cover the areas around the cities of Houston, Austin, and San Antonio, and the area south of Victoria, and our rallies are listed on FMCA.com and in Family Motor Coaching magazine's "Association Calendar." Rally and other chapter information can be obtained by contacting membership chairman Garth Cook at (713) 501-5567; [email protected]
---
Carolina Ramblers Visit Marine Base
Family & Friends
By Joann Hahn, F286569
May 2010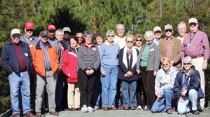 Maurice and Stella Gunn and Ernest and Julie Beauchesne teamed up to host the Carolina Ramblers' third annual visit to a military base. Maurice, a retired chief warrant officer with the U.S. Marine Corps, is a personal friend of Col. David S. Heesacker, Commander of the Marine Corps Engineer School in Camp Lejeune, North Carolina. So, that became our destination.
Our rally, which took place November 5 through 8, 2009, started with the precision of a beach landing. We were whisked through security and registration and arrived at the Marine Campground at Onslow Beach in breathtaking fashion. Our tour director was Master Gunnery Sgt. Oscar Williams, the academic chief for the Engineer School, who we adopted as our "Gunny." He started his presentation with an orientation and slide show of the school's mission and responsibilities, followed by brief words of welcome from Col. Heesacker.
We were bused from the Engineer School headquarters straight to the minefields. As they are quick to tell you, these Marines are the first in. Each soldier is required to have proficiencies in all aspects of the engineers' mission, and to establish a safe environment for the troops to follow. These responsibilities include identification and destruction of roadside mines and other types of explosives. Once the area is clear, these same Marines are charged with setting up housing, including water purification, carpentry, plumbing, electrical, and sanitation. We were very impressed with the thoroughness of the instructors in charge of the safety and training of our young Marines.
As luck would have it, we were able to take part in celebrating the Marine Corps' 234th birthday. A portion of this event included lunch with the troops. We enjoyed a lobster and steak meal and had a chance to socialize with the young men and women at our tables. Yes, we paid for our lunch.
One of the most spectacular events was observing 30 Marines, men and women, construct and dismantle a 70-foot metal medium girder bridge that is capable of supporting very large tanks. This was not only done by hand, but was completed in less than two hours. Semper Fi!
It was our honor to host a catered dinner for Col. Heesacker and his wife and Gunnery Sgt. Williams. Carolina Ramblers chapter president David Carter presented a check to Col. Heesacker to be used to benefit the soldiers as he saw fit. Col. Heesacker then presented the chapter with a gold coin commemorating the Marine Corps Engineer School. This coin will become a cherished memory of our visit. In your travels, when you see members of the military, please thank them for their service and shake their hand.
As a final note, we feel that if Col. Heesacker can convince his wife, they not only will purchase a motorhome but also will become members of FMCA!