Key Protection
The Key Buoy from Davis Instruments Corporation can protect fishermen, boaters, and anyone else who spends time around the water from losing their keys if dropped in a lake or ocean.
When dropped into water, the small key fob automatically opens, releasing a 14-inch self-inflating air tube that rises to the surface in as few as 60 seconds. The tube then can be pulled from the water with the keys still attached. The Key Buoy must be replaced after the air tube has been released.
The Key Buoy has a manufacturer's suggested retail price of $6.99.
Davis Instruments Corporation
3465 Diablo Ave.
Hayward, CA 94545
(800) 678-3669
(510) 732-9229
http://www.davisnet.com/
---
Awning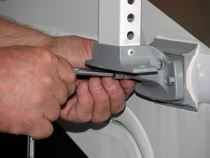 The F65 roof-mounted box awning from Fiamma Inc. is designed for the new generation of motorhomes with curved roofs, especially 2007 and newer Type B motorhomes built on the Sprinter chassis.
According to product literature, the F65 features a strong Alu-Lite case available in polar white or titanium finishes; reinforced arms; and a UV-resistant vinyl canopy available in blue ocean, deluxe grey, evergreen, bordeaux, and coconut colors. Awning case lengths range from 10.6 feet to 16.1 feet, with weights ranging from 61 pounds to 87 pounds. All models extend 8.2 feet.
The Fiamma F65 awning has manufacturer's suggested retail prices starting at $875.
Fiamma Inc.
2427 Forsyth Road
Orlando, FL 32807
(407) 672-0091
http://www.fiammausa.com/
---
Water Pump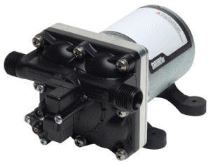 The Revolution 4008 fresh water pump from SHURflo is designed for all types of RVs and is said to deliver 3 gallons of water per minute and pressures up to 55 psi.
According to product literature, the Revolution 4008 includes a four-chamber design that utilizes the company's patent-pending Flow Reaction Technology to reduce noise, vibration, and excessive pump cycling. Other features include an over-molded, single-piece diaphragm; an adjustable switch and bypass; thermal overload protection; and an umbrella valve design.
The Revolution 4008 has a manufacturer's suggested retail price of $116.25.
SHURflo
5900 Katella Ave.
Cypress, CA 90630
(800) 854-3218
(562) 795-5200
http://www.shurflo.com/
---
Electronic Flares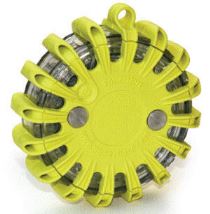 The PowerFlare Safety Light is said to be safer than incendiary flares while providing improved light visibility in emergency roadside situations.
The hockey-puck-size beacon weighs approximately 7 ounces and includes a bright array of 16 LEDs around the periphery of the unit to provide light in all directions. The waterproof PowerFlare Safety Light operates on a CR123 lithium battery that will power the device from eight to 150 hours, depending on which of the 10 user-selected flash patterns is employed. The device is available in eight outer shell colors with numerous LED colors and includes a lanyard tab for attaching to a belt, backpack, or coat.
The PowerFlare Safety Light has manufacturer's suggested retail prices starting at $49.95. Rechargeable models also are available.
PowerFlare
6489 Camden Ave.
Suite 210
San Jose, CA 95120
(877) 256-6907
(408) 323-2370
http://www.powerflare.com/
---
Vehicle Wax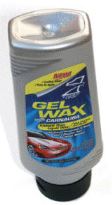 According to product literature, Gel Wax from Eagle One will deliver a glossy shine that lasts as long as paste but is easier to use than liquid wax.
Polishing the vehicle with Gel Wax is said to reduce the time and effort required with conventional waxes, because it does not need to haze or dry after application. Just apply the wax to one section at a time and wipe off. The wax is made of natural carnauba and polishers, said to produce excellent durability and water beading. Plus, it does not cause white residue or discoloring of black trim and molding and contains no harmful petroleum solvents.
A 16-ounce bottle of Gel Wax has a manufacturer's suggested retail price of $9.99.
Eagle One
3499 Blazer Parkway
Lexington, KY 40509
(800) 432-4531
http://www.eagleone.com/
---
Jack Pad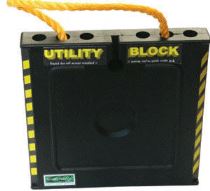 The Utility Block from Quality Plastics Custom Molding Inc. is a durable plastic pad that can replace the wood blocks many RVers use under leveling jacks and tires when parking the motorhome.
Each Utility Block is approximately 9 3/4 inches square and 1 1/2 inches thick, and weighs 3 1/2 pounds. The pad includes a keyed slot that accepts a standard awning rod to help guide the block under the motorhome; a braided rope handle; and 45-degree bevels on opposite sides to keep the block from kicking out when driven upon. The block has a solid top and bottom and six cored holes that allow for weight reduction without compromising strength.
The Utility Block has a manufacturer's suggested retail price of $19.95 for a single pad and $69.95 for a set of four.
Quality Plastics Custom Molding Inc.
71 Glenwood Ave.
Marion, NC 28752
(828) 652-1190
http://www.campersfriend.com/
---
Green Pest Protection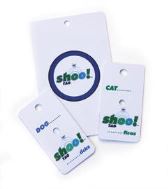 The shoo!TAG from Energetic Solutions LLC is said to be a chemical-free way to protect pets and people from insects.
According to product literature, the environmentally friendly tags contain an embedded magnetic strip that disturbs the wearer's external bio-energetic field with specific frequencies that are unpleasant to insects. The silent, odor-free tags are waterproof and reportedly are effective for up to four months.
Various solutions for mosquito, flea, tick, chigger, and fly protection for both pets and humans are available, with manufacturer's suggested retail prices starting at $24.95.
Energetic Solutions LLC
11101 Highway 290 W.
Austin, TX 78737
(877) 746-6512
http://www.shootag.com/
---
Wireless Audio/Video Adapter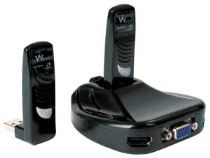 The Warpia Wireless USB A/V Display Adapter from Source R&D Inc. makes it possible for users to view computer content such as movies and pictures, as well as the Internet, on a flat-screen TV without a wired connection.
The PC adapter connects to the USB port of the computer, and the A/V adapter connects to the HDMI port on a TV. The wireless system provides 720p HD resolution and 16-bit stereo sound, has a range of 30 feet between the computer and the TV (in the same room), and is compatible with Windows 7/Vista SP2/XP SP3 operating systems. The set also includes a VGA connector and a 3.5-mm audio jack; a power supply unit; a quick-start guide; and a CD with software, drivers, and user manual.
The Wireless USB A/V Display Adapter has a manufacturer's suggested retail price of $179.99.
Source R&D Inc.
1709 Junction Court
Suite 420A
San Jose, CA 95112
(408) 452-7897
http://www.warpia.com/
---
Video Eyewear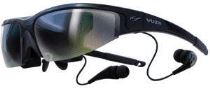 The Wrap 310 portable video eyewear from Vuzix Corporation makes it possible for individuals to view content from an iPod, laptop computer, DVD player, smartphone, or other video device on twin high-resolution sunglass-style screens.
The eyewear is said to provide two- and three-dimensional viewing capabilities and to supply video projection that is equivalent to viewing a 55-inch screen at 10 feet. The Wrap 310 supports 4:3 and 16:9 display formats, features a host of video adjustments, and includes a video zoom mode. The device is powered by two AA alkaline batteries that will last for up to six hours and comes with a pair of detachable noise-cancelling earphones with three sizes of noise isolation inserts and all the necessary cables.
The Vuzix Wrap 310 has a manufacturer's suggested retail price of $249.95.
Vuzix Corporation
75 Towne Centre Drive
Rochester, NY 14623
(585) 359-5900
http://www.vuzix.com/
{loadpositionEndBlurbProducts}