Pet Life Jacket
The Outward Hound Life Jacket from The Kyjen Company will keep your dog safe whenever it's around bodies of water.
The life jacket features fully adjustable chest and neck flaps and quick-release buckles; convenient top-grab handles to facilitate rescue; a durable, comfortable neoprene belly band; and a front-float design to help keep the dog's head above water. The jacket is available in highly visible pink and orange colors with multiple reflective stripes so it can be quickly located.
The Life Jacket is available in sizes ranging from extra-extra small to extra large with suggested retail prices between $19.99 and $44.49.
The Kyjen Company
15514 E. Hinsdale Circle
Centennial, CO 80112
(800) 477-5735
(303) 792-9600
www.kyjen.com
---
Steak Knives

Make quick work of that next steak dinner with Steak Saws steak knives from DCI.
These no-nonsense knives feature a 5-inch stainless-steel serrated blade and an ergonomic easy-grip handle, giving hungry handy men and women a knife that is up to the task of cutting any type of meat.
A set of four Steak Saws has a suggested retail price of $19.
DCI
275 Westminster St.
Providence, RI 02903
(877) 947-1577
(401) 621-2324
shop.dcigift.com
---
Places Visited Map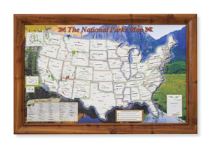 The National Parks Traveler Map from Map Your Travels is a great way to show others which U.S. national parks you've visited during your travels.
The 24.5-inch-by-34.5-inch framed map features a photo of Yosemite National Park as the background and a map depicting all 50 states, the U.S. Virgin Islands, and American Samoa. It comes with 40 red pins to mark where you've been; 10 green pins to mark your dream destinations; 1 blue flag to indicate where you're going next; and one yellow pin to mark your favorite destination. The map also can be personalized with up to 50 characters of type.
The National Parks Traveler Map has a suggested retail price of $149; add $20 for personalization. The company also offers the United States Traveler Map; maps of other countries; and maps in the Sports & Hobbies and Kids & Family series.
Map Your Travels
3990 Alabama Ave.
St. Louis Park, MN 55416
(888) 821-0151
www.mapyourtravels.com
---
Portable Speaker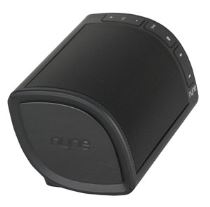 The NB-200 Bluetooth speaker from NYNE Multimedia is a stylish portable speaker that's small enough to carry in a bag or mount to the handlebars of a bike with the provided custom handlebar clips.
The speaker wirelessly streams music from any Bluetooth-enabled device and is equipped with a 3.5-millimeter Aux-in cable for devices that do not have Bluetooth capability. It is powered by a rechargeable lithium-ion battery that supports up to five hours of continuous playtime and comes with a USB charging cable. It includes a built-in microphone with advanced noise cancellation to enable wireless hands-free calling. The speaker measures 5.7 inches wide, 3.38 inches deep, and 2.91 inches high, and comes with a protective carrying case, a user manual, and a quick user guide.
The NB-200 has a suggested retail price of $129.95.
NYNE Multimedia
3451 Lunar Ct.
Oxnard, CA 93030
(888) 722-6963
www.nyne.com
---
Natural Deodorizer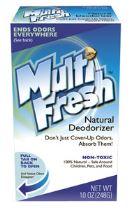 According to product literature, MultiFresh Natural Deodorizer from Howell Enterprises LLC absorbs odors and moisture and is safe to use in any closed environment.
MultiFresh includes the volcanic material ignimbrite, which absorbs odors and allergens and neutralizes these airborne contaminants. This nontoxic material is ideal for refrigerators and freezers, closets, pantries, storage areas, and any other areas where odors, moisture, and mildew are present. It is safe to use around children, pets, and food, and will regenerate its efficiency by sitting in fresh air for 24 to 48 hours.
A three-pack of MultiFresh has a suggested price of $19.99.
Howell Enterprises LLC
321 Washington Drive
Almo, KY 42020
(866) 524-2318
www.multifreshhome.com
---
Battery Charger
According to product literature, the Digital 1200 12-volt performance battery charger and maintainer from OPTIMA Batteries Inc. will charge and extend the life of RV batteries when used properly.
The microprocessor-controlled unit charges, conditions, and maintains 12-volt absorbed glass-mat (AGM) and traditional batteries, and will recover deeply discharged batteries and extend battery life. It features an LCD display to indicate charging, maintaining, and fault mode status, plus a gauge that displays charging and fill rate with charger mode and fault messages. The charger also includes an integrated LED work light, ergonomically designed DC charging clamps, quick-set selections, and a USB charging port.
The Digital 1200 has a suggested retail price of $199.99.
OPTIMA Batteries Inc.
5757 N. Green Bay Ave.
Milwaukee, WI 53209
(888) 867-8462
www.optimabatteries.com
---

Lubricant
Slide-Out Dry Lube from Protect All Inc. is designed to lubricate and protect all metal parts of the slideout assembly, including support arms, gears, and cables.
Slide-Out Dry Lube penetrates between and around parts to displace moisture and prevent rust and corrosion. But unlike oily lubricants or greases that collect dirt that can inhibit operation of the mechanism, Dry Lube produces a firm, waxy, amber-colored film designed to keep the slideout operating like new.
A 16-ounce aerosol can of Slide-Out Dry Lube has a suggested retail price of $16.
Protect All Inc.
1910 E. Via Burton St.
Anaheim, CA 92806-1215
(800) 322-4491
(714) 635-4491
www.protectall.com
---
Towing Accessory

The FuseMaster from Roadmaster Inc. will eliminate the hassle associated with pulling fuses on most vehicles that require a fuse to be removed before being towed four wheels down.
Once the FuseMaster is installed on a vehicle, simply flip a switch to the "TOW" position and the vehicle is ready to tow. When you arrive at your destination, flip the switch back to "DRIVE," and the vehicle is ready to be driven.
Four FuseMaster kits are available that collectively fit most vehicles that must have fuses removed for towing. Suggested retail prices range from $75 to $225.
Roadmaster Inc.
6110 N.E. 127th Ave.
Vancouver, WA 98682
(800) 669-9690
(360) 896-0407
www.roadmasterinc.com
---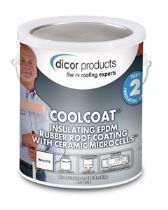 Roof Treatment
CoolCoat Insulating Coating for EPDM rubber roofs from Dicor Corporation is said to reduce heat transfer from the RV roof to the RV interior.
The product uses the company's advanced MicroCells coating technology to help reduce the interior temperature of the motorhome by as much as 29 percent from the roof temperature. When CoolCoat cures, the MicroCells — nano-sized ceramic spheres — become tightly packed to create a tough coating that reflects and dissipates heat by minimizing heat flux. According to product literature, the coating is easy to apply and dries quickly to form a protective barrier with superior resistance to harsh weather and ultraviolet light. Prepping the roof with a Dicor roof cleaner/activator is recommended to ensure coating adhesion.
A 1-gallon container of CoolCoat has a suggested retail price of $126.85.
Dicor Corporation
2965 LaVanture Place
Elkhart, IN 46514
(800) 837-2059
www.dicorproducts.com
{loadpositionEndBlurbRVProducts}