Kid Zone
Add to family fun during your travels with these games and other items designed for youngsters.
By Linneah Deighton, Associate Editor
Paddle Game
For a twist on traditional paddle-board games, you might want to consider this new game on the market. Jazzminton Sport is essentially a combination of tennis, badminton, table tennis, and even pickleball. It's a competitive, easy-to-learn game that's fun for all ages and skill levels. Simple to set up and take down, it can be played almost anywhere with no hindrances, as it requires very little space. The birdie slows as it spins, so you can spike it as hard or as softly as you want without it flying out of bounds. The game comes with a net in a steel frame, two paddles, six birdies, a birdie case, four balls, and a carry bag. Price is $199.99.
FunSparks
www.funsparks.com
(888) 898-3600
---
Toss Game
Towerball is designed for all ages and group sizes. This four-sided, 360-degree toss game is great for casual group competition. Getting the balls in the different-sized holes can be a fun challenge, even for younger kids. It includes the collapsible tower, eight soft hackey balls, and a backpack-style carrying case. Price is $189.99.
Towerball
www.calibergames.com
(800) 922-9063
---
Gold Panning Kit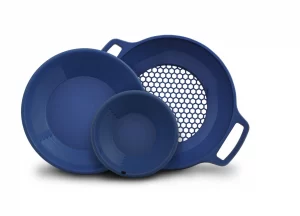 Even though we missed out on the California Gold Rush of the mid-1800s, we can still go panning for gold anytime! Minelab's Pro-Gold premium panning kit makes this fun activity much easier. Its pans are a high-contrast blue so you can see gold easier than any other color. The main pan has multiple panning zones, catching all sizes of alluvial gold particles so you don't miss any. The kit includes a dual riffle pan, single riffle pan, hex-mesh classifier, convertible carry bag, iron-separator magnet, double-loupe magnifier, vacuum suction bottle, gold transfer pipette, micro-gold storage vials, and a "getting started" guide. Price is $49.99.
Minelab
www.minelab.com
(877) 767-6522
---
Phone Game Controller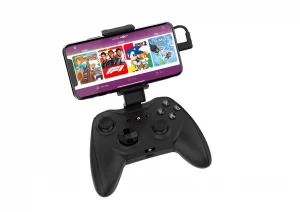 The RiotPWR RR1852 portable gaming controller is perfect for long trips in the RV to keep kids and adults occupied. This console controller can be used with more than 1,000 compatible mobile video games. Unlike similar devices, it doesn't require batteries or Wi-Fi to use. This specific model is for iOS devices; the RR1825A controller is Android compatible. Price for each is $49.99.
RIOT PWR
www.riotpwr.ocm
---
Craft Kit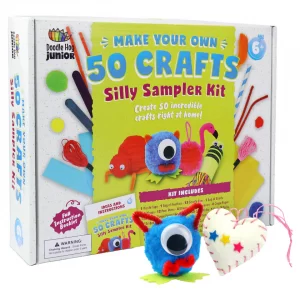 Crafting while on the road can be hit-or-miss. On the one hand, it's a great way to keep kids busy. On the other hand, you might have an overabundance of craft supplies when you're done. The all-in-one Doodle Hog 50 Silly Crafts Kit comes with 400 craft pieces for 50 different mini projects. With the exact amount of items needed, nothing is wasted, and you don't have to worry about clutter. Following the detailed step-by-step instructions, you can make wearables, charms, puppets, décor items, and much more. Price is $24.99.
Doodle Hog
www.doodlehog.com
---
Dice Game
Need to spice up your dice inventory? The GoSports 2.5" Giant Wooden Dice set was designed to bring giant-sized fun to any existing dice game. As an added bonus, the set also includes a dry-erase scoreboard for Farkle and Rollzee games. This is great for playing on the go, including outdoors at the campground, as it can be stored neatly in the included canvas carrying bag. Price is $19.99.
P&P Imports LLC
www.playgosports.com
---
Toy Storage Chain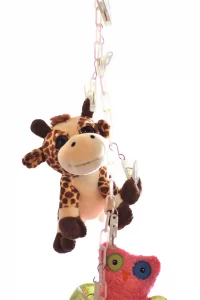 It's easy to run out of space for toys, but the MiniOwls Multipurpose Storage Chain can be used to organize them and a wide variety of other objects by suspending them in the air. Toys, sunglasses, hats, bags, collectibles — you name it! All you have to do is clip them onto the chain. The Storage Chain can be installed in a corner of a room, in a closet, or just about anywhere in your RV. The 6-foot lightweight plastic chain comes with 20 clips, 20 hooks, two wall mounts, and a rod hanger. Price is $14.98.
MiniOwls Inc.
www.miniowls.com
---
Replica Camper Van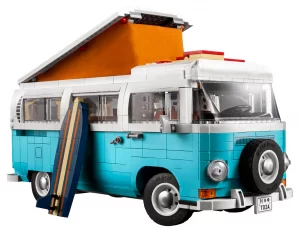 Looking for a challenge? The LEGO Group released the Volkswagen T2 Camper Van replica model last summer, and it is chock-full of fun features — including a textile pop-up roof. This eye-catching build is great for older teens (or adults), having well over 2,000 pieces. The interior is incredibly detailed, fully furnished, and even has working steering. A set of stickers and retro decals is included for personalization. Price is $179.99.
LEGO
www.lego.com
(800) 835-4386
---
Book Set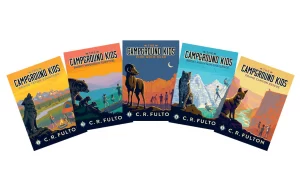 Join The Campground Kids, written by C.R. Fulton, on their adventures to national parks with this action-packed book series for readers ages 8 to 12. This group of kids explores the most loved U.S. national parks, encountering mysteries, challenges, survival tactics, and much more. Each book incorporates different values, with some focusing on self-confidence and others on teamwork and honesty. Price is $59.99 for a set of five books.
Bakken Books
www.bakkenbooks.com