By John Johnston|
Associate Editor
Portable Pickleball Net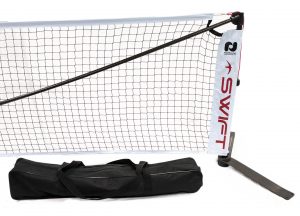 Pickleball players should be pleased about this new product. SwiftNet is a portable pickleball net system from Pickleball Central.
According to the product description, SwiftNet can be set up by one person in about three minutes. Its locking system and supportive brace keep the net at a height of 34 inches in the center and 36 inches at the sidelines of the court, per USA Pickleball Association specifications. A high-tensile, nonstretch top cord prevents the net from sagging. SwiftNet is made with recycled aerospace-grade carbon fiber and weighs 14 pounds (which includes its bag). The manufacturer's suggested retail price is $349.99.
Pickleball Central
(888) 854-0163
www.pickleballcentral.com
---
Portable Clothes Washer
Doing laundry is loads of fun! Okay, we lied. It is, however, a necessary chore, and so RVers who need to wash their clothes anytime, anywhere may want to consider Laundreez.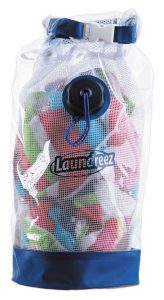 The waterproof bag is made with a PVC outer material and a mesh interior. You open a screw cap to add water and detergent, place several clothing items in the bag, fold it shut, clip it closed, swish things around, and allow time for soaking. After emptying the dirty water, add fresh water to rinse. Then remove the clothes and utilize the solar clothes dryer of your choice (i.e., a clothesline). The price is $30.
Laundreez
[email protected]
www.laundreez.com
---
Knife Sharpener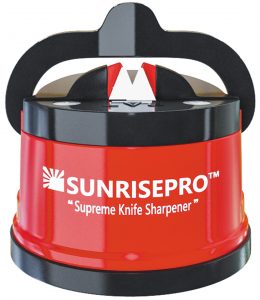 Dull knives make for hard cutting, not to mention ugly meat and strangely shaped vegetables. The SunrisePro Supreme Knife Sharpener can be used on many types of blades, from serrated bread knives to hunting knives (an exception: it's not suitable for extremely fine-toothed serrated knives).
According to the product description, knife blades become sharp with only a few swipes through the tungsten-carbide sharpening edges, and only microscopic amounts of knife metal are removed. The sharpener's dimensions are 2.4 inches by 2.4 inches by 2.5 inches. A suction cup base secures the sharpener to any smooth surface. The price is $12.97.
JJL LLC
(816) 396-5718
www.sunrisepro.org
---
Beach Umbrella
We're pretty sure there's no law that says a beach umbrella must be round. So, CleverMade is on solid ground with its QuadraBrella, a 64-inch-by-64-inch square-shaped model. Its lining is said to provide protection against 99.5 percent of ultraviolet rays.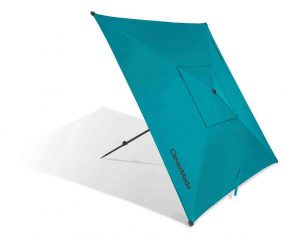 QuadraBrella is made of polyester and has vents to help lessen the effects of wind. It can be positioned so it is upright or leaning on a side. It comes with tie-down cords and stakes, a pivot hammer to drive the stakes into the ground, and a carry bag. When packed for storage, the QuadraBrella measures 49 inches by 3 inches by 3 inches. It's available in teal, blue, lime, and gray. The cost is $49.99.
CleverMade
(760) 814-3577
www.clevermade.com
---
Washable Rug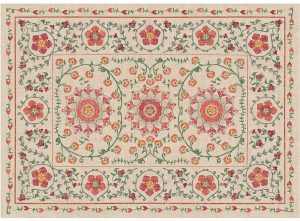 How do you know your dog has been naughty? It leaves a little poodle on the rug. Ba-dum ching! Seriously, though, nobody likes a dirty RV rug, so the two-piece Ruggable system was developed to make cleaning easy.
It features a nonslip rug pad and a top cover. Using hook-and-loop technology, the underside of the cover clings to the rug pad; the cover and pad are designed to stay attached when you're vacuuming. You also can peel the top cover off and toss it into a washing machine. Ruggable is available as a 5-foot-by-7-foot rug; a 2.5-foot-by-7-foot runner; or a 3-foot-by-5-foot accent rug. A variety of styles and colors are offered. Prices range from $58 to $189.
American Art Décor
(888) 598-9179
https://shop.americanartdecor.com
---
Collapsible Kayak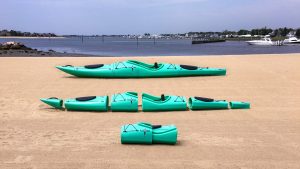 Kayaks come in many styles, but the Bluefin 14 from Pakayak may be especially appealing to RVers with little storage space. The 14-foot hard-shell kayak disassembles into six sections that fit inside each other like Russian nesting dolls. Then the 59-pound kayak can be placed into its 44.5-inch-by-24-inch-by-16 inch zipper bag, which has wheels.
The shell is made of plastic resin specially formulated for the kayak industry. According to Pakayak's website, it takes less than three minutes to assemble the Bluefin 14, and there are no small parts to lose. Tongue-and-groove connecting sections are designed to interlock and keep a watertight seal. The kayak comes with a leak-proof guarantee. Four colors are available. The price of the Bluefin 14 Kayak is $1,795.
Pakayak LLC
(860) 788-4400
www.pakayak.com
---
Men's Toiletry Bag
Toothpaste, dental floss, razor, nail clippers, tweezers, lip balm, lotion — guys toss those items and more into a toiletry bag, and then dig through it each morning to find what they need. With the Lay-n-Go Traveler, all your toiletries can be laid out in plain view, and it's easy to pack them up.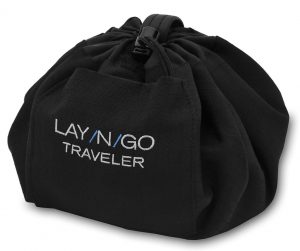 The machine-washable bag opens so that you have a clean 20-inch-diameter surface on which toiletries can be spread out. A raised lip keeps everything contained, and a zippered interior storage pocket holds smaller items. When you're finished, pull the drawstring to convert the kit into a sealed pack with a handle. The price is $29.95. Women can choose the Lay-n-Go Cosmo cosmetic bag, which is also $29.95.
Lay-n-Go LLC
(703) 232-1602
www.layngo.com
---
Cargo Trays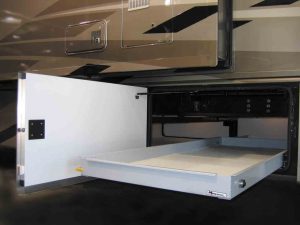 If your RV's storage compartments are so full that only a contortionist can reach everything, it might be time to consider sliding cargo trays, such as those from MORryde.
MORryde's trays come fully assembled. They install within minutes, with no measuring or cutting required. Each tray has an 800-pound capacity. A variety of widths are available, and lengths range from 36 inches to 90 inches. The 90-inch trays slide out from either side of an RV; all other trays extend 60 percent from the RV. Trays are finished with a powder coat on the outside and carpeted flooring inside. The suggested retail price of MORryde cargo trays starts at $380.
MORryde International Inc.
(574) 293-1581
www.morryde.com
---
Zipper Shoes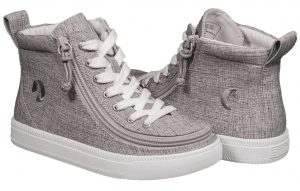 If you don't want your kids (or husband or wife) to wear shoes inside the RV, they'll appreciate a pair that is especially easy to take off or put on. Billy Footwear's signature FlipTop technology incorporates a zipper that goes along the side of the shoes and around the toe, allowing the upper portion of each shoe to open and completely fold over. Once your foot is in the shoe, a tug on the zipper quickly closes it up.
The shoes are designed for people of all abilities. Styles for kids range in price from $45 to $60. Shoes for adults range from $60 to $90.
Billy Footwear
[email protected]
billyfootwear.com