How motorhoming affected one family's quest for closeness.
By John Von Daacke, F65333
September 2010
One of the best parts of traveling is the ability to sample local foods in new and different places. So we had stopped at noon in a little town in the Canadian province of Quebec, hoping to select a light and quick lunch. My wife, Nancy, led me through the confusing array of French words for familiar foods. After purchasing fresh pain (bread) at the boulangerie (bakery), we walked down the street to l'epicerie (deli). Looking over the vast array of cheeses, my wife asked which kind I wanted.
"Easy," I said, pointing to one I thought was a variety. "This one right here — the fromage."
My teenage son, Kirt, doubled over in laughter at my unintended and ignorant faux pas. My wife quietly informed me that "fromage" was the French word for "cheese." I was receiving a first-class language lesson without necessarily wanting one.
After leaving the deli and re-entering our motorhome, we had a delicious lunch with our other travelers: Sasha, our yellow Labrador retriever, and Wiz, our Burmese cat. This allowed plenty of time for a hilarious retelling of my error and consequent embarrassment. We had been on the road for about three weeks, traveling first to Maine, then through Canada's Maritime Provinces, and now we were along the St. Lawrence River in the province of Quebec.
The idea for this trip had begun sometime after my son had returned from California to live with us. My wife now had the pejorative "stepmother" attached to her. Children's literature and stories had left a bad feeling about that term, and no books existed at the time that described how to be a stepmom. So, we both followed our instincts and tried to impart lasting values to our 14-year-old son. Working every day did not give us much time to communicate or bond during that first year. Many misunderstandings and a general coolness prevailed.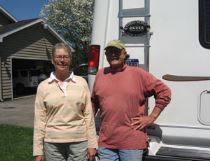 Then in the spring of 1983, we bought our first motorhome: a 21-foot Winnebago Warrior. On our initial shakedown trips, we made all of the new-timer errors, plus some. By August, we were ready for the big trip. Our planning concentrated on destinations. Little thought was given to the journey, just the distance traveled. That would change.
From the very beginning, Sasha, at exactly 3:00 p.m., would climb up behind me as I was driving and begin to paw and annoy me. Clear message: "Enough traveling for today. Let's have some fun!" While I tried to ignore the pawing and meet my schedule, her harassment continued. This led to an early modification of our travel plans, stopping each day at 3:00 p.m. if possible. Funny thing; we all began to enjoy the trip more each day.
As we proceeded north, silly adventures occurred almost daily. One day the cat disappeared and we feared that we had somehow left her at the last stop. Between us came exchanges of blame, guilt, and recriminations. We stopped to search the coach and then began to hear her plaintive meows. Relief for us all. We finally discovered Wiz behind the refrigerator, and it took us several hours to extract her from her new, dark, hidey-hole.
Another day at a rest stop, Wiz bolted out the door, and we were sure she was gone forever. I let Sasha out and she quickly located the cat, chased her back under the coach, and then woofed to drive her back inside. The cat and dog already realized this "thing" was home. "Learnings" on this trip so far: animals, 2; humans, 0.
All these small adventures, plus the constant enforced closeness in a small motorhome, 24 hours a day, began to take their toll. We started to act in concert, cooperating with one another. Each of us had a job, and discussion and interaction were constant and immediate. Making mistakes and laughing at ourselves seemed to make us more human. Slowly the coolness between us dissolved, even without our realizing it or understanding why.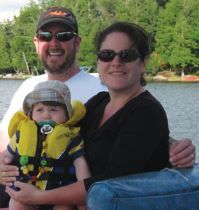 Increasingly, we began to treasure the journey, what we were seeing along the way, and what we were doing. Now, we were enjoying getting there instead of waiting for the trip to end at some new place. This new spirit set us up for a final scene that would make this our most memorable trip together.
Throughout all of Canada we had become accustomed to seeing signs in English, with French subtitles. On the road to Quebec City, we suddenly were faced with only French signage, thus my confusion of "fromage." I could figure out numbers and directions — nord, sud, est, ouest — but could not understand any others. My wife seized the moment. She turned to Kirt and said, "You are now in charge as navigator, and until we leave this area, you must translate the signs and speak to me only in French."
He had just finished his second year of high school French. There was a stunned, uncomfortable silence as he contemplated this assignment. Finally he replied, "No. I cannot do that. I know too little."
But my wife was not to be denied, and I was already desperate to know where I was and what road I should take to find the ferry to cross the St. Lawrence River. Events forced a decision and compliance. My son started hesitantly. Quickly he gained confidence as he realized he was in charge. He navigated the crossing and then the city very well, finding a fine parking space, leading us on walking tours, even ordering us a light lunch at a lovely outdoor cafe. Returning to the coach and leaving the city were almost a relief to him, as he had completed his responsibility. But he had enjoyed being in charge even as he realized how demanding it was. Now, he was concerned about our enjoyment.
Our pets emerged from the trip having learned that we were, in their concept, a pack. As for us humans, it would be wonderful to report that our lives were changed by this outing and that we all realized what important lessons we had learned. But that realization would not come until several years later as we looked back to the time when we had begun to function as a close-knit family. The important catalyst was the motorhome and its enforced interdependence.
From that point on, through many other travel adventures, our bonds tightened as we came to realize that, yes, we were a pack.