During the fall, football stadium parking lots across the United States become places to enjoy the company of friends and good food "" and some folks even enjoy going to the game.
By J. Glenn Dupree, F362282
September 2010
Each year, I can't wait to make the trip to Tiger Stadium on the campus of Louisiana State University (LSU) for the first home football game of the season. LSU is located in our hometown of Baton Rouge, but my wife, Laura, and I love to attend the football games in our motorhome. The RV parking lot at LSU is named "Touchdown Village," with more than 500 parking spaces for motorhomes. On game day, the lot is full. Often, just as many LSU fans travel in their RVs to the away games to support the team, bringing the LSU tailgate to opposing venues. We have met so many people at other stadiums that we now travel to away games and set up joint tailgates. Great fun!
The spirit in the parking lot is upbeat as nearly everyone has music playing "" mostly LSU fight songs mixed with country, rock, and pop, depending on your age. Most folks are courteous with the music, keeping the sound at a reasonable level so the tailgaters can carry on conversations.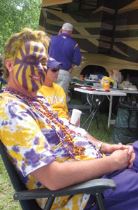 One major benefit of tailgating at LSU is the food. You will not find better Cajun cooking, grilling, smoking, gumbos, boiled crabs, crawfish, and jambalaya anywhere on the planet than on a Saturday before or after the game. It doesn't matter who the opposition is that day, because tailgating is the highlight of the event and we have a ton of fun, win or lose. (Happily, though, LSU wins more than it loses.) In fact, one of my good buddies says that LSU fans have never lost a tailgate. Even when the Tigers lose a game, we still entertain our guests and visitors to the best of our ability. It's always great to win, but even in defeat we can hold our heads up high, because we are great hosts and feed our guests the absolute best cuisine they have ever eaten.
Besides the great food and friendly atmosphere, games such as washer toss, bean bag toss, and other outdoor activities take place. Some folks even bring footballs to throw around, pretending that they are tossing the game-winning touchdown. My motorhome, like many others, has an outside entertainment center with a high-definition digital TV, where folks who aren't cooking or playing games can watch the other college action taking place that day. Following the scores from the other games lets everyone know who won or lost and how those outcomes may affect the polls "" and LSU's fortunes. Nearly everyone in Touchdown Village wears LSU team colors "" purple and gold "" and some even put on face paint and color their hair. All the creative attire makes for some interesting people-watching during the course of the day.
There are no hard and fast rules to putting on a successful tailgate. When you tailgate in a motorhome, it doesn't require a lot of practice "" just a little preparation and the desire to have safe, clean fun. My wife and I do some things that I think will help others who want to get started. Collectively, I call them PSC (Prepare, Safe, Clean). Be prepared, be safety-conscious, and be clean.
Prepare
Make a list of items you will need and want at the tailgate. Then check off the items as you pack them in the motorhome. Remember, once you're parked on campus, it is difficult to leave and run to the store. So, before you enter the parking lot, double-check your list to make sure you have everything you need.
Keep your tailgating gear stored where it easily can be retrieved. The RV's basement storage compartments generally can hold all of the tools you need to have a successful party. Coolers, grills, and supplies can be placed in one of the storage bays. Make use of plastic bins to keep everything together and organized.
Use ice chest coolers for drinks and food to be cooked and served. Even though you have a nice refrigerator inside the motorhome, the coolers can hold the extra food, drinks, and ice you will need to last throughout the day. Remember, the RV refrigerator was not designed to hold food for 50 people. One suggestion is to pack food in the ice chest in reverse order so that the last items packed will be the first ones cooked or grilled.
Ice your beverages at home in coolers the night before the game; then stop on the way to the stadium and purchase extra ice.
At LSU "" and at many other football stadiums "" the RV parking spaces are designated with painted numbers and lines. Space is at a premium, so take only your allotted parking space. Leave room for your neighbors to park and set up their tailgate.
If you serve adult beverages, remember this is an all-day "" and most of the night "" event. If you do drink, do so in moderation so you won't miss out on the fun and new friends you will meet during the tailgate.
Keep your rain gear handy, and don't let the weather dictate whether you will have a great party. Bring a pop-up tent so your guests will stay dry "" and outside your RV"" should it rain. A canopy also comes in handy to create extra shade during those sunny Saturday afternoons.
Arrive early to set up your tailgate area, and plan to do the cooking and grilling so your major meal is ready to be served at least two hours or more before kickoff. This will give you plenty of time to eat and enjoy the camaraderie of the day.
Safety
Always have a fire extinguisher on hand and keep it close to your cooking area. Don't put your grills or other cooking appliances near the RV's propane tank. Carry water in a gallon jug or several 2-liter soda bottles and have it handy in addition to the fire extinguisher. The water in these containers also can be used to help clean your pots and pans. Remember, your motorhome has a limited supply of water, as well as limited space in the holding tanks. If you use propane for grilling or cooking, be sure to turn off the valves at the tank when you're finished.
One of the most important things you should remember is to extinguish any grill fires when the cooking is done. Allow plenty of time for the grills to cool down, and do not leave the RV area with smoldering fires. Make sure all fires are extinguished before heading into the game.
Keep all your equipment securely anchored or stowed away when not in use. Don't leave the RV area with a pop-up tent or patio awning that is not properly tied down. If a strong gust of wind comes along, it can lift the tent or awning, potentially causing damage to your vehicle or, even worse, a neighbor's RV.
Drinks should be in aluminum cans or plastic bottles. Don't bring glass bottles or dishes if possible. Broken glass can cause big problems.
Have a good first-aid kit handy, and make sure it is easily accessible. You never know when you might have to bandage a cut or scrape, take care of a headache, or treat other minor injuries.
Find out where parking lot security is located, and how to get in touch with them in case of an emergency.
Clean
Have plenty of napkins and paper towels available for guests.
Set out several collapsible trash containers lined with trash bags, and use recycling bins for plastic bottles and aluminum cans if the venue provides such.
Always make sure you leave your parking space cleaner than it was when you arrived. Don't be a litterbug and leave a mess. It gives RVers a bad name.
Bring extra trash bags. If there are no large receptacles available, put your filled trash bags into one of your motorhome's storage compartments to dispose of at your stationary home or at an appropriate location on your way home.
Be courteous and helpful to your guests and fans of the opposing team. Remember, you may be on their campus next year. So treat people the way you would want to be treated.
By following the established parking lot rules and by using the commonsense tips listed above, everyone can enjoy the sense of community and pride involved in supporting their favorite team. Tailgating is a great way to make new friends and forge lasting relationships with people from all over the country. Get to know your parking lot neighbors and their guests so you can enjoy their company, as well as that of your own guests. I can't think of a better way to spend the weekend. So, let the games begin! I'm so ready.