Family & Friends
By Don Graham, F181499
September 2010
The 2010 edition of the Great Lakes Area Spring Spree (G.L.A.S.S.), the annual gathering of the Great Lakes Area MotorCoach Association hosted by the Michigan Knights of the Highway chapter, took place May 27 through 30, 2010, at the Berrien County Youth Fair in Berrien Springs, Michigan. A total of 767 motorhomes were in attendance at this year's rally, and everyone seemed to have a great time. Thanks to the organizational skills of Greg and Laura Baker and James and Betty Pryor, "G.L.A.S.S. 2010 – Play It Again" was indeed a brilliant, musical blast from the past.
For an entire year these couples arranged schedules, sought participants and volunteers, ironed out details, and spent hours on the phone and more hours in meetings to make certain every aspect of the celebration was perfect.
As folks arrived for the rally, a dedicated group of volunteers welcomed our attendees, checked their bona fides, found them a pleasant parking spot with electricity and available water, and registered their location. The Welcome Committee, led by Wanda Riemersma, Larry Schroeder, and Joyce Batts, handled their assignments with smiling assurance. The parking crew was led by Leo Wathen and Alvin Scruggs with the aid of a battery of able bodies. The vendor RVs and trailers were parked by James Thompson and his crew. Security of these vehicles and the grounds was the responsibility of Jim Riemersma and his crew.
At the registration booth a bevy of capable volunteers, led by Mike and Joni Baker and Gloria Sutton, recorded the particulars of those attending. Here, those arriving were provided with a rally program, an interesting and informative, easy-to-read volume published by George Abbott. The rally fees were handled, carefully, by Mike Baker.
Those needing help finding their way to the various locations and events could stop by the Information Center, headed by Arlene Horton, for directions or other assistance. Once back on the streets, folks could hail one of the many six-seat shuttles scurrying around the grounds. They were ably managed by Jan Abbott and her crew of eager volunteers, which included members from the Blue Water RV'ers chapter.
Perhaps the most important thing you could do during your visit was to investigate the many coaches being displayed, and maybe even buy one! Bob Sutton and Max Sutton were in charge of the coach displays. The most anxiously awaited event was the opening of the commercial buildings, allowing access to the many vendors and their cornucopia of RV goodies.
Each evening the crowd was entertained by a number of professional musicians, evoking applause and standing ovations. If the only performance you were able to attend during the rally was the Thursday engagement by Maria Rose and Danny Elswick, that show alone would have been worth the trip. I have never heard anyone play an acoustic guitar as well as Danny Elswick. On Friday, the musical skills of John Bressler on his famous rotating "Phantom Grand Piano" was worth the price of admission, and his crowd antics and outrageous comedy kept us in stitches. If you like the big band sound, you definitely would have been swingin' and swayin' on Saturday night to The General Assembly, an ensemble that reminded folks of the Glenn Miller era. The Frustrated Maestros' music was highly proficient and their tribute to the armed forces stirring and emotive.
On Sunday morning Terri McFarland, along with pianist and vocal accompanist Ken Wadley, sang many of the old-time hymns and heartening spiritual tunes. That evening we were treated to a romping rock 'n roll show by Carl Acuff Jr. and his group of talented musicians.
Thanks to Dave and Penny Hough for bringing us all these great shows. At the conclusion of each evening's show was a 50/50 drawing, handled aptly by Dick and Donna Fast.
Among the many other points of interest were the book swap run by Gloria Mills; the daily drawings managed by Karen Kannegieter; the food concessions handled by Sally Sutton; and the Red Hat Afternoon Tea arranged by Audrey Perkins. A golf tournament for the RV duffers in attendance was organized by Fred Hamlin.
The seminars, crafts, and dancing classes were arguably the best reason for attending the rally. There was scarcely a subject of interest to motorhomers not addressed in these gatherings, capably arranged by Chuck Borcher.
Dining seemed to be a major goal of hungry attendees. Again this year we were provided with terrific meals. The management of the dining hall was the responsibility of Dave and Penny Hough, while the meal preparations were expertly supervised by Don and Nancy Sharp and Jerry Bradish.
On Sunday afternoon, a long queue formed for the Ice Cream Social, but clowns "" Joyce Agle (Dotty) and Barbara Dingle (Pinky) "" pampered folks with cold chocolate kisses and chewy treats.
Rally attendees may have noted a number of golf carts buzzing around. Ken Trevena was in charge of their dispersal. One of the carts was used by Ron Marquardt, who circled the grounds with cold drinks for the volunteers laboring in the heat.
There were many decorative displays in the dining hall, on the grandstand stage, and in registration. Geri and Dan Taylor and Marie Garant were in charge of the design and construction of these tableaux. Jerry and Jean Wessel did the electrical work and the stage preparation.
The Memorial Day services were the cap to G.L.A.S.S. proceedings, and much time and effort were expended by Duane Hall to make certain our old campaigners were properly accommodated. The Berrien Springs High School and Middle School parade bands led the procession with rousing music, followed by the Color Guard of the American Legion. Next in line were the golf carts carrying those veterans who attended the rally. To honor the many veterans of our military forces, the Memorial Day commemoration was held during the flagpole salute immediately after our parade. At the flagpole the Stars and Stripes were ceremoniously raised and then lowered to half staff. Genny Jennings Luckey addressed the attendees and introduced Fred Hamlin, who prayed for the safety of our forces actively engaged in combat. After a 21-gun salute and the playing of the "Last Post," Lana Stover-Henderson gave a heartfelt dissertation on the freedoms we Americans enjoy as compared to those of other countries.
Thanks to all the volunteers who spent countless hours to help make G.L.A.S.S. 2010 another successful rally.
The theme for the 2011 G.L.A.S.S. Rally, to be held May 26 through 30 in Berrien Springs, will be "Mardi Gras," so come prepared for a rollicking good time.
---
Sooner Coaches Celebrate Fifth Anniversary
Family & Friends
By Rita Millspaugh, F250144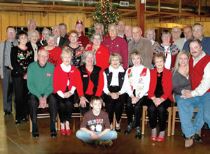 Sooner Coaches chapter members attending the group's annual spring rally at Twin Fountains RV Park in Oklahoma City, Oklahoma, April 16 through 18, 2010, were greeted by colorful red-and-white "Happy 5th Anniversary Sooner Coaches" signs as they entered the park's clubhouse for rally activities.
Members of the chapter, which received its FMCA charter on May 21, 2005, are supporters of University of Oklahoma sports teams, particularly the Sooner football team.
During the rally, members enjoyed looking at the chapter history display that included photos of previous chapter events, creation of the chapter flag, listings of charter members and all officers up to the present date, as well as other memorabilia.
Special guests were Fred Kennedy, FMCA national vice president, South Central Area, and his wife, Lou. Fred presented Sooner Coaches president Fred Thorwart with a fifth anniversary certificate and a letter of appreciation signed by FMCA national president Charlie Schrenkel.
Everyone enjoyed the weekend reminiscing about how the chapter has grown from a handful of University of Oklahoma Sooner fans to where it is today. Other events, including tailgate gatherings before each of OU's home football games, are planned throughout the year.
---
Tip-O-Tex Members Enjoy The Gulf's Offerings
Family & Friends
By Jan Reynolds, F361321
Several member families from the Tip-O-Tex chapter gathered for a campout rally at the Isla Blanca Park on South Padre Island, Texas, May 11-13, 2010. While there we ate at a great restaurant called Dirty Al's, where the seafood was wonderful. We also took a dolphin watch cruise to see these intelligent creatures in their natural habitat. The boat captain dragged a net along the bottom of the ocean and pulled up starfish, crabs, and other species of fish and marine life and put them in an observation tank for us to see. They were released back into the ocean after we were done viewing them.
Some chapter members who were unable to join us for the rally came over to the island on the last afternoon for a cookout. We had hot dogs, hamburgers, and all the trimmings. Everyone brought something to add to the meal. All in all, the campout rally was a great success.
Those attending were Bill and Jan Reynolds; Harold and Dorothy Lutkemeier; Gil and Sue Burney; Bud and Lynne Richards; and Vernon and Lorraine Larson. Those who joined us for the cookout included John and Lenore Combs, Marth Ann Peters, and Bob Saylor.
Anyone who would like to join us should contact wagon master Bill Reynolds at billr1938@yahoo.com, or chapter president Ernie Fenton at eefenton@juno.com, for information concerning our rally schedule.