One couple discovered the joys of motorhoming before owning a coach themselves.
By Glenn Dupree, F362282
December 2010
The common theme I hear from others who love RVing goes something like this: "We are traveling but feel like we are still home. We have our own bed and household belongings, and we feel comfortable."
I never really appreciated what they meant until 1998. My 21-year-old daughter, Heather, had won the Miss Louisiana Scholarship Pageant and the right to compete in the Miss America Pageant. At that time, the Miss America Pageant was still held in Atlantic City, New Jersey. The contestants were involved with the pageant competition for 23 days, which included a trip to Disney World in Orlando, Florida, and culminated with the competition in Atlantic City.
For the talent competition, Heather would be doing a ventriloquism act. My wife, Laura, was terribly concerned about transporting the vent figures Heather would be using for her performance. Rather than risk loss or damage with air transportation, we decided to personally bring the vent figures to New Jersey. I like to tell everyone that the two big dummies (Laura and I) were in charge of transporting the two little dummies (named Clyde and Clemmie) to the pageant.
At that time, one of our sons owned a Winnebago Adventurer motorhome, and he agreed to let us borrow it for our trip to New Jersey. Laura and I agreed to take a full 30 days away from the office so we could travel leisurely, do some sight-seeing, and visit interesting areas on the way. It was one of the best decisions we ever made. We met some of the nicest people during that motorhome outing, and we fell in love with the RV lifestyle.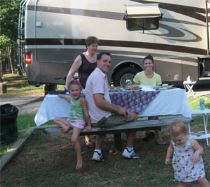 The owners of the various campgrounds in which we stayed were always so nice and helpful about suggesting local places of interest to visit. We discovered that RVing allowed us to spend quality time together. We traveled the back roads, explored quaint places, and ate in some terrific local restaurants. In fact, one of our fondest memories was being in an Italian eatery in New Jersey the night St. Louis Cardinals baseball player Mark McGwire hit his record-breaking home run. It was great to see all the locals watching the game in anticipation of the single-season home run record being surpassed. When it was, everyone went crazy.
We stayed at an RV park in New Jersey until two days before the pageant. Then we left the motorhome there and moved to a hotel on the Atlantic City Boardwalk. I missed the RV immediately. I missed my morning coffee and my early-morning walk around the park. I missed sleeping in my own bed and having my own sheets and being able to enjoy all the things we put in the RV from our stationary home. At that moment, I realized what all the people meant when they said they loved motorhoming: it truly is like bringing your home with you.
Now, 12 years and four RVs later, we are avid travelers in our 2004 Monaco Windsor motorhome. Heather has started competing in various mini-triathlons in Louisiana and Texas, and we've used the coach to travel to them. The races have become quite trendy and take place throughout the year.
At a race held at Indian Creek Recreation Area in Louisiana, camping facilities were available. We were able to use our RV as a home base for Heather and her daughters (our two grandchildren, Laura Jane and Virginia). We went to the park the day before the race so Heather could get acclimated to the surroundings and learn the course layout. Plus, Honey and Paw Paw (what the grandkids call us) were able to spend time with Heather; the girls; and our son-in-law, Scott. Camping has always given our family some quality time together and has created great memories.
By the way, Heather did not become Miss America back in 1998, but she did win enough scholarship money to pay for her entire college education. That made Mom and Dad very proud.
We still continue to be a close family and RV together often. We also are avid Louisiana State University Tiger football fans and love to spend time tailgating, but mostly we just enjoy traveling in our RV and meeting new people and learning about new places. We belong to the Cruisin' Cajuns chapter of FMCA, a fun-loving group of RVers who have a four-day rally once a month with dinner and dancing at several locations throughout south Louisiana. We always have a great time at the rallies. But no matter where we go, when we go to bed at night, it still feels like we are home.