Explore Central Oregon's natural wonders in and around the town that will host FMCA's 84th International Convention this August.
By Anna Lee Braunstein
May 2010
While driving through Central Oregon, one look out the window reveals why motorhomers will flock there for a fourth time to attend an FMCA international convention this summer. Old lava flows, broad deserts, and rushing rivers leave spectacular sights in their wake.
Onto this landscape humans have added some RV-friendly amenities. One such place is the Redmond convention headquarters, the Deschutes County Fair and Expo Center. The Expo Center is a beautiful 132-acre site in the high desert country, approximately 3,100 feet above sea level. The weather in August is usually sunny, with low humidity and highs in the mid-80s.
From the mountain views to the excellent facilities, convention attendees will find the fairgrounds an outstanding place to gather for fellowship, seminars, shopping, and entertainment. All parking will be on site, and the fairgrounds is only a short hop from U.S. 97, a main north-south artery that roughly parallels Interstate 5.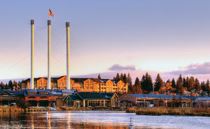 Before or after you arrive at the Redmond convention, which takes place August 11 through 14, you will want to be sure to check out Central Oregon's most famous attractions. Following are just a few.
Oregon is located along the Cascade Volcano Range, which extends from northern California to British Columbia, Canada. A few miles south of Bend, at Newberry National Volcanic Monument, the Lava Lands Visitors Center offers displays related to the history, geology, archaeology, and wildlife of the area. Roads and walking trails at the monument wend through the starkly beautiful landscape left by a long-ago volcanic eruption. Nearby, from the top of Lava Butte, a cinder cone, visitors are rewarded with dramatic 360-degree views of lava flows, Mount Bachelor, and nearby Cascade mountain peaks. Crater Rim Trail is a short drive around the top of the cinder cone.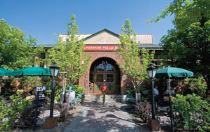 A 13-mile crater driving tour goes through the remains of Mount Newberry, passing lakes filled with trout and salmon. Throughout the monument, walking trails loop into black-walled canyons, offering panoramic views of this scenic land. To get up close and personal with lava, take a walk through the mile-long Lava River Cave. The hot lava left a cool cave, so take a jacket, a lantern, and good walking shoes. Geocachers can find an Earthcache near the cave. If you want more lava and some waterfalls, the "Walk through Time" at Lava Cast Forest, located within the monument, will meet that need. Newberry National Volcanic Monument is open daily and has a small entry fee.
The High Desert Museum, north of Newberry in Bend, pays tribute to the early people of Central Oregon and to the wildlife that still roam the terrain. Galleries show the history of land settlement, and a film tells of the changing life of the Columbia River Plateau Indian cultures. Exhibits recount the story of exploration and settlement by pioneers moving west and demonstrate how animals have shared the land with humans.
Outdoor trails take visitors to see otters, snakes, birds, and other local creatures. Demonstrations in the Birds of Prey Center afford opportunities to learn about and perhaps touch rescued raptors.
Docents clad in pioneer clothing are eager to share stories of the settling of the Oregon Territory at the living history farm. And, for a limited time, a special exhibit offers a look at the sometimes untold side of settler life. Called "Sin in the Sagebrush," this fascinating experience reveals aspects of old-time gambling, alcohol use, and prostitution and how some settlers were driven to those pursuits on the Western frontier.
The High Desert Museum is open daily, and an admission fee is charged.
Continuing north, check out Tumalo Falls along the Deschutes River, approximately 4 miles north of Bend. The waterfalls can be seen after taking a short walk to the overlook. Another great view is accessible from Peter Skene Ogden State Park, on U.S. 97 approximately 9 miles north of Redmond, where a short walk leads to Crooked River Gorge. The park has a picnic area and a paved walkway. Be sure to keep your pets on a leash and your children well in hand if you visit the viewing ledge with them. You can walk across the gorge via a 1926 bridge that is now designated for pedestrians only and drive across its replacement, which was completed in 2000.
West and south of there in Camp Sherman, off U.S. 20, is the Wizard Falls Hatchery. This is a great family stop where you can observe millions of young trout and salmon in various display ponds. The park trails are good for enjoying wildflowers and birds. The teeming rivers and lakes of the area are famous for fly fishing, as well as bait and spin. Whether you cast out on your own or with a local guide, your passion will be rewarded.
If you are seeking another stunning view, a hike, or a chance to watch climbers scale a multicolored rock face, Smith Rock State Park, approximately 8 miles north of Redmond in Terrebonne, is a great destination for experiencing nature's power. Volcanic ash and river erosion combined to create "welded tuff" rock formations. The park is home to deer, small mammals, and numerous birds. Be sure to bring your camera and binoculars.
The remoteness of the western wilderness is a mixed blessing, as shown by the great number of forest fires in recent years. Many times, the only way firefighters can access the flames is from above. A free tour of the Redmond Air Center gives first-hand knowledge about the instruction, skills, and equipment of these exceptional crews. Veteran firefighters who lead tours share their personal experiences and describe in detail the rigorous training that is required. The tour includes a visit to the cache with its shelves laden with miles of hoses; tons of pipes and fittings; and stacks of shovels, picks, and saws. The volume of this equipment attests to the massive task the jumpers undertake. In the operations room, computers providing wind and weather data, as well as those used for communication, show the analysis required to coordinate firefighting. The maintenance and packing of parachutes and equipment, as well as the loading of retardant on planes on the tarmac, gives an appreciation for the skill and effort demanded of this protective branch of the U.S. Forest Service.
The Redmond Air Center is at the Roberts Field/Redmond Municipal Airport. Please note that you must call first to make sure tours are available. During the summer months, workers may be busy fighting fires and unable to welcome visitors. Phone (541) 504-7200 to check on tour availability.
Take tons of rock, add a touch of whimsy and a large dose of patriotism, and you have the Petersen Rock Garden and Museum in Redmond. Small-scale castles, bridges, towers, Americana, and more were created by Danish immigrant Rasmus Petersen between 1935 and 1952. Inside a room with black light, fluorescent rocks glimmer and glow. The site is open daily and has a small admission fee.
When it is time for indoor pursuits such as dining and shopping, the lovely town of Bend offers many enticements. Beer aficionados will appreciate its four brew houses, and that it's the craft and microbrewing capital of the state. Deschutes Brewery offers free tours and tastings of craft beers. Other drinkables, such as gin and vodka, are the specialty of the Bendistillery. Oregon's more famous beverage "" wine "" can be sampled at Volcano Vineyards, or in cafes and tasting rooms in town. A boutique winery called Maragas in nearby Culver offers tastings Thursday through Sunday afternoons.
As for dining out, the restaurants are varied and excellent. For eating in, the harvest of this fertile agricultural community is available at farmers' markets on Wednesday afternoons at Drake Park and on Friday afternoons at St. Charles Medical Center.
In the evenings, Bend offers a variety of entertainment options. The town's tourism site, www.visitbend.org, lists plenty of details. On the first Friday of the month, galleries offer local wines to accompany the art on display. McMenamins, in the former 1930s St. Francis School, is a combination pub, movie theater, and hotel with an ornately tiled Turkish bath that is open to the public. Visitors are welcome to stop by and wander among the old photographs and artwork. Bend's Les Schwab Amphitheater offers free concerts every other Sunday (August 8 and 22 this year), and Drake Park hosts free summer concerts every Thursday evening through August 12. In the town of Sunriver, a classical music festival takes place August 10 through 21.
If you are looking for places to shop, Bend's choices abound. From the historic downtown and Old Mill District to the more modern factory outlets and shopping centers, Bend can meet your shopping needs and wants.
Remember, there is no sales tax in Oregon, so shop early and often! And arrive in Redmond with plenty of time to explore all that Central Oregon has to offer.
Convention Area Campgrounds
This may not be a complete list, so please check your favorite campground directory or FMCA's RV Marketplace, published online at FMCA.com and in the January and June issues of FMC.
Redmond
Crooked River Ranch
5195 S.W. Club House Road
Crooked River Ranch, OR 97760
(800) 841-0563
(541) 923-1441
www.crookedriverranch.com
Green Acres RV Park
7777 S. U.S. 97
Redmond, OR 97756
(541) 923-3838
Bend
Crown Villa RV Resort
60801 Brosterhous Road
Bend, OR 97702
(866) 500-5300
(541) 388-1131
www.crownvillarvresort.com
Scandia RV Park
61415 S. U.S. 97
Bend, OR 97702
(541) 382-6206
Sisters/Bend KOA
67667 U.S. 20
Bend, OR 97701
(800) 562-0363
(541) 549-3021
www.koa.com
Madras
Kah-Nee-Ta High Desert Resort and Casino
6823 Highway 8
Warm Springs, OR 97761
(800) 554-4786
(541) 553-1112
www.kahneeta.com
Lake Simtustus RV Park, LLC, C11288
(an FMCA commercial member)
2750 N.W. Pelton Dam Road
Madras, OR 97741
(541) 475-1085
www.lakesimtustusresort.com
Redmond/Central Oregon KOA
2435 S.W. Jericho Lane
Culver, OR 97734
(800) 562-1992
(541) 546-3046
www.koa.com/where/or/37149
Prineville
Crook County RV Park
1040 S. Main St.
Prineville, OR 97754
(800) 609-2599
(541) 447-2599
www.ccprd.org/parks_rv.cfm
Sun Rocks RV Resort, C7000
(an FMCA commercial member)
14900 S.E. Juniper Canyon Road
Prineville, OR 97754
(541) 447-6540
www.sunrocksrvresort.com
Sisters
Cold Springs Resort & RV Park
25615 Cold Springs Resort Lane
Camp Sherman, OR 97730
(541) 595-6271
www.coldsprings-resort.com
Central Oregon
State Park
Campgrounds
For more information about these or other Oregon State Park campgrounds, call (800) 551-6949 weekdays between 8:00 a.m. and 5:00 p.m. Pacific Time, or visit www.oregonstateparks.org. To make reservations at any of the following state parks, call (800) 452-5687.
LaPine State Park
15800 State Recreation Road
LaPine, OR 97739
(541) 536-2071
Prineville Reservoir State Park
Prineville Reservoir Campground and Jasper Point Campground
19020 S.E. Parkland Drive
Prineville, OR 97754
(541) 447-4363
The Cove Palisades State Park
Deschutes Campground and Crooked River Campground
7300 Jordan Road
Culver, OR 97734
(541) 546-3412
Tumalo State Park
64120 O. B. Riley Road
Bend, OR 97701
(541) 388-6055