There's no place like a motorhome . . . which for this FMCA member means a vintage Foretravel.
December 2010
By James Holder, F28392S
Born from a family-owned company in east Texas in the spring of 1984, she was a grand example of unequaled quality and attention to detail. This elegant vehicle "" a Foretravel motorhome "" stood tall and proud, gleaming in orange and white against the Texas sun, waiting to carry her new owners in style and comfort wherever they wished to go.
Many years later, the once stately lady drove her final mile. Her owners left her in a quiet mountain campground, perhaps just for a short while. Unfortunately, they never returned. There she sat, waiting to be driven again. More years passed and the campground closed, inviting vandals, thieves, and nature to take their respective toll.
The motorhome was driven a few miles from the forgotten campground to a spot under a grove of trees, with the prospect of being restored and cared for once again. But the new owner wanted only the engine. The plush interior, the golden walnut paneling, and the handcrafted cabinets lay in ruin as nature and the scavenger's saws left their mark. This seemed an untimely end, as the motorhome had covered only 48,000 miles.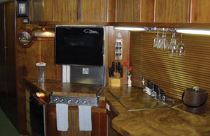 Describing this scenario may seem a bit unusual; a motorhome is just a machine, after all. I, however, see classic Foretravel motorhomes as something more. They were handcrafted with studious attention to detail and with unequaled pride in workmanship. From my observations, despite a change in ownership, Foretravel Inc. still upholds these qualities in the production of its motorhomes today.
I was raised during what I refer to as the "golden era" of the RV: the period of time from the mid 1970s through the late '80s. During this time, the diesel pusher embodied the ultimate form of motorhome travel and was not as common as today. The national speed limit was 55 mph, and life was a bit more relaxed overall. Campfire talk consisted of terms such as 440 Dodge, 454 Chevy, 8.2 Detroit, 3208 Cat. Campers spent more time socializing around the campfire than watching television in their RVs. We took to the open road to enjoy nature and family.
I often reflect on those times and remember when each motorhome was unique and reflected a sense of pride in ownership. As part of that mix, Foretravel was known among veteran RVers for producing motorhomes that were admired and coveted by many.
I have had the privilege of owning and caring for a vintage Foretravel motorhome for close to two decades. The forlorn coach described at the beginning of this article was kindred to my own. As I looked at the destruction of that poor lady, I could think only of my own motorhome, safe and dry at home.
My pride and joy is a magnificent 1983 FTX, a 35-foot diesel pusher that glides along on an Oshkosh V-715 air chassis and is powered by a smooth-running 8.2-liter turbocharged Detroit Diesel engine. It is a true high-line luxury coach in every sense of the word. She is as grand today as when she was new. She features such amenities as a trash compactor, a central vacuum, an ice maker, a fireplace, and more interior storage than we have ever used. She is also graced with some of the most beautiful walnut woodwork I've seen in a motorhome. These items were not options at the time she was built; they were all standard.
I feel privileged to own such a fine coach. I do, however, feel sorrow for those who view them as obsolete or inferior; despite their age, they still have much to offer. I feel remorse for the grand classics that are cut up for parts or are abandoned, only to be scrapped. I am amused at the campgrounds/resorts that will graciously accept a new entry-level coach but reject a 20-year-old Foretravel, even though the latter may be in pristine condition. Because these vintage motorhomes may have some years on them doesn't mean they are necessarily worn out or second-rate. I believe they should be appreciated and admired for the beauty they hold and the era they represent.
I witnessed firsthand the abandonment and parting out of several classic Foretravel motorhomes. With each, I felt a bit of grief in the fact that I could do nothing to save them from an untimely demise. I have seen many more vintage Foretravels offered up for sacrifice over the Internet. The quality and painstaking craftsmanship that went into their production is ignored as they are destroyed. Instead, I believe these machines should be restored, to once again prove themselves worthy in today's RV market and to provide someone with the utmost in traveling comfort. Of course, some older coaches are so damaged that the only choice is salvage, regardless of whether the damage might have been prevented.
Having experienced the construction and quality of Foretravel motorhomes, I can say that if properly cared for, a Foretravel can last indefinitely. At 27 years old, my rig still looks and performs very well, showing no indications of coming off the road. I can only hope that the ones that have indeed reached the end of the road may offer some components to keep another classic Foretravel on the road.
If more RVers could see the beauty and grace inherent in these motorhomes, not to mention their quality and livability, I believe a greater number of vintage Foretravels would be restored. But restoration comes in degrees. Personally, I prefer the attempts to revive a coach's original appearance rather than modifying or modernizing it "" by, say, painting the walnut wood or cutting up the interior to install a full-size refrigerator. I have had the privilege of seeing many Foretravel coaches painstakingly restored, with absolutely stunning results! I have witnessed the love and care lavished by an original owner on a completely factory-original coach, and, after 20 or 30 years or more, the vehicle is still magnificent. To these owners, I congratulate you on a job well done.
Through the years, I have had the privilege of driving an example of every Foretravel model produced. The very first generation of Foretravel was innovative and comfortable, offering more for the dollar than the competitive models in the late 1960s and early '70s. The second generation (Super Luxura) was a true luxury liner, offering diesel power, warm wood interiors, more appliances, and the unique fireplace. The FTX model brought even more luxury and comfort, with a striking exterior and exquisite interior. Foretravel acquired the well-known Travco and Avco motorhome lines to extend its already impressive offerings. Then the company introduced what I believe was probably the most beautiful motorhome to ever grace the highway: the Grand Villa.
I have had the opportunity to experience the new Foretravel motorhomes as well, and I find that they are keeping with today's trends and designs. Offering more features and innovation than ever, they still display the quality and character that is unmistakably Foretravel.
I do not work for Foretravel, and this article is an unsolicited testimony to what I believe to be a truly exceptional motorhome manufacturer. I hope that others who feel likewise about Foretravels or other venerable motorhome models will work to "keep the classics rolling," just as I have done with my own 1983 model. If this article helps to preserve just one classic Foretravel, then I feel I have truly accomplished something. I plan on keeping my classic coach rolling indefinitely. A special thanks to everyone who owns a classic Foretravel. Keep them alive!
If you are the owner of or know of a classic Foretravel, I would love to hear from you. I collect photos and literature and am always looking for more information and pictures of these grand classics. Please feel free to contact me via email: [email protected].