Family & Friends
By Pamela Selbert
April 2010
It may seem odd to see a "Welcome To The Ark" sign at the entrance to Jim and Clare Fleming's 2005 Mandalay motorhome, or notice the license plates that read "The Ark" on the front of the coach and on the nearby golf cart. But when you knock on the door and hear a cacophony of barking, cheeping, and squawking coming from inside, you can be sure of at least one thing: the couple has pets, and lots of them.
The question to Jim, a soft-spoken, smiling man, is essentially rhetorical: "Why do you call your coach The Ark?" But Jim is kind enough to answer: "We chose the name because we darn near have two of everything inside!" He's only mildly exaggerating.
Among the menagerie at the couple's log home in Seymour, Missouri, are a cat, eight small dogs, and a host of colorful birds. Containers of dog treats and birdseed share space on counters and tables with an interesting assortment of antiques, kerosene lamps, and stuffed bears. An ample supply of leashes hangs in a row on the wall beside the back door.
One can only imagine traveling with such an assemblage, which the couple does for up to seven months a year. Jim and Clare full-timed for almost 2 1/2 years with a slightly different array of pets: three parrots and two parrotlets, four poodles, five canaries, and some 40 finches. Which begs another question: what happens if a window is left open by mistake?
Not a problem, Jim said. The parrots and parrotlets are housed in three cages, and the finches and canaries are divided among two cages, for the glass aviary that they have at home is too big for traveling. However, when the motorhome is moving, the cages fill the bathroom and hall. At that point, it "is pretty much at gridlock," he joked.
The Flemings have lived in a stationary home of massive Montana logs since they came off the road as full-timers nine years ago. Jim said it wasn't so much that they found the house, located in the hills of southwest Missouri, but that it found them.
"While still full-timers, we attended a family reunion, and we were telling one of her cousins that we hoped to find a log house on 10 wooded acres near Gatlinburg, Tennessee," Jim said. "Her cousin was surprised, as she knew of a log house available on 10 acres "" but it was in Missouri, about 30 miles east of Springfield."
The couple went for a look and decided the 2,400-square-foot, Amish-built home, new in 1995, was exactly what they were looking for. Jim said he doesn't regret choosing Missouri over the Volunteer State, as the landscape is much the same. But one of his clocks "" all of which chime loudly each hour "" plays "The Tennessee Waltz."
Across a courtyard from the house, Jim built a three-car garage with an upstairs office and a 2,400-square-foot RV barn that is sided with split logs.
An Indiana native, Jim is a mechanical engineer and owns a firm that designs robotics for packaging. In 1991 he had been divorced for four years when he was transferred to Houston, Texas. There he met Clare, a nurse originally from Lincoln, Nebraska, who by then had been a single mom for nine years. The two, drawn together by, among other things, a love of animals, were married three years later. Between them they have four grown children.
During the early years together in Houston, Jim said that he traveled all around the world for work and went sailing with Clare on weekends. Among the paintings and framed photos in his spacious above-the-garage office is a depiction of a handsome 30-foot sailboat.
But gradually Clare's arthritis forced her to retire from nursing, and she could no longer sail. She became interested in natural healing and now runs Clare's Healthy Coffees and Therapies in Seymour.
Jim said that he didn't want to sail without his wife and thought they should find something else they could do together "" such as RVing. He had enjoyed camping, which he had first done in a 13-foot Shasta travel trailer 48 years ago.
"I located a coach, a 37-foot 1996 Newmar Kountry Star, in Manchester, New Hampshire, and flew up for a look," he said. "My wife said I better drive something big home, because by then she'd sold our cars, leased our house, and stored or given away our furniture!" He bought the coach on Memorial Day 1999 and drove it two long days back to Houston.
Six months later, as seasoned full-timers and new FMCA members, the Flemings decided to buy a new coach, a 38-foot 2000 Newmar Mountain Aire. They bought their current motorhome, a 42-foot Mandalay, in 2005. Clare is the primary driver of the motorhome, which pulls a flatbed trailer holding the golf cart, two bicycles, and their 2006 Ford Explorer.
The couple has enjoyed motorhome trips to California, Oregon, and Washington, as well as Montana, Wyoming, and Colorado. Jim said they were so taken with Vermont and Tennessee that they've been back several times. But they're also fond of Georgia, where they've attended several FMCA international conventions in Perry. Since becoming members of the association, they've taken part in eight conventions.
"We like being part of FMCA for the camaraderie with other members," he said. "When you're traveling you never feel alone, and you often make immediate friendships."
The couple also belongs to the Mandalay Travel Club, an FMCA chapter they helped establish. The chapter, which is headquartered in Elkhart, Indiana, started in 2004 and now has 384 member families. The group holds a rally every six months. There's also an annual six-day international Mandalay Travel Club rally in Goshen, Indiana, near the factory. Seminars, entertainment, and a lot of food are all part of the proceedings, Jim said.
"And, of course, we'll take our family with us," he said, indicating each spot in the motorhome where the cat and dogs like to ride. "They all "" even the birds "" love being on the road."
---
FMCA Chapters Lend Support
Family & Friends
By Becky Sommers, F150467
April 2010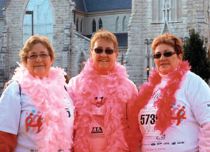 The word "family" in Family Motor Coach Association is what it is all about. My husband, Bill, and I belong to two wonderful chapters, the Ramblin' Nodaks and the Canadian Northern Lights. Between these two groups we have met some terrific friends who will stand beside you through good times and bad.
In October 2004 I was diagnosed with breast cancer. I know that I'm not the first person to hear the "C" word, nor will I be the last, but to have friends who have given me the encouragement to fight has been fantastic.
I have provided daycare in my home for 44 years, so I had lots of little ones around as I began my treatments. Bill became my stand-in every morning while I was at the cancer clinic. The kids really liked staying with him, and some mornings they wondered why I was back so soon! I really don't know what I would have done without him. I also had calls and visits every day from our friends to see what they could do to help. This all gave me a positive attitude to keep up the fight and to know with my faith that I would make it through.
Now, five years later, I just celebrated my anniversary of being cancer-free. For the last four years, my two sisters, nieces, and other relatives and friends have participated in the Susan G. Komen Race for the Cure in Omaha, Nebraska, on my behalf. I made up my mind last winter that I was going to celebrate by doing the walk myself in 2009. My sister organized a team and we set a goal of $1,500 to donate for the cause. I asked for help from the two FMCA chapters we belong to, and once again they came through.
The Canadian Northern Lights chapter held a bake sale for me at our spring rally in Kipling, Saskatchewan, Canada, and we raised $200. In June I had a "strictly donated" rummage sale with the items coming from FMCA members from the two chapters, family, and friends. We also held a bake sale and several local businesses donated hot dogs, buns, chips, and bottled water. We advertised the sale in the local paper and on the Internet as a sale for breast cancer with 100 percent of the proceeds being donated. The response was unbelievable. People shopped, ate, and just left donations. The president of our Ramblin' Nodaks chapter, Duane Hellman, put on an apron and sold hot dogs, while other chapter members helped to set up and work both days of the rummage sale.
We knew we were busy, but when we tallied up the money at the end, we found out just how busy. In two days we made more than $2,500, and it all went to Susan G. Komen. My sisters had the same kind of sale, and other donations also came in. Overall our team collected nearly $5,000. Out of 147 teams that participated in the event, we came in fifth place for the most money raised, trailing only four corporate teams.
In October 2009 Bill and I drove our motorhome 1,260 miles to Omaha for me to walk one mile! I know some people might have a hard time justifying this, but just being there among 22,000 other walkers, all supporting the same cause, was well worth those miles on the road. Our daughter and two grandkids went along for the walk. When we arrived we met my two sisters and a brother-in-law from Iowa; my brother and his wife, who surprised us by coming from Chicago; and a niece from Kansas. Once again, family was there for support. As soon as we got home, the phone started ringing as our FMCA family wanted to know how it all went. We want to thank everyone for their support, and we are already planning to participate again.
---
Holiday Spirit Prevails At Lone Star Rally
Family & Friends
By Glennon Woods, F369737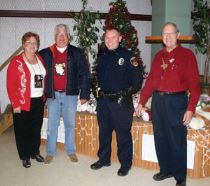 FMCA's Lone Star chapter held its December 2009 rally at Oakwood RV Resort in Fredericksburg, Texas, located in the Texas Hill Country. The rally hall was decorated with a Christmas tree, lights hung from the ceiling, and lovely table decorations. Members in 44 coaches attended this get-together, and everyone enjoyed fellowship, great food, games, and the wonderful town of Fredericksburg, where the stores were decorated for the holidays. At each Lone Star rally we collect stuffed animals to donate to service organizations in the community; at our December gathering we donated more than 60 stuffed animals to the Fredericksburg Police Department. Rally wagon masters Tom and Kaylee Barker (left) and chapter president Raymond Beall (right) presented the stuffed animals to police officer Raegan Rabke, who accepted them on behalf of the department.