Great museums and attractions await FMCA members who visit New Mexico's largest city this March for the association's 83rd International Convention.
By Donna Ikenberry
January 2010
What's the appeal of RV travel? Many would say it is journeying to a place where you'll meet up with friends and have fun. And from March 22 through 25, motorhomers will do just that when they converge in Albuquerque, New Mexico, to enjoy friendship and good times at FMCA's 83rd International Convention.
This will be the second time FMCA has visited Albuquerque; the first was in 2004. The setup will be similar for this year's "Albuquerque Fiesta" convention: activities will take place at EXPO New Mexico, the state fairgrounds, and family parking will be at Balloon Fiesta Park.
The fairgrounds and Balloon Fiesta Park provide gorgeous views of the Sandia Mountains. Albuquerque itself is a picturesque old settlement along the Rio Grande that celebrated its 300th birthday in 2006. In fact, the surrounding area has been occupied by humans for many centuries. The city's name came from the Duke of Albuquerque in Spain, so its nickname is the Duke City. Modern-day Albuquerque is ranked high on many listings, including its spot as one of the top 10 "Best Places to Live 2009" according to U.S. News & World Report.
Interstate 25 and Interstate 40 slice the city into four sections: I-25 runs north and south, while I-40 heads west and east. It is not difficult to find your way around town, and the city provides free maps to visitors. Contact the convention and visitors bureau listed at the end of this article for maps and more information.
Sights To See, Things To Do
One of the first things you'll want to do upon arriving in town is to visit the Indian Pueblo Cultural Center, "Gateway to the 19 pueblos of New Mexico." The center showcases the history of the Pueblo people of the 19 pueblos of New Mexico from pre-Columbian times through today. And if the main building looks familiar, that's because it was modeled after Pueblo Bonito in Chaco Canyon. The center is a wonderful place to learn about Pueblo traditions, culture, and people. Visit on weekends to experience live American Indian dance performances, as well as wonderful exhibits.
Another must-see is Petroglyph National Monument, established in 1990. Located on the west side of town, the monument protects images carved into stone centuries ago. Most of the more than 20,000 petroglyphs are along the east- and south-facing slopes of West Mesa. Birds, animals, insects, people, crosses, and geometric designs cover the stone.
The images pecked into rocks are coated with thin desert varnish, so you might think they were made many years ago. Maybe. Archaeologists estimate that most of them date back 400 to 700 years, although some are 2,000 to 3,000 years old. Newer petroglyphs are attributed to the Spanish, who arrived in the 1600s; still more recent marks came from 1800s pioneers who chiseled their names and dates into the rock.
Right next door to Balloon Fiesta Park is the Anderson-Abruzzo Albuquerque International Balloon Museum. The 60,000-square-foot facility is a wonderful place to marvel at more than 50 fascinating hot-air balloon gondolas. Interactive exhibits include a popular flight simulator with a stereoscopic display that tests one's ability to take off and land a balloon.
Balloon Fiesta Park is, of course, home to the annual Albuquerque International Balloon Fiesta. If you're in this area around the first week of October, you'll thrill to nine glorious days that include balloon flights, contests, and, typically, a gas balloon race. More than 500 balloonists from a dozen-plus countries participate. Last year's extravaganza attracted an estimated 761,000 people.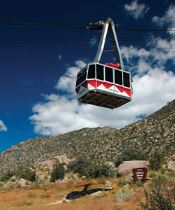 Northeast of Albuquerque are the Sandia Mountains. You can reach some of the highest points by taking the Sandia Peak Aerial Tramway to the summit. The world's longest passenger aerial tramway travels 2.7 miles to an observation deck atop 10,378-foot Sandia Peak. From there, you can see the Rio Grande Valley and much of New Mexico. In addition to the view, more than 26 miles of walking/bicycling trails are available at the summit. And if you're hungry, you'll want to note that the High Finance Restaurant and Tavern at the top of Sandia Peak serves scrumptious meals to complement the breathtaking sights.
New Mexico was once the hub of atomic energy study and experimentation. While in town you'll want to be sure to visit the National Museum of Nuclear Science & History (previously known as the National Atomic Museum). It is located south of I-40 and east of town. The museum is the state's only national museum and the nation's only congressionally chartered museum in its field. It is a wonderful place to learn all about the Atomic Age, from early conception through today's nonviolent uses of nuclear technology. The museum's best-known artifacts are the casings used for the Little Boy and Fat Man atomic bombs that were dropped at the end of World War II.
The museum was established at Kirtland Air Force Base in 1969 and originally was dubbed the Sandia Base Weapons Museum. Its name was changed to the National Atomic Museum in 1973, and it was moved to a temporary facility in Old Town after September 11, 2001. The current location, on Eubank Boulevard, which opened on April 4, 2009, is a permanent one. In addition to wonderful indoor exhibits, check those outside in Heritage Park, which is filled with a collection of World War II aircraft, cruise missiles, atomic cannons, and more.
You'll want to schedule plenty of time, perhaps a full day, when you visit Albuquerque Biological Park, also known as BioPark. The 64-acre Rio Grande Zoo is home to more than 250 exotic and native animal species. Gorillas, orangutans, elephants, snow leopards, and so much more can make you stop and marvel. Take the Thunderbird Express, the zoo's narrow-gauge train, for a narrated ride and a break from walking.
In addition to the zoo, the park consists of the Rio Grande Botanic Garden, the Albuquerque Aquarium, and Tingley Beach. Another narrow-gauge train, the Rio Line, runs from the zoo to the aquarium and botanic garden via 1.5 miles of track. It passes Tingley Beach, a favorite spot for fishing, en route. Both trains are shut down on Mondays.
The Albuquerque Aquarium takes visitors on a journey from Albuquerque southward, down the Rio Grande to its end at the Gulf of Mexico. Along the way are a multitude of species to see in a variety of habitats, including fresh water riverine, estuarine, surf zone, shallow waters, coral reefs, open ocean, and deep ocean. Some of the highlights include shark species (nurse, brown, sand tiger, and blacktip), colorful reef fish, eels, sea turtles, and jellyfish.
Across the plaza from the aquarium is the 36-acre Rio Grande Botanic Garden. Its grounds include a heritage farm and a 10,000-square-foot glass conservatory with native and exotic plants from desert and Mediterranean climate zones.
Be sure to visit the historic neighborhood called Old Town sometime during your stay. A plaza with a mix of shops and restaurants, it's a popular place to stroll. In the neighborhood is the historic San Felipe de Neri church, built in 1793 and listed on the National Register of Historic Places, which is still an active parish. Except for its tin ceiling, brick floor, and south entrance, today's church is the same structure as it was in 1793.
Out on the Old Town plaza, colorful dancers and musicians typically can be seen, and traditional Mexican foods can be enjoyed in the eateries.
Old Town is the site of the New Mexico Museum of Natural History and Science. Dinosaur fans will be in their element, as they explore fossil displays and other depictions of the giant beasts that once roamed this area. You'll also get a view of New Mexico at a time when it was covered by an inland sea. IMAX films are shown in the DynaTheater and the Planetarium.
Other points of interest near Old Town include the Turquoise Museum; the American International Rattlesnake Museum; and the University of New Mexico's Meteorite Museum.
Albuquerque is home to still more important museums, such as the National Hispanic Cultural Center, the largest of its kind in the United States. The museum celebrates Hispanic art and heritage from New Mexico and around the world. The Albuquerque Museum of Art & History is first-rate, with exhibits presenting life in early Spanish villages and a salute to former Albuquerque resident and Pulitzer Prize-winning journalist Ernie Pyle.
Local Cuisine
Albuquerque has many excellent restaurants. Sadie's of New Mexico, which serves regional-style dishes, has been Albuquerque's "People's Choice" for dining for more than 50 years. And at the Church Street Café in Old Town, chefs use recipes handed down through several generations. In addition to Mexican food, you can choose from favorite national restaurant chains.
Whatever you decide to see while in Albuquerque, plan now to schedule ample time for your visit. You'll be glad you did.
Not all the attractions mentioned in this story can accommodate RVs or even have parking lots. The best way to enjoy awesome Albuquerque is to drive your towed car or take public transportation.
Further Info
Albuquerque Convention & Visitors Bureau
20 First Plaza N.W., Suite 601
Albuquerque, NM 87102
(800) 284-2282
www.itsatrip.org
Call or visit the Web site for information, a visitors guide, city street maps, and much more.
Albuquerque Area Campgrounds
Albuquerque Central KOA
12400 Skyline Road N.E.
Albuquerque, NM 87123
(800) 562-7781 (reservations)
(505) 296-2729 (information)
www.koa.com/where/nm/31135
Albuquerque North/Bernalillo KOA
555 S. Hill Road
Bernalillo, NM 87004
(800) 562-3616 (reservations)
(505) 867-5227 (information)
www.koa.com/where/nm/31120
American RV Park
13500 Central Ave. S.W.
Albuquerque, NM 87121
(800) 282-8885
(505) 831-3545
www.americanrvpark.com
Coronado Village Country Club
8401 Pan American Freeway N.E.
Albuquerque, NM 87113
(505) 823-2515
www.coronadopark.com
Enchanted Trails RV Park & Trading Post, C8024
(FMCA commercial member)
14305 Central Ave. N.W.
Albuquerque, NM 87121
(800) 326-6317
www.enchantedtrails.com
El Rancho RV Park, C10183
(FMCA commercial member)
201 Wyoming S.E.
Albuquerque, NM 87123
(505) 266-1455
www.elranchorvpark.com
High Desert RV Park
13000 W. Frontage Road S.W.
Albuquerque, NM 87121
(866) 839-9035
www.highdesertrvpark.net
Isleta Casino & Resort RV Park
4051 State Route 47
Albuquerque, NM 87105
(888) 293-9146
(505) 244-8102
www.isletaeagle.com
Palisades RV Park
9201 Central Ave., N.W.
Albuquerque, NM 87121
(888) 922-9595
(505) 831-5000
StageCoach Stop RV Park
3650 Highway 528 N.E.
Rio Rancho, NM 87144
(505) 867-1000
www.stagecoachstoprv.com
Turquoise Trail Campground & RV Park
22 Calvary Road
Cedar Crest, NM 87008
(505) 281-2005
Sandia Pueblo Enterprises
The Sandia Indian Pueblo owns and operates three enterprises located near Balloon Fiesta Park, where FMCA members will be staying during the Albuquerque convention.
The first is Sandia Lakes Recreation Area (505-897-3971), which offers fishing and other activities. It is a few miles north of Balloon Fiesta Park. Next is Bien Mur Indian Market Center (800-365-5400), where you will find Indian arts and crafts for sale. The market is near Balloon Fiesta Park.
Across the street from Balloon Fiesta Park is the Sandia Resort and Casino. An outdoor amphitheater there will host two nights of family evening entertainment during FMCA's "Albuquerque Fiesta" convention. The Sandia Resort & Casino also has a golf course, Las Vegas-style gaming, a gift shop, restaurants, a coffee shop, and lounge. Call (800) 526-9366 or visit www.sandiacasino.com for more information.