Migratory birds aren't the only ones that flock to this New Jersey seaside town.
By Margaret Montet
April 2010
Cape May, New Jersey, is a historic Victorian town that attracts visitors who enjoy the outdoors. Along with beautiful beaches, this small ocean community has a big reputation as a bird-watchers' paradise. Many varieties of fish bite year-round; plus shopping, great restaurants, and loads of historical sites also vie for attention. Culture lovers will be thrilled to find two professional theater groups, a popular annual music festival, a renowned jazz festival, Victorian Week, and a Sherlock Holmes Weekend, along with many themed tours of the town.
There are only a few ways to reach tiny Cape May, located at the southern tip of the state. One is U.S. 9, a toll-free highway with businesses and traffic lights (the same "Highway 9″ Bruce Springsteen sang about in "Born to Run"). Another is the Garden State Parkway, a toll road, which runs parallel to Highway 9 and is an express route to Cape May County. Both are straight and flat, and both lead the driver directly to Cape May. Most campgrounds, however, are located just north of town.
If you're approaching Cape May from the south, you'll have to cross the Delaware Bay on the famed Cape May-Lewes Ferry. The ferry accommodates even the largest RVs, so there's no need to worry whether your coach will fit. Once in New Jersey, turn right from the ferry's access road to get to Cape May and the campgrounds (a five-to-10-minute drive). A left turn takes you to the secluded North Cape May, Delaware Bay beaches, but parking for bigger motorhomes can be tricky there, especially in the summer months.

According to the U.S. Fish and Wildlife Service, bird-watching is hot: more than 51 million Americans consider it a hobby. Birders come to Cape May from all over the world to catch a glimpse of the many species of hawks, owls, and shorebirds, such as egrets and ospreys, who live or pass through here. Cape May Point State Park (located, as its name implies, right down at the tip of the peninsula) is the epicenter of Cape May birding, featuring trails, tours, and a nature museum.
The very tip of Cape May is actually separate from the peninsula, so it's called Cape Island. It is home to the Nature Center of Cape May, which offers free admission and many free activities, such as observation areas outside and inside; aquariums; natural history artifacts; exhibits at the welcome center; theme gardens; a picnic area; and more.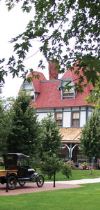 Bird-watching is also on tap with Salt Marsh Safari boat tours (www.skimmer.com; 609-884-3100). You'll enjoy the Skimmer pontoon boat, too, for its stable platform-type viewing.
Fishing is a popular pastime in Cape May, with different varieties biting according to the season. Weakfish, flounder, and striped bass run in the warmer months, and bluefish, white perch, and small bass proliferate in the cooler weather. Farther out in the ocean, Spanish mackerel, tuna, marlin, and jacks are often hooked. Many boats for hire depart from Cape May Harbor; anglers also enjoy fly-fishing from the beaches and jetties. Not too far off Cape May Point in the Atlantic Ocean are the legendary Rips: shallower waters where fish are easy to catch. Dolphins know this, too, and are frequently spotted dining at the Rips.
Wildlife-watching boat tours afford good views of whales and dolphins, enhanced by an educational commentary along the way from knowledgeable naturalists. ("For every dolphin you can see, there are five swimming underneath the water!") One of the boats sails throughout Cape May's extended season, April to November, but bundle up for those spring and autumn cruises. I enjoyed my Thanksgiving weekend whale watch, but it took awhile for my toes to thaw. You also can see nesting areas of ospreys and sites of World War II history not visible from land. These trips provide great photographic opportunities as well.
The Cape May County Park and Zoo will surprise you. For a free zoo, this place has an amazing collection of animals in innovative settings. A raised boardwalk over the African Savanna area lets visitors view the zebras, giraffes, and bongos. (What's a bongo? You'll find out!) Many of the feathered residents live in screened-in gazebos and garden structures, and the snakes and other reptiles have their own house easily avoided by ophidiophobics "" those with a fear of snakes. The park maintains plenty of green, open space with shelters for picnics, a playground for kids, and a gazebo surrounded by a pond "" a perfect spot for a wedding or just for romantic portraits.
The beaches of Cape May, Cape May Point, and North Cape May all have distinct characteristics. At all of them, swimming is best in summer, but you can enjoy kite flying and walking at all three year-round. Kites that you could never get airborne inland fly very well at the beach. The beaches in the city of Cape May are clean and safe, and close to food and shopping. If you forget your hat or sunglasses, or you have a craving for ice cream or pistachios, you're in the right place.
If you prefer a beach with fewer people, note that Cape May Point, North Cape May, and the east end of the city beach (formerly known as Poverty Beach, because rich residents' servants swam there) are less crowded.
Cape May is known as a restaurant town. From casual to fancy, from Stumpo's Italian Grill to The Lobster House, Cape May has more than its share of great dining establishments. An eatery called 410 Bank Street always gets the top ratings from foodies, and Mangia Mangia is a family favorite. HotDog Tommy's on Jackson Street, near the beach, features hot dogs with an endless variety of toppings, as well as the famous Potato Tornado: mashed potatoes in a clear plastic cup covered with a variety of toppings. Eating mashed potatoes on the beach might seem odd, but the Potato Tornado is delicious. Off the beaten path (on Route 47, a few miles north of Cape May in Rio Grande) is Menz Restaurant, a quirky place popular with the locals that features collections of just about everything to interest you while you wait for dinner. In addition, supermarkets for cooking with your own provisions are easily accessed in North Cape May and Rio Grande, and feature big parking lots.
Cape May has great shops for clothing, decorative items, gourmet food, and toys. Some stores sell exclusively Swedish items, nautical treasures, collectible dolls, or freshly made fudge. Original art for sale is displayed in at least three galleries in town, and jewelry, both vintage and designer, is a popular souvenir. Most shops and some restaurants are centrally located on the Washington Street pedestrian mall, which received a face-lift in 2007.
The Mid-Atlantic Center for the Arts (MAC) offers themed trolley tours of Cape May year-round. These include Victorian tours, ghost tours, African-American history tours, World War II history tours, and inn tours, with new excursions being added all the time. MAC headquarters are located at the historic Emlen Physick Estate, built by rich Dr. Physick for himself, his mother, and her sister in 1879. Tours of this mansion are available almost year-round. MAC also organizes themed events such as Victorian Week in October, Sherlock Holmes weekend in November, and many other seasonal festivities. The MAC maintains an information booth on the Washington Street mall, right near the big stone church, Our Lady Star of the Sea. For more information about events and the MAC, visit www.capemaymac.org or call (800) 275-4278.
Just north of Cape May, on Route 9, is Historic Cold Spring Village. This neat little attraction features restored buildings from the area that are populated by costumed interpreters and tradesmen. The buildings are open for inspection, and the focus here is on Colonial history. In days of old, Cold Spring was a bustling center of trade with an important stagecoach stop. During the summer, Cold Spring Village features an event every weekend, ranging from Civil War encampments to craft shows to an antique car show. Learn more at www.hcsv.org or by calling (609) 898-2300.
A very fun day trip starts with a cruise across the Delaware Bay on the Cape May-Lewes Ferry. The ferry ride itself is a treat, providing views of dolphins, jellyfish, and various sizes of seafaring vessels. Lewes, the first town in the First State, was founded in the 17th century, and its original settlers concentrated on whaling. This and other maritime trades are illuminated today at the Lewes Historical Society's museum at the Cannonball House and at the Zwaanendael Museum. The town was attacked by the British during the War of 1812, and a park commemorates that event.
Cape Henlopen State Park features camping, fishing, nature trails, and Fort Miles. Fort Miles was an important army base during World War II, when enemy submarines came dangerously close to shore.
During the summer months and on weekends in the fall, the Cape May-Lewes Ferry runs shuttle buses to the historic Lewes area, and to the three Tanger Outlet Centers at Rehoboth "" huge collections of stores just right for shopping until dropping. For transportation schedules and more information, visit www.capemaylewesferry.com or call (800) 643-3779.
The cliché runs true: there is something for everyone in Cape May and its surrounding areas. Pack the bikes, the kites, the binoculars, and the camera "" and relax.
Information Sources
Cape May County Department of Tourism
P.O. Box 365
Cape May Court House, NJ 08210
(800) 227-2297
(609) 463-6415
www.thejerseycape.net
Cape May Welcome & Information Center
609 Lafayette St.
Cape May, NJ 08204
(609) 884-9562
www.capemaychamber.com
Campgrounds
This may not be a complete list, so please check your campground directory or the RV Marketplace, published on FMCA.com and in the January and June issues of FMC.
Beachcomber Camping Resort, C8763
(FMCA commercial member)
462 Seashore Road
Cape May, NJ 08204
(800) 233-0150 (reservations)
(609) 886-6035
www.beachcombercamp.com
Holly Shores Trav-L-Park
491 Route 9
Cape May, NJ 08204
(877) 494-6559
(609) 886-1234
www.hollyshores.com
Seashore Campsites, C7882
(FMCA commercial member)
720 Seashore Road
Cape May, NJ 08204-4626
(800) 313-2267
(609) 884-4010
www.seashorecampsites.com
Big Timber Lake Camping Resort, C7393
(FMCA commercial member)
P.O. Box 366
116 Swainton-Goshen Road
Cape May Court House, NJ 08210-0366
(800) 542-2267
(609) 465-4456
www.bigtimberlake.com