Family & Friends
By Vera Cox, F29339
October 2010
Twenty-one motorhomes belonging to members of FMCA's Gulf Coasters chapter rolled into the Anchors Aweigh RV Resort in Foley, Alabama, the weekend of June 11 through 13, 2010. Excitement was in the air as the group prepared to celebrate the 25th anniversary of the chapter's formation back on June 3, 1985.
Most of the participants had settled in at the campground by Thursday and were ready for a day of shopping and dinner out at one of the area's excellent restaurants. Friday brought more shopping for some and a day of relaxation for others, with everyone knowing that their evening meal had been arranged by the anniversary committee. Katy's Catering in Foley provided an excellent dinner that we all enjoyed.
On Saturday morning the hosts served Belgian waffles and sausages before the business meeting. Tom Eller, national vice president, Southeast Area, and his wife, Lorna, attended the meeting and talked with the group about the upcoming Southeast Area Rally in Brooksville, Florida (February 2-6, 2011), and FMCA's 85th International Convention in Perry, Georgia (March 14-17, 2011). Many chapter members indicated that they will attend both events.
Official festivities for the anniversary celebration began at 2:00 p.m. The host committee had arranged for a large anniversary cake, hot and cold hors d'oeuvres, and punch. The Ellers attended the festivities, as did guests Steve and Martha Cooper, former chapter members.
Sunday morning's traditional potluck breakfast buffet ended a wonderful weekend, with anticipation already evident for the chapter's 30th anniversary!
---
CCI Rally Raises Money For Children's Hospital
Family & Friends
By Sherry Fanning
October 2010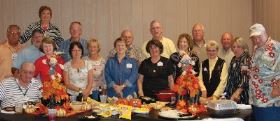 Country Coach International (CCI), an FMCA chapter for owners of Country Coach motorhomes, raised $7,298 for the CHRISTUS Santa Rosa Children's Hospital of San Antonio, Texas, during its Texas Roundup Rally held at the Buckhorn Lake RV Resort in Kerrville, Texas, May 19 through 23, 2010. The hospital, which is affiliated with the Children's Miracle Network, was the official charity for this CCI rally.
Rally hosts Jerry and Geneva Keeton and Joe and Beverly Smith partnered with Sherry Fanning, CCI club manager, to promote this worthwhile cause to 140 rally attendees. During the event, a family shared with the group their story about how Children's Miracle Network ministered to their needs when their 16-year-old daughter was diagnosed with cancer.
Numerous rally attendees and select business partners of CCI donated an assortment of quality items that were raffled or auctioned off during the rally. They included Western art, home décor, free stays at RV resorts, fine wines, gift baskets, and more. Among the generous business partners who donated prizes to the event were Buckhorn Lake RV Resort, Bella Terra of Gulf Shores, Fantasy RV Tours, Big Rigs Best Bets Campground Directory, Dazzling Detail, and Mobile RV Lube. Chapter member Ralph Tysdal lent his bid-calling skills at the charity auction. Raffle ticket sales and donations at the auction added up to the $7,298 total.
Robert M. Cavender, chairman of the Santa Rosa Children's Hospital Foundation, was appreciative of the chapter's donation. "I want to personally thank you for your participation in the 2010 CCI Texas Roundup Rally fund-raising event," he said. "Your generous gift helps make a difference in the lives of our young patients."
Next up on the CCI rally schedule is the Fall Party, to be held October 25 through 29 at Ocean Lakes Family Campground in Myrtle Beach, South Carolina. Rally information and registration forms are available at http://www.countrycoachclub.com/. You must be a member of CCI to attend.
The club launched its new Web site late last year with numerous online features specifically geared to benefit Country Coach International chapter members. An online member directory, a members-only forum, service and parts information, and more are posted there to address the interests of those who own Country Coach motorhomes.
Country Coach International recently celebrated its 25th anniversary as an independent chapter of FMCA and is a nonprofit organization functioning as the social club for Country Coach motorhome owners. If you own a Country Coach motorhome and would like to learn more, visit the club's Web site listed above; call the CCI club office at (800) 537-0622; or e-mail [email protected].
---
Badger Chapter Celebrates Heritage, Helps Others
Family & Friends
By Leeann Leroy, F269999
October 2010
Members of the Badger chapter gathered for a rally at the Brown County Fairgrounds in De Pere, Wisconsin, July 22 through 25, 2010. The theme of the rally was "Back to Your Heritage."
On the first evening, in keeping with the rally theme, members were asked to bring a food item to pass that reminded them of their heritage. This resulted in the sharing of some very interesting dishes, including Belgian pies for dessert. The next day, Friday, members took a bus to Heritage Hill State Historical Park in Green Bay to experience Laura Ingalls Wilder Days. The classic "Little House" series of books came to life through a variety of activities, such as historical dancing, making bullets, baking johnnycakes, and more.
On Saturday, members were afforded the opportunity to visit the Green Bay Packers Hall of Fame at Lambeau Field or other places of interest in the area. Many just enjoyed camping near the Fox River and watching two bald eagle fledglings fly around the park.
During the rally, members donated diapers, baby wipes, lotion, and other baby-related items for the House of Hope, an organization that offers a safe, supportive place where young, homeless pregnant or parenting mothers learn to become competent adults and independent, successful parents. In addition to the items collected, members donated $103.