Grill Fuel
FlameDisk from Sologear LLC is a convenient alternative to charcoal when grilling outdoors.
The product, made of solidified ethanol, is designed to work in any grill. Simply peel back the lid and touch a match to the top. It ignites instantly and is ready in a matter of minutes. According to product literature, FlameDisk generates a clean-burning cooking flame that lasts up to 40 minutes. When finished, the pan is immediately cool to the touch and can be recycled — making cleanup a breeze with no hot coals, ashes, or soot to remove from the grill.
FlameDisk has a manufacturer's suggested retail price of $4.99.
Sologear LLC
8830 N. Greenview Drive
Middleton, WI 53562
(888) 786-0612
www.flamedisk.com
---
Waterless Wash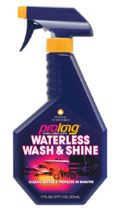 According to product literature, Waterless Wash & Shine from Prolong Super Lubricants makes it possible to achieve a just-waxed shine in minutes without the need for water, rinsing, or drying.
The product's special formula features lubricating agents that encapsulate dirt, sap, tar, and bugs so they can be removed with ease. Users simply spray the product on the vehicle surface and wipe it away with a terry cloth towel. Waterless Wash & Shine is said to be safe for conventional and clear-coat paints, suitable for application in the sun or shade, and nontoxic.
A 17-ounce spray bottle of Waterless Wash & Shine has a manufacturer's suggested retail price of $7.99.
Prolong Super Lubricants
1937 Mount Vernon Ave.
Pomona, CA 91768-3312
(800) 540-5823
(909) 865-3081
www.prolong.com
---
Reusable Clean-Up Cloths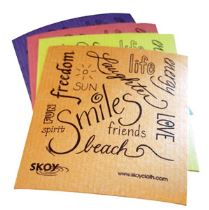 Compact, reusable clean-up cloths from Skoy Enterprises will save users space and money and are environmentally friendly alternatives to paper towels.
Each 7-inch-square cloth is made of natural cotton and wood pulp, which reportedly allows the cloths to absorb up to 15 times their own weight in liquid. The biodegradable cloths can be washed and reused numerous times, and when they've reached the end of their life, they can be composted. The cloths come in a variety of colors printed with fun designs using water-based inks and dyes.
A four-pack of Skoy cloths has a manufacturer's suggested retail price of $6.99.
Skoy Enterprises
1166 Avenida Esteban
Encinitas, CA 92024
(800) 990-4757
www.skoycloth.com
---
Plate Holder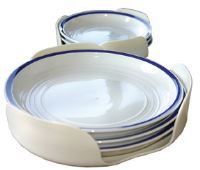 The Stack-A-Plate from Camco Manufacturing Inc. will help keep your plates organized and stop them from rattling and sliding around inside the cabinets while traveling.
The dishwasher-safe holder includes a nonslip backing to keep it in place while on the go. Each set includes two holders — one for plates up to 7 1/4 inches, and the other for plates up to 10 1/4 inches.
The Stack-A-Plate has a manufacturer's suggested retail price of $12.99.
Camco Manufacturing Inc.
121 Landmark Drive
Greensboro, NC 27409
(800) 334-2004
(336) 668-7661
www.camco.net
---
MP3 Player Case With Speaker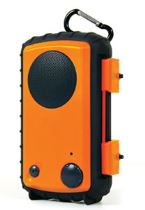 The Eco Extreme from Grace Digital Inc. is a rugged, waterproof case for your MP3 player that also includes a built-in speaker that allows you to listen to your favorite music on the go.
The high-impact, rubberized case protects MP3 players from drops, falls, and spills. The case includes a 3.5-millimeter audio jack and a 3-inch full-range speaker that's powered by three AA batteries. The internal storage compartment also can hold keys, credit cards, drivers license, and cash. The case is available in black, blue, and orange colors and comes with a 2-inch carabiner clip.
The Eco Extreme has a manufacturer's suggested retail price of $49.99.
Grace Digital Inc.
13173-3 Black Mountain Road
San Diego, CA 92129
(866) 446-0961
www.gracedigitalaudio.com
---
Portable Photo Manager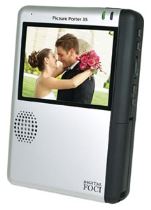 The Picture Porter 35 from Digital Foci Inc. is a compact, high-capacity device for storing, organizing, and displaying digital photos.
The Picture Porter 35 features an internal hard drive, a 3.5-inch color LCD screen, a USB 2.0 port, and a multi-format memory card reader. The device includes numerous file management features as well as the ability to create slideshow playlists. Besides photo storage, it also allows users to take their favorite music and videos wherever they go.
The device measures 5.4 inches long, 3.8 inches wide, and 1.2 inches thick; weighs 14 ounces; and is powered by a rechargeable lithium-ion battery.
The Picture Porter 35 has manufacturer's suggested retail prices of $399 (250-gigabyte capacity) and $499 (500-gigabyte capacity).
Digital Foci Inc.
3111 E. Via Mondo
East Rancho Dominguez, CA 90221
(888) 669-3624
(310) 763-9100
www.digitalfoci.com
---
Navigation System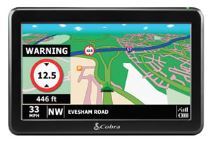 The 7700 Pro GPS navigation system from Cobra Electronics Corporation can help eliminate unwanted stops during your trip.
The 7700 Pro's multi-route optimization feature plots out the best routing for multiple destinations to help save on fuel costs. The system also enables vehicle owners to enter the size of their motorhome and provides directions only on the streets and roads that can safely and legally accommodate the RV. The unit has a 7-inch touch screen; text-to-speech guidance with verbal instructions; and more than 12 million points of interest. The system also comes with three months of unlimited downloads from the company's AURA Camera and Driving Hazard Database, which alerts drivers to locations of fixed-speed and red light cameras, dangerous intersections, and known speed traps.
The Cobra 7700 Pro has a manufacturer's suggested retail price of $399.95.
Cobra Electronics Corporation
6500 W. Cortland St.
Chicago, IL 60707
(773) 889-8870
www.cobra.com
---
Portable Satellite TV Antenna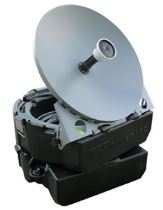 The Carryout MP1 Manual Portable Satellite TV Antenna from Winegard Company is a compact, lightweight antenna for those who wish to have the viewing options available through satellite TV service, but don't have a permanent system installed in their motorhome.
The manual antenna stores in a durable case (16 inches wide, 16.5 inches high, and 10 inches deep) that doubles as the antenna base when in use. A bubble level, a compass, and elevation markings molded into the base are said to make setup fast and easy. The unit comes with 25 feet of coaxial cord, supports two receivers (not included), and is compatible with DirecTV (standard only) and DISH Network (standard and HD) service.
The Carryout MP1 has a manufacturer's suggested retail price of $199.
Winegard Company
3000 Kirkwood St.
Burlington, IA 52601
(800) 288-8094
www.winegard.com
---
Portable Power Source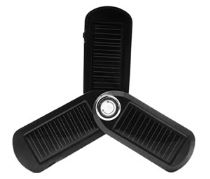 The U-Powered, a portable solar and USB charger from KIWI Choice Inc., can store energy from multiple power sources and can be used as both a backup power source and a universal charger for all types of small electronic devices.
The U-Powered can be charged through a USB port, a vehicle's 12-volt-DC power port, a 120-volt-AC wall outlet, or the sun. It has a power capacity of 2,000 milliampere-hours and 11 free connectors, making it compatible with most cell phones, personal digital assistants, digital music players, and more.
The U-Powered has a manufacturer's suggested retail price of $49.99.
KIWI Choice Inc.
11838 Opal Ridge Way
Sacramento, CA 95742
(888) 737-5494
www.kiwichoice.com

{loadpositionEndBlurbProducts}