Absorption Refrigerator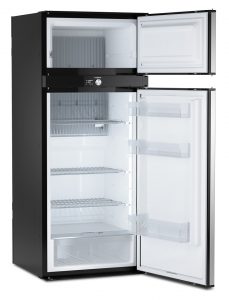 The Dometic RMD10.5XT absorption refrigerator, previously introduced to RV manufacturers, is now available in the consumer market. Features include a double-hinged door that opens left or right without the need to change the hinge; an extra-deep cabinet with separate doors for fridge and freezer; thin film transistor (TFT) soft-touch controls recessed into the door; and aluminum handles that extend over the complete height of the fridge. An accessory package with dividers and containers allows for flexible arrangement of the interior space.
At an ambient temperature of 89.6 degrees Fahrenheit, the freezer can cool as low as minus 4 degrees, according to the product description. The RMD10.5XT is 49.02 inches high, 23.82 inches deep, and 20.59 inches wide. The manufacturer's suggested retail price is $2,137.
Dometic
(574) 264-2511
www.dometic.com
---
Storage Containers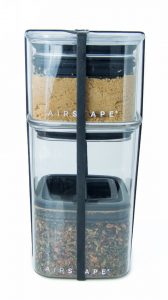 It's okay, when RVing, to leave your newly purchased dry foods (coffee, cereal, granola, nuts, etc.) in their original packaging. But once the package is open, foods will stay fresher — and will be protected from bugs and pests — if they're stored in airtight containers. That's where the Overland Band Bundle from Planetary Design comes in.
The bundle includes two square, stackable Airscape storage containers. The 4-inch container holds up to ½ pound of whole-bean coffee; the 7-inch container holds up to 1 pound. Both containers feature a patented inner lid with a valve that forces air out. The Overland Band is an oversized rubber band that secures the Airscapes together for packing. The price of the Overland Band Bundle is $35.
Planetary Design
(406) 728-7008
https://planetarydesign.com
---
Espresso Maker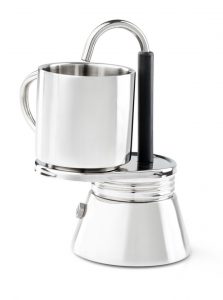 Need an early-morning boost? An after-dinner pick-me-up? When a quick hit of caffeine is called for, the Mini Espresso Set — 1 Cup, from GSI Outdoors, can deliver. It brews a double shot (2.5 ounces) beverage in about 90 seconds.
The lightweight stovetop espresso maker features stainless-steel construction and a double-wall cup to keep your drink hot. The portable set comes with a foam case. The manufacturer's suggested retail price is $39.95.
GSI Outdoors
(800) 704-4474
www.gsioutdoors.com
---
Wireless Headphones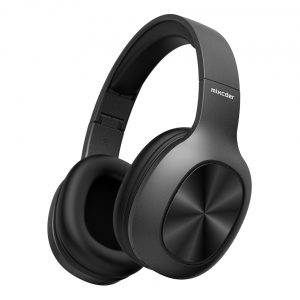 Sometimes, people with different musical tastes share the same RV. For example, your spouse might love listening to Slim Whitman, but his yodeling might make you want to scream. The solution, of course, is headphones for each of you. The Mixcder HD901 hi-fi headphones can be used wirelessly via Bluetooth or wired using the included 3.5-mm audio cable.
The foldable headphones weigh 5 ounces and have soft sponge earmuffs and an adjustable headband. Also included: a microphone for making and receiving phone calls, and a TF card slot for MP3 music. If you create an account on the Mixcder website, you'll receive a code for a 20 percent discount, lowering the price of the Mixcder HD901 to $20.
Mixcder
(888) 588-1361
www.mixcder.com
---
Pill Bottle Timers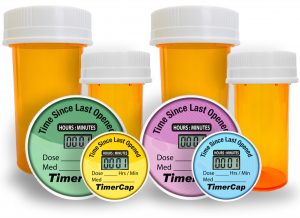 Did you take your morning meds? One way to keep track is with TimerCaps, pill bottles that have a built-in stopwatch and an automatic sensor. The stopwatch resets every time the bottle is opened. Closing the bottle automatically restarts the stopwatch, so you know exactly when you last took your medication.
TimerCaps are available with EZ-Twist or children-resistant caps. The LR-41 batteries in the caps last 12 to 18 months. The Wide Mouth and Standard TimerCap 4 Pack Combo includes four caps; two large wide-mouth bottles (big enough for small bottles to be placed inside); two standard bottles; tracker forms; and bottle labels. The price is $19.95.
TimerCap LLC
(800) 557-4072
www.timercap.com
---
Light Rope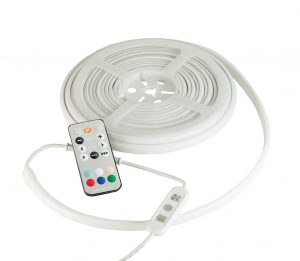 Sure, you can use a basic lantern when the sun goes down. Or you can colorize your campsite with the Luminoodle Basecamp, a 20-foot-long waterproof light rope that puts out 1,000 lumens. Choose from 15 colors, 10 brightness settings, and a color fade mode. Customization is possible with the included in-line controller and wireless remote control.
Basecamp can be powered via a 12-volt wall adapter or a 12-volt vehicle adapter, both included. (If you want to go off-grid, an optional 12-volt battery pack is available.) Also included are universal ties for hanging the light rope and wall mounts for semi-permanent installation. The suggested retail price of the Luminoodle Basecamp 12V is $89.99.
Power Practical
https://powerpractical.com
---
Security Camera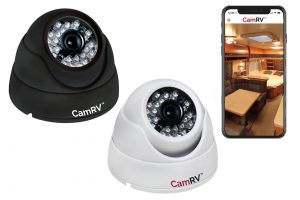 Linus, of "Peanuts" fame, has his low-tech security blanket. You can have a high-tech security camera, such as the Glomex CamRV, a plug-and-play device for use inside or outside an RV without fees or cloud subscriptions. You install it, connect it to the RV's 12-volt-DC power supply and Wi-Fi signal, and download the free Glomex app (iOS or Android). Then, use your mobile device to monitor your RV via real-time video streaming.
The CamRV uses an encrypted one-to-one connection as a deterrent against hackers. When the motion sensor is activated, video and sound automatically are recorded onto the CamRV's internal SD card, and a notification is sent to your mobile device. The CamRV's 720p (1 megapixel) HD camera has infrared night vision, so it works with the lights off. The price is $199.
Glomex Marine Antennas USA
(803) 722-7296
www.glomex.us
---
Custom Map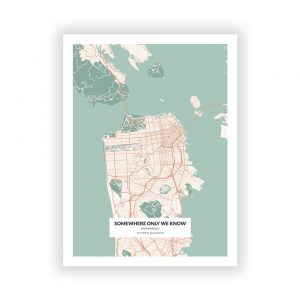 Your special place. It could be the town where you were born. Or an area you most love to visit. Or a place that's had a profound impact on you. Wherever your special place is, you can order a custom map of it from My Ever Map.
Once you decide on a location, you can choose from various colors and layouts. You can also add a title and subtitles. The completed map, 18 inches by 24 inches, is printed on art matte paper. The price of a print is $60. A framed print is $120. This product is from the makers of The Night Sky, which creates custom maps of the stars as seen at a specific location and time.
My Ever Map
https://myevermap.com
---
Monitoring Device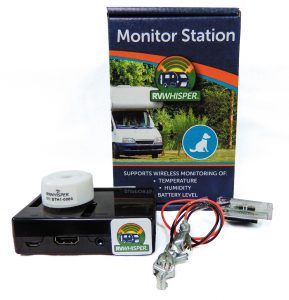 RV Whisper uses wireless sensors and software to monitor RV temperatures and battery voltage. Concerned about leaving a pet alone? You can remotely view the interior temperature using Wi-Fi and a smartphone, and you can set up alerts for when it gets too hot or cold. Sensors can monitor RV refrigerator and freezer temperatures, as well as external bay temperatures that might affect RV water flow. RV Whisper also can monitor an RV's 12-volt batteries, and alerts can warn you when external power to the RV is interrupted.
No special tools are needed for installation. Historical data is stored in the RV Whisper system for viewing anytime. FMCA members can get a five-sensor system (RVM1-5S) for the price of a two-sensor system by visiting the website below. Included are a monitor station, four temperature sensors, one battery sensor, a USB power adapter and cable, and one year of support. The cost is $189.
RV Whisper LLC
(410) 286-3060
https://rvwhisper.com/fmca/