Gear, Gadgets, and Gifts
Practical accessories and assorted goods designed to make life easier and more enjoyable for RVers.
By Skip Tate, Associate Editor
Disinfecting Accessories Tray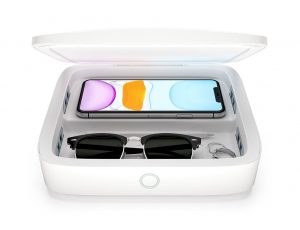 Antiseptic wipes are pretty much a requirement in the age of COVID-19, and they are great for cleaning just about everything — except cell phones. They leave the phones wet and smelling like a hospital. Who wants that? Well, Einova is shedding some light on how to solve that problem. In December 2020 it released the Mundus Pro, an accessories tray that disinfects items using UV light and charges your phone and other electronic devices.
Just place your phone — or sunglasses, pens, AirPods, or whatever else you might want disinfected — inside the tray, close the lid, and push the start button. After an eight-minute cycle, 99.99 percent of all ugly, icky viruses and bacteria are dead. The EPA and a couple of independent laboratories certified the results, so take that, COVID-19. Price is $119.99.
Einova
(866) 488-3141
www.einova.com
Heated Camp Chair
Baby, it's cold outside, but that doesn't mean you have to hibernate inside your RV all winter, or freeze if you decide to sit outside and get some fresh air. Kuma Outdoor Gear took its Lazy Bear camp chair, already equipped with a padded back and arms, and made it even better by adding a heated seat. The chair has coils that are woven into the seat and connect to a rechargeable lithium battery that stores in a pocket underneath the chair. It can warm the seat to 100 degrees for six hours, or toast your buns for two hours at 131 degrees.
The chairs come in gray, red plaid, or camouflage, and also have built-in cup holders and phone pockets. The price of the Lazy Bear Heated Chair is $299.95. A double chair with independently heated seats is also available for $320.
Kuma Outdoor Gear
(888) 799-5862
www.kumaoutdoorgear.com
 Phone Charger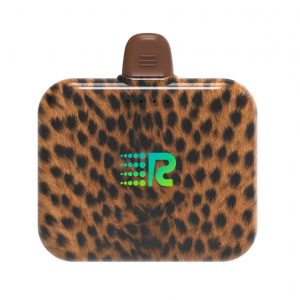 "Low battery." Ugh. The message shows up on your phone like your crazy uncle shows up at your door — unannounced and unwanted. Fortunately, Rush Charge has a way to resolve the low-battery issue and can make you look stylish as well. The first thing the company did was ditch the cumbersome cords, plugging the portable chargers straight into your phone, tablet, or small electronic device.
Then it added power, allowing for 30 hours of talk time with the RC25 Air version or 35 hours of talk time on the RC36 Max. And if all of that weren't enough, the company built the chargers in such trendy options as leopard, purple, and wood, plus blue and black. The price is $35 for the RC25 Air and $50 for the RC36 Max.
Rush Charge
(888) 718-7874
www.rushcharge.com
Shade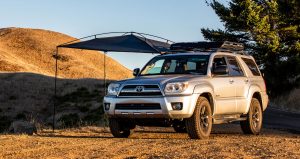 Not all RVs have awnings, so what's a camper to do when the sun is beating down and the temperature is heating up? Enter MoonShade, which is said to be easier to set up than pop-up canopies, weighs just 8 pounds, and packs away into a bag the size of a yoga mat. The 9-foot-by-7-foot shade uses two cross poles to hold it open, much like a rainfly on a tent; two vertical poles that can be adjusted up to 8 feet to lift one end upright; and a variety of options to attach the other end to an RV — magnets; suction cups; adhesive; or anchors specifically for Airstream Basecamp or Mercedes-Benz Sprinter RVs. Set up and then cool down. Or add a string of lights and bask in the reflective illumination the underside of the shade provides by night. The MoonShade costs $325.
MoonShade
www.moonfab.com
Snow Tubes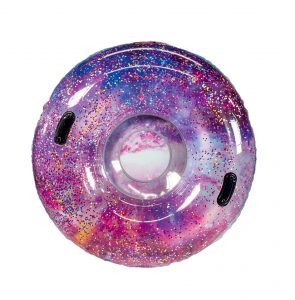 Who says you can't have fun in the winter? Certainly not the creative minds at PoolCandy, who adjusted their fun pool floats so they work just as well on frozen water, creating a collection of SnowCandy sleds. The inflatable tubes come in an assortment of shapes and sizes to fit personalities, from penguins to polar bears to peppermint candies. Prices range from $29.99 to $50, although the two-person peppermint candy tube sells for $39.99.
PoolCandy
www.poolcandy.net
Atlas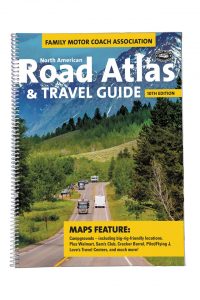 Go ahead and call us old school; we don't mind. There's just something about holding a good, old-fashioned paper atlas in our hands, surveying the squiggly lines of highways and byways that crisscross the pages and lead us to parts unknown. Yes, the GPS mounted on your RV dash is great, especially if you want to know where you are down to the longitudinal second. But when planning a trip or mapping a route, nothing beats an atlas. It offers the big picture that you just can't get on a GPS — the roads, the cities. And, if we may humbly say so, no one creates a better atlas for RVers than FMCA. FMCA's 10th edition North American Road Atlas and Travel Guide is spiral bound, so it lies flat or folds over to allow you to focus on one page at a time. Plus, it pinpoints (and indexes) FMCA campgrounds, and it identifies big-rig-friendly campgrounds, as well as Pilot Flying J Travel Plazas, Love Travel Stops, Walmarts, and Cracker Barrel Old Country Stores. The atlas price is $17.00 plus shipping and handling.
FMCA
(800) 543-3622
www.shopfmca.com
RV Products Submissions
To have a product considered for this column, please send information and a high-resolution photograph to [email protected].