Towing Solution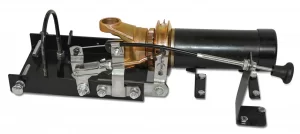 The Superior Driveline Drive Shaft Disconnect offers a method for towing most rear-wheel-drive and four-wheel-drive vehicles with automatic or manual transmissions that could not otherwise be towed four wheels down. The system disconnects the driveshaft at the rear U-joint and is controlled by a heavy-duty cable from the driver's seat, so it's not necessary to get under the vehicle. Simply pull the cable handle and disengage the steering wheel lock, and you're prepared for towing. To re-engage the driveshaft, push in the cable handle using a designated procedure, and you're ready to drive. Cost ranges from $765 to $1,900, depending on the vehicle. Installation charges are extra.
Superior Driveline
(855) 447-3626
www.superiordriveline.com
---
 Customizable Organizer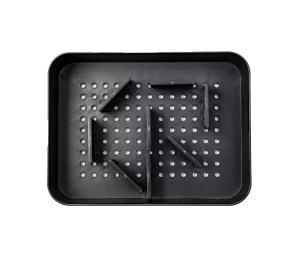 Do you spend a lot of time fishing through drawers or compartments looking for things? The Poke-A-Dot Organizer may be the solution you need to get messes under control. The rigid ABS-plastic box has holes along the bottom for dividers that can be placed horizontally, vertically, or diagonally, allowing the user to configure the ideal layout for items. It can be used to corral cosmetics, small toys, or all those things rolling around in the junk drawer. The flat shape helps with seeing and retrieving items, and a lid makes it ideal for moving between at-home and on-the-go use. The organizer measures 8 inches by 2.5 inches by 10.5 inches, includes eight dividers, and comes in black or clear. Poke-A-Dot Organizers are made in Tennessee and cost $19.95. For every two organizers sold, one is given to the YWCA for domestic violence victims.
Poke-A-Dot Organizer
(615) 585-9275
www.pokeadotorganizer.com
---
 FMCA Road Atlas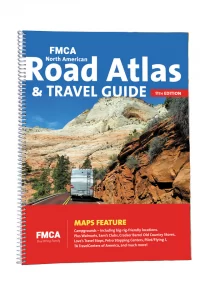 Hot off the press! The 11th edition of FMCA's popular "North American Road Atlas & Travel Guide" is available from the FMCA Store starting April 1. This spiral-bound atlas is designed expressly for RV travelers, with maps that identify campground locations, among them FMCA commercial member campgrounds and big-rig-friendly facilities. It also pinpoints Walmarts and Super Walmarts; Cracker Barrel Old Country Store locations; and Pilot Flying J, Love's, Petro, and TA fuel stops. The large print facilitates reading. Price: $17.
FMCA Store
(800) 543-3622
www.shopfmca.com
---
Step Lights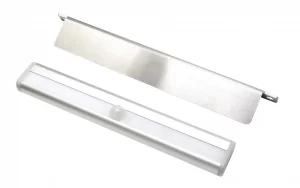 Add a touch of safety and convenience with motion-activated step lights from MORryde. The bright LED light strips attach to the underside of the MORryde StepAbove RV entry steps and also can be used with the Lippert Solid Step. Each kit includes two lights with 10 LED bulbs, two aluminum brackets to attach the lights to the step, and two magnets with an adhesive backer. The magnet makes it possible to remove a light and use it separately as a flashlight. Each light requires four AAA batteries (not included). The lights have three settings: on, off, or auto (motion sensor). A daylight sensor helps to conserve power, and when used in motion-sensor mode, batteries should last several weeks. Price: $34.99.
MORryde
(574) 293-1581
www.morryde.com
---
 Aluminum Camp Table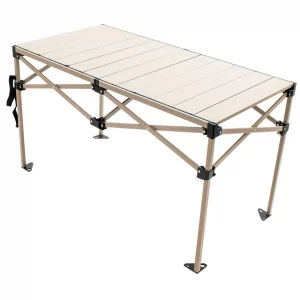 Tight on space but wanting to take along a nice-size camp table? ShelterLogic offers the RIO Gear foldable aluminum-top table (model T648-1), which extends to 25 inches by 48 inches but condenses down to 30 inches by 11.5 inches by 4 inches for storage in a convenient carrying bag. The design of the table frame was derived from proven pop-up shelter technology. The sturdy, heat-resistant top, with its aluminum slats, accommodates a buffet of hot dishes or even a propane grill for cooking. The table also can serve as a dining spot or a place for playing cards and board games. Price: $199.99.
ShelterLogic Group
(800) 866-8520
www.shelterlogic.com/rio
---
 Keep It Quiet, Cool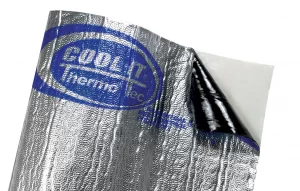 Thermo-Tec offers a solution to RV owners seeking help with vibration, sound, and heat control. The Suppressor combines polyethylene film with a foil surface that provides direct protection from radiant heat up to 2,000 degrees Fahrenheit and from direct temperatures up to 300 degrees. Potential uses include areas such as interior firewalls, floorboards, or doors. The Suppressor is 70 millimeters thick, contains a high-temperature adhesive backing, and can be trimmed as needed. Available sizes range from 12 inches square to 60 inches by 36 inches. The Mat Roller, used to install the Suppressor, is a heavy-duty 2-inch roller that helps to smooth out the adhesive and remove air bubbles and imperfections for a seamless finish. The roller's ergonomic, nonslip cushioned handle allows for extra comfort and control, and the styling assists with reaching into corners and tight spaces. Mat prices vary by size, but a pair of 12-inch-square mats costs $21.14. The Mat Roller costs $20.19.
Thermo-Tec
(800) 274-8437
www.thermotec.com
---
 LED Interior Lights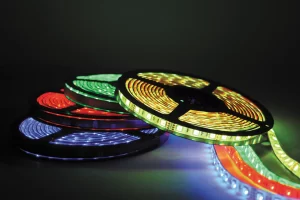 Shine a little light on the subject with the help of Boogey Lights RV interior lighting. The company offers a line of flexible, low-profile, dimmable, surface-mounted 12-volt-DC LED light strips. They can bend around curved surfaces and be hidden beneath countertop edges, under cabinets, and inside closets or other storage areas. They come in custom lengths ranging from 2 inches to 16 feet and in a variety of single colors, as well as a multicolor option. The lights can be controlled using a simple on-off switch, a magnetic proximity switch, or a number of wireless switching options via an LED controller. It's even possible to add Bluetooth control. They usually can be added to an RV's existing 12-volt circuitry, or optional power converters are available for those who would prefer to run the lights off 120-volt AC. Prices of the LED light strips vary by length and options chosen; switches are sold separately.
Boogey Lights
(800) 847-1359
www.boogeylights.com/interior-lighting
---
 Universal Shower System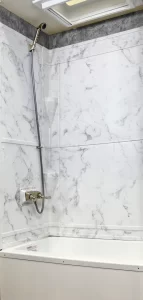 In need of a shower upgrade? The DUO Universal Shower System provides a viable replacement option for almost any RV, as it can be cut to variable sizes to fit most wet areas. It has been called a game changer in the world of remodels, because it ships flat in three pieces, with custom-designed corners that fit into place. The Universal Shower measures 66 inches tall but can be cut to 62 or 59 inches in height. The width is 44 inches, but it could fit showers up to 48 inches by utilizing the custom corner locking segments, which are 3 inches by 3 inches. It currently is being offered in gray marble, tan marble, and white. Price: $370; installation kit (rivets, tape, and a drill bit) sold separately for $26.
Duo Form Plastics
(269) 663-8525
www.duoformplastics.com