Disc Toss
According to product literature, the Skywinder Disc Toss from Sportcraft Ltd. will have players launching flying discs farther and faster than ever with a quick flick of the wrist.
The kit comes with two colorful toss-and-catch launchers and two ultra-glide flying discs. The Skywinders are said to open and close easily for fast catch-and-release action.
The Skywinder Disc Toss is for ages 8 and older and has a manufacturer's suggested retail price of $14.99. It is available at Target retail locations and Target.com.
Sportcraft Ltd.
313 Waterloo Valley Road
Budd Lake, NJ 07828
(866) 485-8259
www.sportcraft.com
---
Lego Camper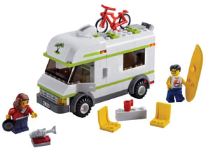 Young travelers will keep their hands and imaginations busy as they build the LEGO Systems Inc. Camper, part of the LEGO City series, and set out on their own motorhome journeys.
The 165-piece vehicle, which is intended for children ages 5 to 12, includes two mini figures (male and female) along with a surfboard, bicycle, and more. Once the toy is assembled, the house portion of the motorhome opens to reveal kitchen and sleeping areas for play inside. The Camper measures 5.5 inches long and 3 inches high.
The LEGO Camper has a manufacturer's suggested retail price of $16.99.
LEGO Systems Inc.
555 Taylor Road
P.O. Box 1138
Enfield, CT 06083-1138
(800) 838-9647 (customer service)
(800) 835-4386 (shop at home)
www.lego.com
---
LED Ball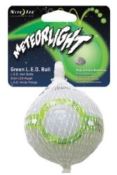 The Meteorlight LED Ball from Nite Ize Inc. is a durable rubber ball that includes an embedded LED light so the fun can continue even after dark.
The Meteorlight's long-life LED light can be turned on and off by pushing and holding a switch that keeps the light from being activated or deactivated when bounced. With its bright, steady glow, the ball is said to be excellent for throwing, catching, rolling, bouncing, and juggling in the dark. The 4.5-ounce ball is water-resistant; will float; and is available in red, green, and blue colors, as well as "Disc-O," which includes a special LED that cycles through the color spectrum. Each ball comes with two long-life replaceable batteries.
The Meteorlight has a manufacturer's suggested retail price of $11.99.
Nite Ize Inc.
5660 Central Ave.
Boulder, CO 80301
(800) 678-6483
(303) 449-2576
www.niteize.com
---
Metal Detector
Kids love to hunt for buried treasures at parks, campgrounds, and beaches. Help them uncover coins, jewelry, and other artifacts with the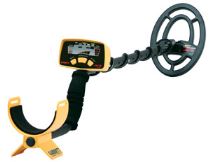 The ACE 150 weighs just 2.7 pounds, adjusts from 42 inches to 51 inches in length, and includes an adjustable arm cuff to make it easy for kids to use. It features three search modes (all metal, coins, and jewelry) and a coin depth indicator to help determine the target depth. The unit has a large LCD screen with an easy-to-read target identification legend; one-touch push-button controls; a low-battery indicator; and a 1/4-inch headphone jack. The detector separates into three pieces for storage and travel.
The ACE 150 metal detector has a manufacturer's suggested retail price of $179.95.
Garrett Electronics Inc.
1881 W. State St.
Garland, TX 75042
(800) 527-4011
(972) 494-6151
www.garrett.com
---
Telescope/Underwater Viewer
Youngsters can inspect faraway places or watch underwater life up close with the GeoSafari SeaScope from Educational Insights Inc.
This two-in-0ne device consists of a 4x telescope for distant land-viewing opportunities and the SeaScope, which can be used underwater by itself or with the telescope (not submersible) attached for even closer inspection. The SeaScope also comes with the removable Aqualite Flashlight for viewing in dark or murky water conditions, a built-in ruler for determining the size of specimens in the water, and a thermometer strip that shows the water temperature. The flashlight requires two AA batteries (not included).
The GeoSafari SeaScope has a manufacturer's suggested retail price of $29.99. Visit www.facebook.com/educationalinsights for weekly contests and giveaways.
Educational Insights Inc.
152 W. Walnut St., Suite 201
Gardena, CA 90248
(888) 800-7893
www.educationalinsights.com
---
Travel Activity Sets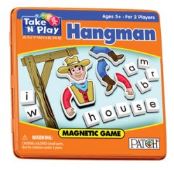 Keep the kids entertained on the road and at the campsite with one or more of the
The lineup includes a variety of games and activities such as checkers, chess, tic-tac-toe, hangman, bingo, and more to keep youngsters engaged for hours.
Take 'N' Play Anywhere sets have manufacturer's suggested retail prices ranging from $7.99 to $14.99.
Patch Products Inc.
1400 E. Inman Parkway
Beloit, WI 53511
(800) 524-4263
(608) 362-6896
www.patchproducts.com
---
Ice Cream Maker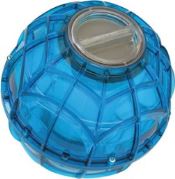 Have fun making homemade ice cream with the MEGA Ball Play & Freeze Ice Cream Maker from Industrial Revolution Inc.
The MEGA Ball doesn't require any electricity to make great-tasting ice cream. Just add rock salt and ice in one end of the MEGA Ball and ice cream mix in the other end, then shake it, pass it, or roll it around for approximately 30 minutes to make a terrific summertime treat. The product makes up to 1 quart of ice cream and comes with a recipe list for preparing different flavors. The ball weighs 3 pounds when empty and is said to be durable and easy to clean.
The MEGA Ball is available in seven colors and has a manufacturer's suggested retail price of $39.99. It can be purchased at REI, Gander Mountain, and Cabelas stores and online at Amazon.com.
Industrial Revolution Inc.
9225 151st Ave. N.E.
Redmond, WA 98052
(888) 297-6062
(425) 883-6600
www.industrialrev.com
---
S'more Maker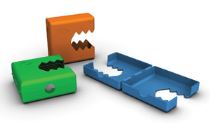 The Winlow Products Dino Smore Maker from BG Distribution & Marketing is said to eliminate the sticky mess often associated with this favorite campfire treat.
When opened, the Dino Smore Maker holds two graham crackers and the chocolate in place, awaiting the arrival of the roasted marshmallow. When the marshmallow is added, the device is closed to keep the contents together as the heat from the marshmallow melts the chocolate. When ready to eat, simply open the container, remove, and enjoy your perfect s'more.
The Dino Smore Maker has a manufacturer's suggested retail price of $2.99.
BG Distribution & Marketing
160 Tycos Drive
Unit #8, Mailbox #111
Toronto, ON
Canada M6B 1W8
(416) 792-0385
www.winlowproducts.com

---
Outdoor Chair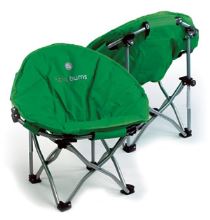 Let kids gather around the campfire in a comfortable chair that's just their size with the Moon Camp Chair from Lucky Bums.
This sturdy, safe, and durable chair is constructed of double-layer 600-denier Oxford material and padding on a 13-millimeter-diameter coated-steel frame. The chair comes in two sizes: the small version weighs 4 pounds and is rated for kids weighing less than 95 pounds, while the large version weighs 5 pounds and is rated for youngsters up to 150 pounds. When not in use, the chair folds up and stores in the included carry bag.
The Moon Camp Chair is available in five colors and has manufacturer's suggested retail prices of $34.99 (small) and $44.99 (large).
Lucky Bums
743 W. McGregor Court, Suite 100
Boise, ID 83705
(866) 284-5831
www.luckybums.com