Kid Zone
Add to family fun during your travels with these games and other items designed for youngsters.
By Skip Tate, Associate Editor
 Sandcastle Kit
I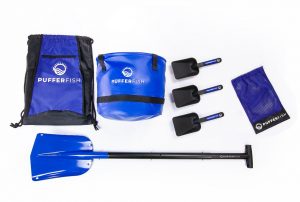 n order for kids to be king or queen of their own castle, they need to have one first. Well, take them to the beach with Pufferfish's totally portable sandcastle tools — a giant shovel, three small scoops, a collapsible 16-liter bucket with handles for hauling water, a mesh bag in which to store the scoops, and a drawstring bag for convenient carrying. The drawstring bag and scoops are made from recycled fishing nets, and 1 percent of sales go to ocean cleanup efforts; so, you're not only having fun, you're protecting the environment at the same time. The basic seven-piece kit costs $99.99.
Pufferfish
[email protected]
www.pufferfish.fun
---
 Toy Car Kit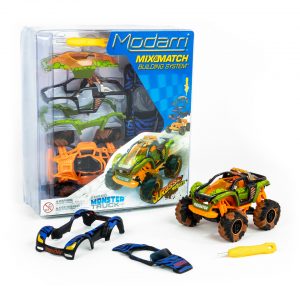 Sharpen the skills of future engineers with the Modarri mix-and-match building system, which lets them custom-build toy cars. The kits not only develop creativity through an array of interchangeable parts, but they also help kids build dexterity and coordination by requiring them to screw together various pieces. And — good news — the screws are built in so they won't fall out and get lost. The cars have spring-actuated suspensions and rack steering with tie rods for responsive maneuvering. Three models of cars are offered — pro cars, endurance cars, and monster trucks — as well as accessories such as a rubber track, cones, walls, and ramps. Each car costs $19.99.
Modarri
(831) 421-2363
www.modarri.com
---
 Slappy Camper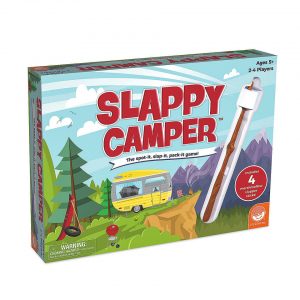 How fast can you pack your RV? That's a real-life question as well as the basis of the Slappy Camper game. Players take turns flipping "camping gear" cards to see what item needs to get packed next. BUT, only one player can pack that item at a time, so the gear is awarded to the first player to use his or her marshmallow-on-a-stick slapper to slap the correct camping gear item, which is scattered somewhere on the table. The first player to fill up the squares in their camper — without leaving any open spots, because we all know how vital space is — wins. Kids must think fast, act fast, and solve space problems by rearranging the gear. Sounds like real life. Price is $19.95.
MindWare
(800) 999-0398
www.mindware.orientaltrading.com
---
 Roasting Sticks
There's not much better than food cooked over a campfire, and Wolf'em Sticks has found a way to make the perfectly roasted marshmallow or hot dog. The Wolf'em Stick has its forks facing backward for safety and to help prevent marshmallows from falling into the fire. Its handle rotates so it creates even cooking — and keeps the kids entertained/busy/occupied in the process. It also comes with an accessory for creating a campfire treat with a twist — biscuit dough in the shape of cups that can be
filled with pudding, chili, or taco meat. Nom nom nom. A starter pack of two sticks costs $26.99.
Wolf'em Sticks
(801) 556-1439
www.wolfem.com
---
National Parks Board Game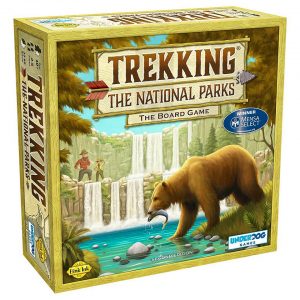 John and Terry Binkele dove headlong into retirement by visiting every major U.S. national park. Their son was a game designer and artist. They put their brains together, and the end result was Trekking the National Parks, a game where players race to visit all 60 national parks and prove they are the most experienced traveler. Set up a camp, collect stones, or claim park cards. Every park card includes an interesting fact and photo, offering inspiration to explore and protect these national treasures. And each game begins with a unique setup that alters the way the game is played, so no two games are alike. Price is $50. But the fun doesn't have to stop there: Look on the company's website for other games, such as Trekking The National Parks: Trivia, and Trekking The World.
Underdog Games
[email protected]
www.underdoggames.com
---
 Jumbo Checkers Set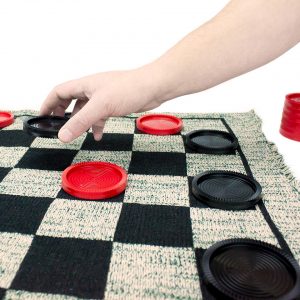 Anyone can have a checkers set, but little hands need big toys, so this extra-large set from Fat Brain Toys is played on a 28-inch-by-28-inch rug with jumbo checkers. Playing not only helps kids develop large muscle groups, but it develops their brains by teaching them variations of the game, such as the Flying Kings or another international version. Plus, the rug is washable and the pieces are harder to lose. A storage bag keeps everything together. Price is $16.95.
Fat Brain Toys
(800) 590-5987
www.fatbraintoys.com
---
Camper Playhouse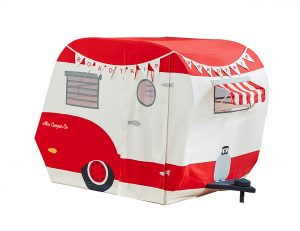 Here's a great way to introduce kids to the joys of RV life: Get them their own RV. Well, okay, make that an RV-shaped playhouse. The Mini Road Trip Camper from Wonder & Wise looks like a travel trailer from the outside, with a realistic hitch, and a door they can go in and out of. Inside, it's filled with whatever their imaginations want to bring along on the journey. The polycotton camper has a sturdy metal frame to retain its shape and handle the wear and tear of kids. It measures 55 inches by 36 inches by 42.5 inches and can be set up inside or outside. Price is $169.
Wonder & Wise
(626) 333-4222
www.wonderandwise.com
---
 Crossnet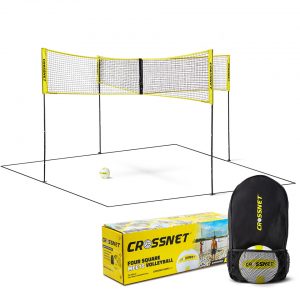 Here's a way to get everybody some exercise and bring them in on the action. Crossnet is an ingenious combination of four square and volleyball, with players hitting the ball over an X-shaped net into an opponent's quadrant. Have one or two players in each square. Keep score or just have fun. The dimensions of the playing area are 13 feet by 13 feet, and the height of the net can be adjusted to accommodate kids of all sizes. It can be purchased with different bases so it can be set up on grass, indoors, or in a pool. The price for the net, poles, and volleyball is $149.99.
Crossnet
(305) 310-7323
www.crossnetgame.com