Kid Zone
Games and other items to make traveling with youngsters easier and more fun.
Adjustable Scooter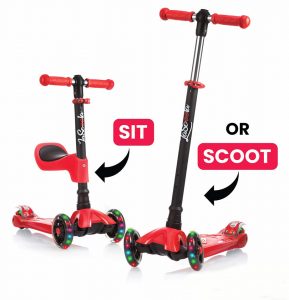 The seat on the LaScoota 2-In-1 Kick Scooter may be just what a preschooler wants when he or she is learning to scoot. When children are older and a bit more scooter-savvy, the seat can be removed. What's more, the seat has two height options, and the handlebar is adjustable to four heights.
Children steer LaScoota by leaning right or left, which helps develop balance and coordination. As a child scoots, the wheels light up with flashing colors. LaScoota, which is recommended for ages 2 to 8, is available in six colors. The weight capacity is 110 pounds. The price is $69.95 on Amazon. Remember to get a helmet, too.
LaScoota
www.lascoota.com
Amazon: https://amzn.to/2WvovXX
---
Bag Toss Game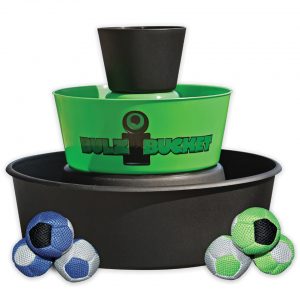 Bulzibucket is billed as the "next generation cornhole." While both games are a test of bag-tossing skills, Bulzibucket players aim for three concentric buckets. Another twist: When you play on a two-person team, your partner can use his or her hacky-sack skills to direct a bag into a bucket. The targets float, so the game also can be played in a pool.
Bulzibucket is made of plastic, so it's lighter and more portable than cornhole sets, and it can be stored easily. Each Bulzibucket kit comes with two collapsible bucket targets; six hacky-sack beanbags; a backpack carrying bag; and sticker decals. The price is $59.99.
Bulzibucket
[email protected]
http://bulzibucket.com
---
Pool Ball
Why did the watermelon go crazy? He lost his rind. Ba Dum Tss! And speaking of watermelons, real ones don't belong in swimming pools, but Watermelon Ball Jr. does. It's supposed to look, feel, and behave like an actual watermelon; it sinks to the bottom and then slowly rises to the top. The real fun comes when it's dribbled, kicked, bounced, or passed underwater.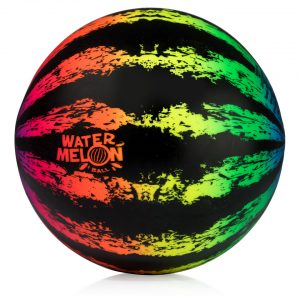 Watermelon Ball Jr. is recommended for ages 6 and up. It's 6 inches in diameter and weighs 4.17 pounds when filled with water, which is more manageable for kids than the 15 pounds of the full-size Watermelon Ball. Watermelon Ball Jr. comes with a hose adapter, two filling needles, and instructions. The price is $19.99.
Watermelon Ball LLC
(888) 908-3135
www.watermelonball.com
---
Art Board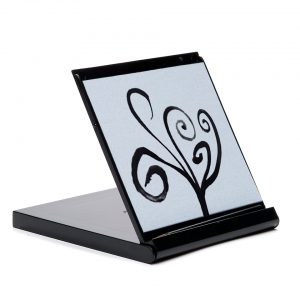 The Buddha Board and its smaller version, the Mini Buddha Board, were inspired by the Zen Buddhism principle of living in the moment. With the Mini, a budding artist uses a small brush and water to "paint" on the surface of the 5-inch-by-5-inch board. As the water slowly evaporates, the artwork disappears, leaving a clean slate. No ink, paint, or chemicals are used.
The Mini Buddha Board, recommended for ages 5 and up, folds backward onto its own small easel stand. It has a small trough for water, and a paintbrush is included. The Mini Buddha Board case color indicates the color of its "paint." Only a black case is available on Buddhaboard.com, but red, pink, blue, and green can be purchased via Amazon.com. The price of the Mini Buddha Board is $14.95.
Buddha Board Inc.
(604) 709-5667
www.buddhaboard.com
---
Word Game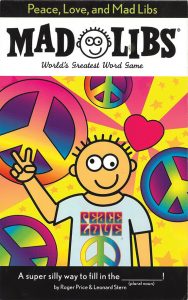 Millions of people of all ages have enjoyed the Mad Libs series of paperback books. On each page is a story with key words replaced with blanks. Players are prompted to fill in the blanks without knowing the context of the words. When the completed — and typically quite goofy — story is read aloud, hilarity ensues.
Dozens of Mad Libs books are available. Among the titles kids will like: Super Silly Mad Libs Junior; Kids Libs Mad Libs; Summer Fun Mad Libs Junior; Mad Libs On The Road; Sports Star Mad Libs Junior; Disney Frozen Mad Libs; and Vacation Fun Mad Libs. Mad Libs books are available at bookstores and through online retailers. The cost of many titles is about $5.
Penguin Random House
www.madlibs.com
---
Fifth-Wheel Camper Set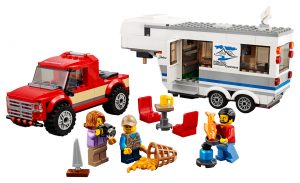 A mom, dad, and their son are all smiles, and rightfully so. This Lego family is ready to hitch their fifth-wheel to their pickup truck and begin a camping adventure. By the looks of the accessories included with the Lego City 60182 Pickup & Caravan, these little plastic people enjoy fishing and crabbing, and mom captures it all with her camera.
The fifth-wheel's door opens, as does the side, providing access to the inside. The fifth-wheel's front roof and furniture are removable, as is the pickup's cab roof. The Lego City 60182 Pickup & Caravan is for ages 5 to 12. The suggested retail price is $29.99.
The Lego Group
(800) 835-4386
---
Nature Game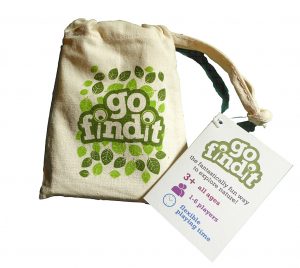 Words penned more than 200 years ago by poet William Wordsworth still ring true: "Let nature be your teacher." One way to connect kids with nature is Gofindit, a scavenger hunt card game for children age 3 and up. Each of the 33 cards represents sensations and sensory characteristics that can be found in any outdoor setting, whether urban or rural. The cards are packaged in a drawstring bag. No two games are ever the same.
Gofindit is designed and manufactured by Sensory Trust (www.sensorytrust.org.uk), a United Kingdom-based charity that promotes the benefits of equal access to outdoor spaces for everyone. The price of Gofindit is $12.50 on Amazon.
Sensory Trust
https://amzn.to/2J0m78j
---
Children's Binoculars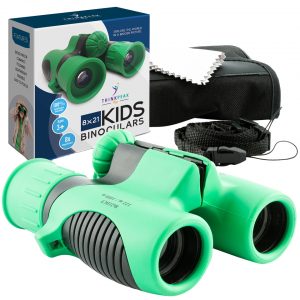 Young explorers want to see things up close, and the 8×21 Kids Binoculars from Think Peak Toys make it possible. The binoculars feature a grip ergonomically designed for kids; an antifriction, shockproof rubber coating to absorb impact; a diopter adjustment to compensate for the differences between the eyes; an easily adjustable focus wheel; and rubber-surrounded eyepieces help protect a child's eyes and face. The binoculars deliver 8x magnification with a 7.2 degree angle of view and have BAK-4 roof prisms.
In addition to the binoculars, the set includes a carrying case with a belt loop; an operations manual; a neck strap; and a cleaning cloth. Recommended for ages 3 and up. The binoculars are available only on Amazon. The suggested retail price is $31.95, with discounts often available.
Think Peak Toys
(970) 460-6490
https://thinkpeaktoys.com
---
Diaper Changing Station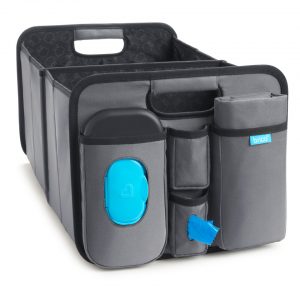 RVing with a baby on board requires patience and preparation. We can't help with the former, but with regard to the latter, consider the Brica Out-N-About Trunk Organizer & Diaper Changing Station. It features multiple storage pockets, including two large compartments for extra clothes and supplies. A wipes case, disposable diaper bags, and a cushioned diaper changing pad are included.
Traction pads on the bottom help hold the organizer in place. And when the organizer is not in use, it folds flat (13 inches by 3 inches by 14 inches). The price is $35.
Munchkin
(818) 893-5000
www.munchkin.com