By Skip Tate, Associate Editor
Bird Feeder
Camp food is for the birds — well, at least it is with Outside Inside's retro trailer bird feeder. The hand-painted metal feeder looks like a vintage Shasta travel trailer, with two-toned paint and wings shooting down the sides. The seed is filled through the camper door, and birds access their meals through a mesh panel on the sides. The price is $34.95.
Outside Inside
(800) 704-4474
www.outsideinsidegifts.com
---
Silicone Cups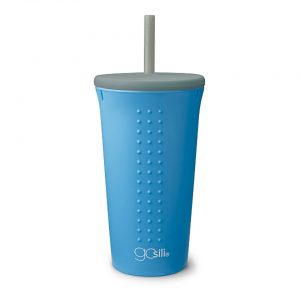 Roughly 100 billion disposable cups get chucked into landfills each year, which not only seems wasteful but says a lot about our addiction to overpriced soy lattes. So, the folks at GoSili decided to help reduce waste by creating reusable cups and straws made entirely from silicone, touted for its durability and insulation properties. It's also stain resistant, hypoallergenic, and BPA-free. You can throw it in the dishwasher or microwave, and if you decide to get a new one, you can toss it in the recycling bin if acceptable — or send it back to the company and they will recycle it for you. Have a drink and help save the Earth. A 16-ounce cup and straw cost $15.
GoSili
(866) 789-7454
www.gosili.com
---
Hat Liners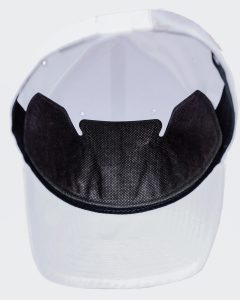 True story: Justin Johnson found out his beer league hockey buddies were taping maxi pads to the inside of their helmets to keep the sweat out of their eyes. There had to be a better way, he thought, so he set out to find one. After a few months of tinkering in his parents' basement, he came up with NoSweat hat liners. The liners stick to the inside of a hat, helmet, or visor and use polymer technology to pull sweat from the skin and lock it — along with its malodorous byproducts — into the core of the liner. So, even if summer makes you sweat, no one has to know. A pack of three is $9.99.
NoSweat
(615) 697-9328
www.nosweatco.com
---
Water Can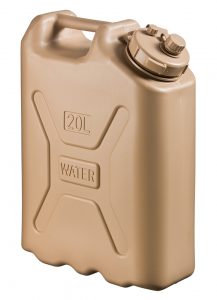 What's the difference between an RV and a camel? One of them will eventually run out of water, and it won't be the camel. Because water is a necessity when camping, Scepter has a great way to keep an extra five gallons on hand. The company's military-grade water can is BPA-free, made of food-grade material, and tough enough for the military, so it can handle whatever your boondocking throws at it. You can get them in green, black, or tan.
Scepter
(855) 857-3252
www.scepter.com
---
National Park Coloring Books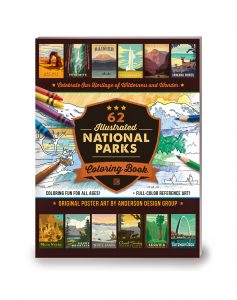 Securing a campsite at a national park may be a challenge this year. So many people are RVing that many campgrounds are booked solid. Well, if you can't get into your favorite park, here's something to make you feel like you're there. The folks at Anderson Design Group offer a 72-page coloring book based on the park posters they created that lets you fill in the missing colors on some of the most iconic shots of U.S. national parks. But these are not your children's coloring books. They're printed on gallery-grade paper, incredibly detailed, and worthy of framing when finished. So, even if you can't get to a national park in person, you can at leastget the same sense of relaxation. The book costs $9.95, and a portion of the profits goes to the National Park Foundation.
Anderson Design Group
(615) 327-9894
www.andersondesigngroupstore.com
---
Mosquito Repeller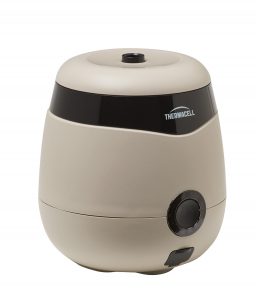 Summer is approaching. That means longer days, warmer weather, and the return of those flying bloodsuckers that ruin your moments of peace and tranquility outside. That's right: mosquitoes. Thermacell has mastered the art of mosquito repelling without the need to drag around tiki torches or cover yourself in DEET. And the company just came out with a new repeller: the E55, which is about the size of a softball, so it won't take up a lot of camp space. It comes with a 12-hour fuel cartridge and a rechargeable lithium-ion battery that lasts more than five hours. The best part: It creates a 20-foot mosquito-free zone. The E55 is available in three colors and costs $39.99.
Thermacell
(866) 753-3837
www.thermacell.com
---
Solar Panels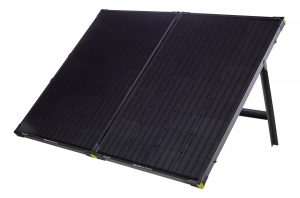 Solar panels are a great way to charge batteries — as long as you're in the sun. That's why GoalZero designed its portable solar panels to be carried around like you're headed to a business meeting. The company's Boulder 200 Briefcase solar panel folds in half and includes a handle on one end to take it where the sun shines. Two legs are built into the back for setting it up at the optimal angle, and its 200 watts of power generation can charge a variety of GoalZero Yeti batteries; when paired with the Yeti 500X, for example, charge time is three to six hours. The Boulder 200 is the largest of the company's Boulder solar solutions and costs $499.95.
GoalZero
(888) 794-6250
www.goalzero.com
---
Screened-In Porch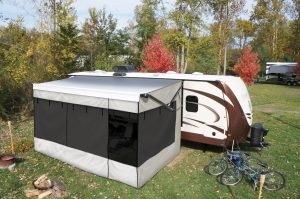 The search for more living space has been ongoing since the day the RV was invented. That's why RVs have gotten longer and slideouts were invented. Well, Lippert has found a way to add an extra 160 square feet to your living accommodations with a screened-in porch that fits under your patio awning. The Solera Family Room accommodates 12 awning widths, from 10 to 21 feet. It has a dark mesh screen for privacy from pesky bugs, and panels that drop down for privacy from pesky neighbors. The three panels zip into place and then slip back into a single storage bag for transport. The Family Room starts at $759.
Lippert
(432) 547-7378
store.lci1.com
---
Fire Color Enhancers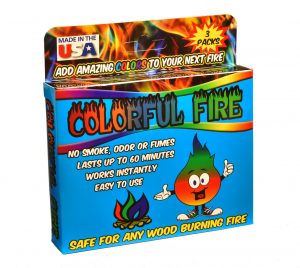 Who says rainbows are only for leprechauns and unicorns? Colorful Fire offers a magic dust that turns any old campfire into a rainbow of hues so everyone can enjoy the beauty. Just toss an unopened package or two into the middle of your campfire and watch the usual red, yellow, and orange flames turn blue and green and purple. A single packet produces colorful flames for 30 to 60 minutes. They're environmentally friendly; made in the United States; and said not to produce smoke, odors, or noxious fumes. They can even be used with indoor fireplaces, for those nights when even a warm fire isn't enough to fight off the cold. A pack of 24 is $35.99.
Colorful Fire
(847) 282-0204
www.colorfulfire.com
---
RV Products Submissions
To have a product considered for this column, please send information and a high-resolution photograph to [email protected].