Fish-Cleaning Board
Make cleaning your fresh fish easier with The Gator by Kelpro, a fish-cleaning and filleting board.
The Gator board is made of pure polyethylene to guard against cross-contamination and to eliminate fishy odors. Each board includes a spring-load mouth at one end with stainless-steel teeth that hold the fish's head or tail in place while it's being cleaned. An oval piece of gripping material is attached to the bottom of the board to keep it from slipping. The board is said to be easy to clean and is dishwasher-safe.
The Gator by Kelpro has a manufacturer's suggested retail price of $29.95.
Kelpro Inc.
116 N. Second St.
Chillicothe, IL 61523
(888) 375-4175
www.thegatorbykelpro.com
---
Fire Extinguisher
The SS-30 halon fire extinguisher from Fire Fight Inc. is an automatic-release fire suppressant designed to be used inside the refrigerator compartment or similar areas where a fire could start.
The extinguisher deploys a clean agent chemical to completely flood the refrigerator compartment when the ambient temperature in the area reaches 165 degrees Fahrenheit. The unit features a stainless-steel bottle, automatic thermal release and guard, a quick-disconnect bracket, and a pressure gauge. The extinguisher comes with all necessary mounting hardware.
The SS-30 has a manufacturer's suggested retail price of $165.
Fire Fight Inc.
2885 Electronics Drive, Suite C7
Melbourne, FL 32935
(321) 752-9096
www.firefight1.com
---
Safety Light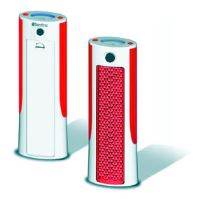 The LED-50 eFlare from Sentina is a roadside emergency safety light that can double as a flashlight.
The LED-50 is small enough to fit in any vehicle storage compartment but has enough power to alert passing drivers to slow down. It features two bright LED lighting options that deliver 360 degrees of visibility. Blinking red lights warn approaching vehicles, while a bright-beam flashlight provides necessary illumination in the dark. The unit also includes a red reflector for additional safety.
The LED-50 eFlare is powered by three AAA batteries and has a manufacturer's suggested retail price of $12.
Sentina
1 Atlas St.
Kenilworth, NJ 07033
(908) 964-8109
www.sentinasmart.com
---
Battery Manager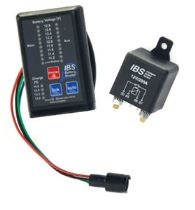 According to product literature, the Intelligent Battery System (IBS) from Extreme Outback Products is a dual-battery manager that will either isolate or link multiple batteries as needed.
The device utilizes a microcomputer to connect or isolate the chassis battery and house battery depending on power needs. Normal operation keeps the batteries isolated, but the user can press an override button to link the batteries so as to provide additional power for high-load uses or self jump-starting. The system also includes an LED display to indicate each battery's state of charge. The IBS is offered in 12-volt and 24-volt models (the latter can control four batteries) and comes with a power cable and a premade four-wire harness.
The IBS has a manufacturer's suggested retail price of $379.95.
Extreme Outback Products
40 Union Way, Suite A
Vacaville, CA 95687
(866) 447-7711
www.extremeoutback.com
---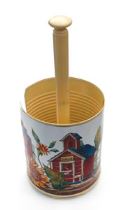 Paper Towel Holder
The Paper Towel Can from Waste Not DeSigns helps to keep paper towels from being blown over and unwinding when they are taken outdoors for a picnic or other event.
The handcrafted holder has a 6-inch inside diameter to fit large paper towel rolls, and the center dowel handle is said to make it easy to transport and handle the can. The Paper Towel Can also can be used in other areas around the motorhome or stationary home where a roll of paper towels would be handy. The cans are available in plain white or with other colors and designs, and custom orders are possible.
The Paper Towel Can has manufacturer's suggested retail prices starting at $10.
Waste Not DeSigns
P.O. Box 482
Emmett, ID 83617
(208) 695-1072
www.wastenotdesigns.webs.com
---
Water Bottle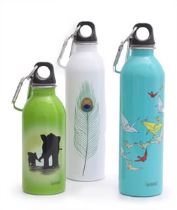 According to product literature, stainless-steel water bottles from EarthLust are more healthful and more environmentally friendly than plastic water bottles.
Disposable plastic bottles have been known to leach chemicals into the water you drink, and since they are not biodegradable, they are not good for the environment. But each custom-designed EarthLust water bottle is made of food-quality, 18/8 stainless steel and remains unlined to assure that chemicals do not leach into the water. The company uses nontoxic paints and BPA-free caps for the bottles, and optional sports tops are available. Each bottle features a nature-inspired design on the exterior and comes with a high-quality carabiner.
EarthLust water bottles have manufacturer's suggested retail prices of $16 (13-ounce), $18 (20-ounce), and $21 (1-liter).
EarthLust
3288 21st St., #127
San Francisco, CA 94110
(415) 332-5878
www.earthlust.com
---
Motorcycle Hauler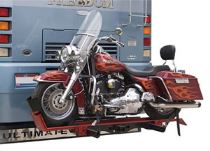 The Mighty Hauler 1000M motorcycle carrier attaches to a motorhome's rear hitch receiver and can support up to 1,000 pounds.
According to product literature, the 1000M is constructed of heavy-duty steel and features the company's exclusive "Sway Lock" technology to ensure stability of the motorcycle during travel. The carrier is raised or lowered using a manual jack, or it can be equipped with electric hydraulics. The platform measures 8 inches wide and 81 inches long to accommodate wide tires and long bikes, and it lowers to within 1 inch of the ground for easy loading. The platform elevates to 4 inches above the hitch to eliminate ground clearance concerns.
The 1000M fits 2-inch Class IV or V motorhome hitches, and it also includes a 2-inch receiver to flat-tow a vehicle behind the carrier.
The Mighty Hauler 1000M has a manufacturer's suggested retail price of $899.
Mighty Hauler
1079 Eagon St.
Barberton, OH 44203
(877) 248-1010
www.mightyhauler.com
---
Socks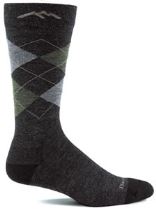 Life Style Series socks from Darn Tough Vermont are said to be comfortable, odor-free, and to retain their snug fit for years of wear.
According to product literature, the socks are made of all-natural merino wool that wicks away sweat and odor and helps to regulate foot temperature. Several crew and knee-high styles are available for women, and men can choose from dress or standard-issue crew styles. Both men's and women's collections also include a cushioned style. All socks come with a lifetime guarantee; so, if a sock wears or tears, you can send it back for a new pair.
Darn Tough Vermont Life Style Series socks have manufacturer's suggested retail prices that range between $15 and $20 per pair.
Darn Tough Vermont
364 Whetstone Drive
Northfield, VT 05663
(877) 327-6883
(802) 485-6078
www.darntough.com
---
Child's Plush Animal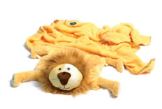 Zoobie plush animals are the perfect travel companions for your young children or grandchildren the next time you take them on a motorhome trip.
Zoobie animals are cuddly stuffed toys that also can be used as pillows. Each comes with a detachable 34-inch-by-53-inch fleece blanket that unfolds from the zippered pouch found on the belly of the animal. Hook-and-loop fastening tabs keep the Zoobie in its animal form. There are 22 different Zoobies to choose from in several collections. Baby and Jumbo versions also are available.
Zoobies have a manufacturer's suggested retail price of $34. The Baby versions are priced at $25, and the Jumbo animals are $90.
Zoobies
1111 W. 100 S., #2
Provo, UT 84604
(888) 966-2438
(801) 802-0507
www.zoobies.com
{loadpositionEndBlurbProducts}