By John Johnston, Associate Editor
Dish Drainer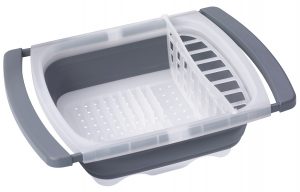 Dish towels can be breeding grounds for bacteria, so many people choose the air-dry method. In that case, the Prepworks Collapsible Over-the-Sink Dish Drainer,  from Progressive International, can be a practical way to maximize limited RV counter space.
The drainer can stand on its own, or the arms can extend from 16.5 inches to 26.75 inches to fit over most sinks. It holds eight plates up to 10 inches in diameter and includes a collapsible utensil holder. When you're ready to store it, the drainer collapses to one-third its original size. The suggested retail price is $24.99. It's available at retail stores, including Bed Bath and Beyond.
Progressive International
(253) 850-6111
www.bedbathandbeyond.com
---
Hose Helper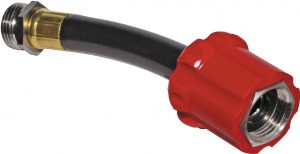 Attaching and removing an RV hose at a faucet can be difficult, especially for people with limited hand dexterity. Hose-Grip, from J Wright Concepts, is designed to make that task easier. The device attaches to a hose and provides an ergonomic grip so that the user can easily tighten or loosen the connection.
Hose-Grip is equipped with nickel-plated male and female fittings. Its hydraulically crimped Water Right polyurethane hose meets safe-drinking-water standards and exceeds a burst pressure of 300 psi. The cost is $23.99. Hose-Grip II is similar, but it incorporates a pressure-relief valve. The cost of Hose-Grip II is $38.99.
J Wright Concepts
(916) 955-0048
www.rvcablegrip.com
---
Hitch Pin Tether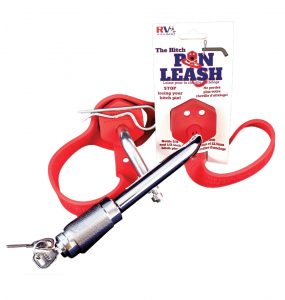 After losing a hitch pin for the umpteenth time, Herb Gingold, the cofounder of RV Intelligence, sought a solution. Thus, the Hitch PinLeash was born. The all-weather latex strap is designed to keep the pin securely in place. The product works with 5/8-inch and 1/2-inch pins and clips.
Hitch PinLeash loops around the hitch ball, the hitch bar, or chain holes, securing the pin to the hitch. What's more, the brightly colored strap provides visual confirmation that the pin is in place. Magnets in the Hitch PinLeash allow it to be attached temporarily to the bumper of a truck or SUV; the magnets also keep the safety clip, or locking head, with the pin. The price of the Hitch PinLeash is $20.
RV Intelligence
(407) 832-0501
www.rviqproducts.com
---
Reading Glasses
For people who misplace or lose their prescription reading glasses, a pair of nonprescription readers can come in handy. ThinOptics Glasses are slim and foldable and marketed as "always with you." How slim? They fit in the ThinOptics FlashCard, a credit-card-sized case that is the thickness of two nickels, which means it easily slips into a pocket or wallet.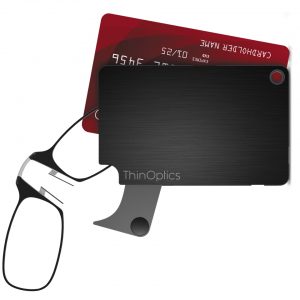 ThinOptics Glasses are available in four lens strengths and six frame colors. There are no temples — that is, no long arms on the side of the frame that fit over your ears. Rather, the bridge bends so you can place the glasses in different locations on your nose to find the best spot for stability and comfort. The price of ThinOptics Glasses & FlashCard case is $29.88. Other styles and cases are available.
ThinOptics Inc.
(844) 484-4667
www.thinoptics.com
---
Foldable Trike
If bicycling produces too many aches and pains, tricycling might be your answer. The Traveler, from TerraTrike, is a folding trike designed for performance, comfort, and ease of setup.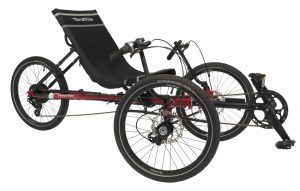 TerraTrike is one-size-fits-most. Its features include a chro-moly steel frame, disc brakes, and a fire-engine-red finish. The load limit is 300 pounds. Two options are available: the x16 is a 16-speed model; the n380 features a NuVinci continuously variable gear system. Either model weighs no more than 45 pounds. When folded, the trike is 37 inches long, 29 inches wide, and 22 inches high. The cost of the x16 is $2,299; the cost of the n380 is $2,599.
TerraTrike
(800) 945-9910
www.terratrike.com
---
Dielectric Grease
A men's hairstyling product popularized the slogan "a little dab'll do ya." Seems the phrase also could apply to Permatex Dielectric Grease. It protects electrical connections from dirt and corrosion, and is especially handy if your RV spends a fair amount of time near an ocean and its salty air.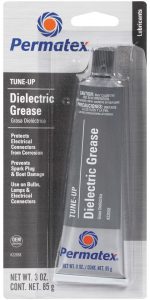 Use it on battery terminals, trailer wiring connectors, bulb sockets, and the like. The product description says it prevents spark plugs from fusing to boots and prevents voltage leakage around electrical connections. The manufacturer's suggested retail prices of Permatex Dielectric Grease: 3-ounce tube, $9.24; 0.33-ounce tube, $3.05; 3-ounce power can, $13.28.
Permatex
(877) 376-2839
www.permatex.com
---
Satellite Antenna
A satellite TV service requires an antenna to pull in signals. Winegard's Carryout G3 antenna automatically locks onto satellites, and its improved design boasts a larger reflector that is said to boost signal strength by up to 20 percent. The antenna is compatible with DirectTV, Dish, and Bell.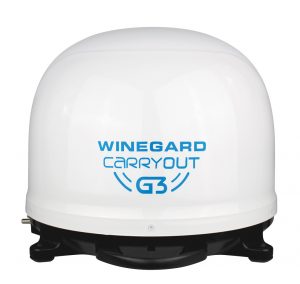 The Carryout G3 can be used as a portable antenna or as a roof-mounted unit. (An optional tripod mount and a roof-mount kit are available.) The antenna is 16 inches in diameter, 13 inches high, and weighs 7 pounds. It's available in white or black. The suggested retail price of the Carryout G3 is $579.
Winegard Company
(800) 288-8094
www.winegard.com
---
Tire Monitor
Advantage PressurePro's FX tire pressure monitoring system originally was aimed at the towables market before finding favor among motorhome owners. The FX can be installed on either type of RV.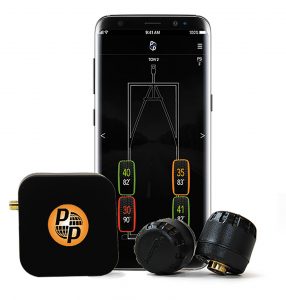 Used alongside the PressurePro app, the FX system works with an RVer's existing smart device to display real-time tire performance readings and customizable alarms, including low pressure, high pressure, high temperature, and cross-axle alerts. Users are informed of performance issues through the app, push notifications, and a warning light. A four-wheel kit includes the FX, sensors, antenna, and power cord; the retail price is $325. A sensor two-pack kit is $100.
Advantage PressurePro LLC
(816) 887-3505
www.pressurepro.us
---
Movie Screen
Who's up for outdoor movie nights? Camp Chef's Outdoor Big Screen provides a 144-inch-diagonal viewing surface made of a nylon reflective material. Viewing dimensions are 126 inches by 71 inches.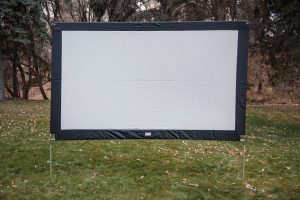 A steel-frame model, OS144, weighs 38 pounds. Its back cover blocks ambient light and folds down to allow rear projection. An aluminum-frame model, OS144A, weighs 28 pounds and does not allow rear projection. The freestanding screens are said to be stable in a light breeze; four tie-down guy lines are included and provide extra stability. A carry bag is included. The manufacturer's suggested retail price is $324.99 for OS144; $399.99 for OS144A.
Camp Chef
(800) 650-2433
www.campchef.com